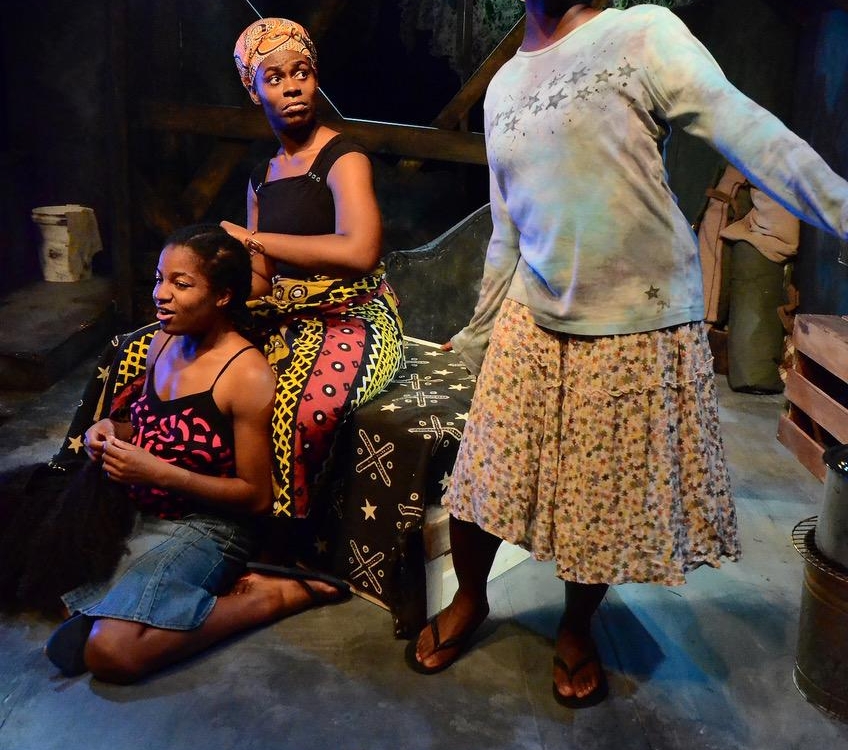 Pegasus Theatre Chicago presents ECLIPSED.
Playwright Danai Gurira drops us into a rebel camp during the second Liberian Civil War in 2003. Aja Singletary (#3/Bessie) is begging Maya V. Prentiss (#1/Helena) to comb out her hair. An exasperated Prentiss is trying to help Singletary while welcoming newcomer Sola Thompson. Except for addressing each other by numbers, this casual banter could be happening anywhere… a beauty shop, a kitchen. Then, an offstage presence inserts imminent danger into the room. Thompson is quickly hidden under a crate. And Singletary and Prentiss stand at attention looking offstage. We then watch Singletary reluctantly leave the stage. She has been selected… and that's not a good thing. 
Gurira tells the story of girls abducted and enslaved by soldiers. The rebel camp commander calls his slaves 'wives' and refers to them each by a number. He gives them minimal shelter and provisions and in return rapes them at will. Even though we never see the commander, Gurira's vivid storytelling portrays him as a faceless monster. She makes him a memorable nobody. He becomes any abusive man in power. And that relevance builds a solidarity among the women on and offstage.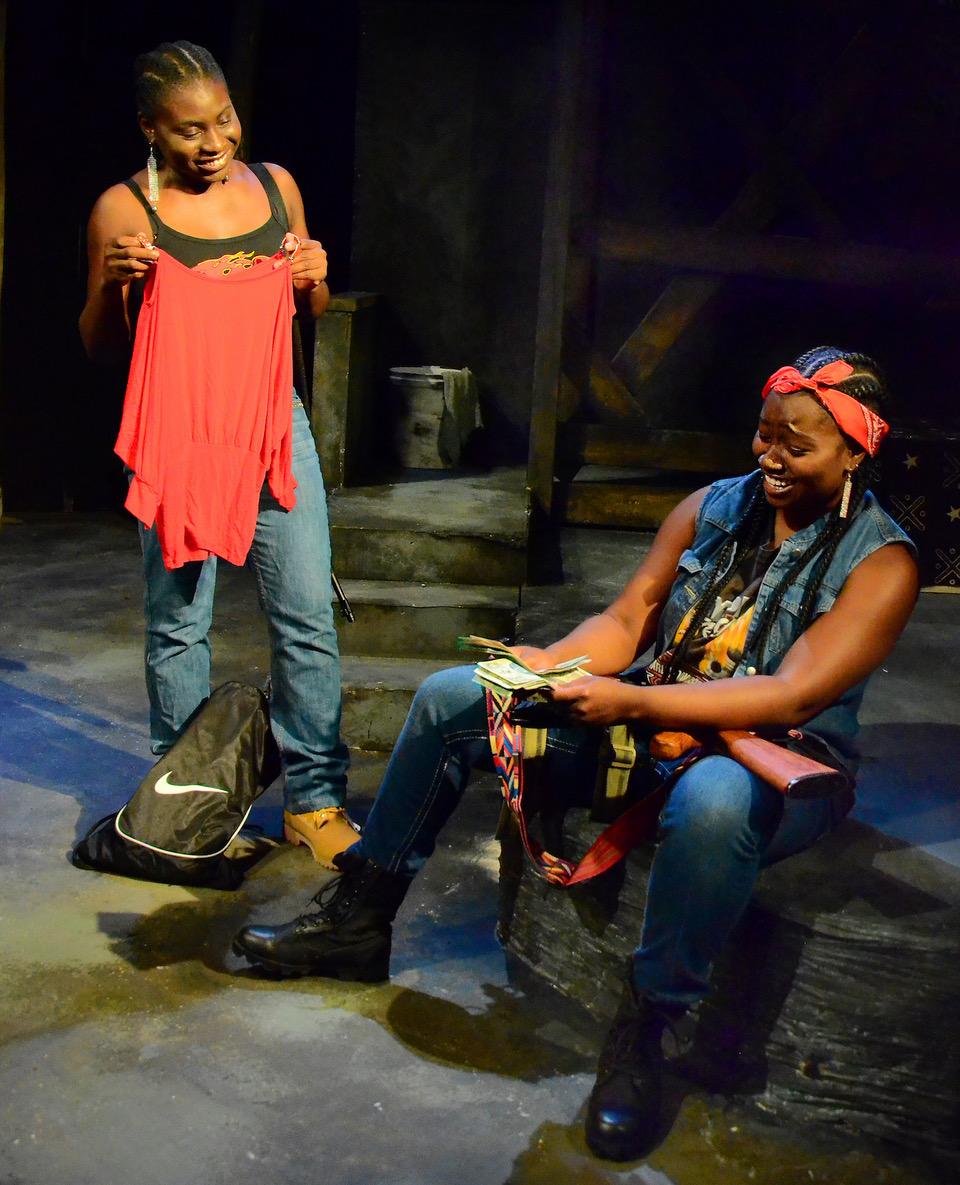 Director Ilesa Duncan masterfully orchestrates this brutal reality. Her talented ensemble embody these persecuted captives. Singletary, Prentiss and Thompson grapple with resigned existence or uncertain transformation. Morayo Orija (Rita) and Adhana Reid (Maima) offer opposite opinions on how to reclaim life's dignity. Orija teaches a hesitant Prentiss to spell her name. Reid teaches a damaged Thompson to kill. Thompson has a powerful soliloquy in Act II. She tearfully tells the story of another abducted girl. It's marring!
Even though Gurira's play is a dark history lesson, she does weave in humor to lighten the mood. In particular, Singletary, who is overly-concerned about her hair, provides ongoing comic relief.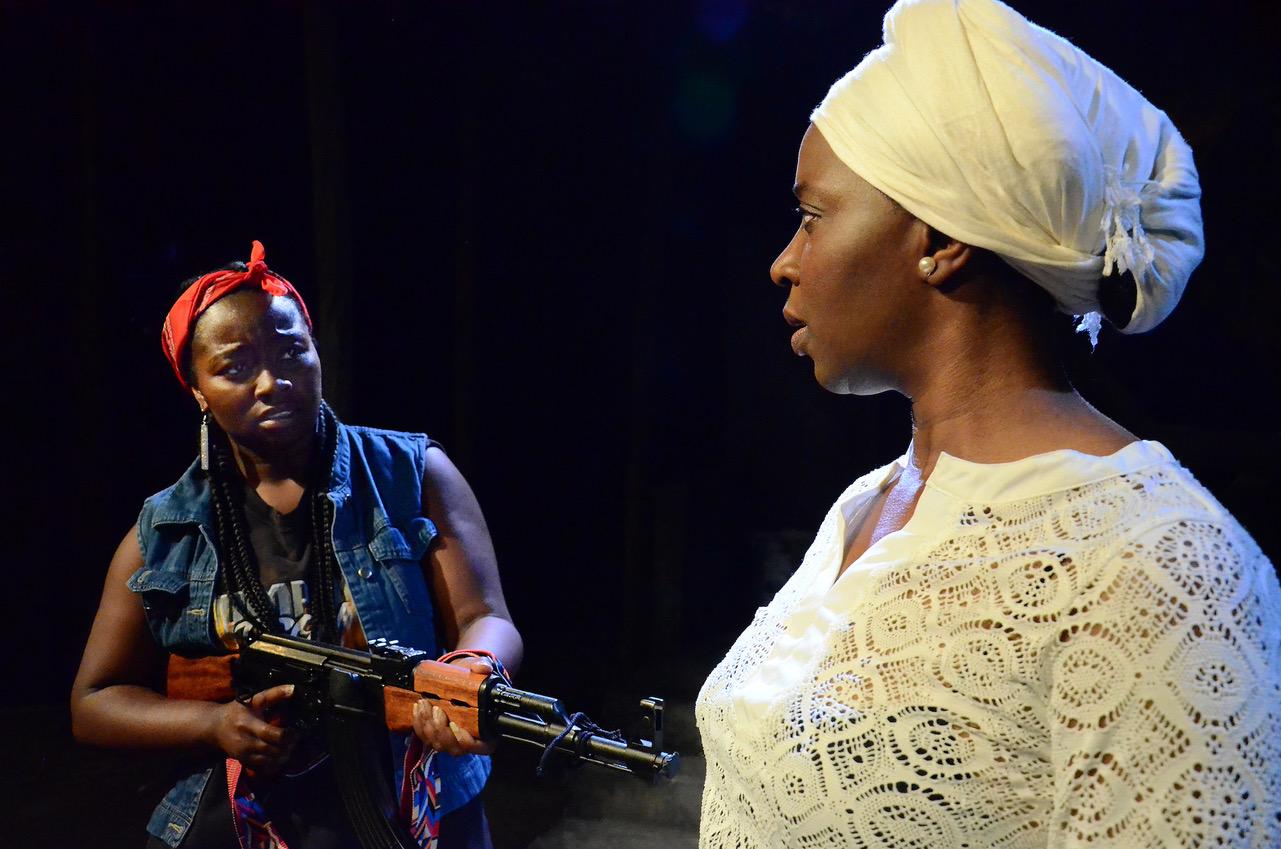 ECLIPSED paints an intimate portrait of the overlooked casualties of war. Gurira connects us to these five distinct women who are all fighting a personal war for survival. In their stories, we experience the good, the bad and the unimaginable of humanity. Eye-opening and gut-punching! I highly recommend seeing ECLIPSED to broaden your personal understanding of what it means to be human on a global level.
Running Time: Two hours and fifteen minutes includes an intermission
At Chicago Dramatists, 1105 W. Chicago
Written by Danai Gurira  
Directed by Ilesa Duncan
Thursdays, Fridays, Saturdays at 7:30pm
Sundays at 3 p.m. 
Thru Nov 4th 
Tickets at PegasusTheatreChicago.org. 
Production photos by Suzanne Plunkett
For more information and reviews on Chicago theatre, visit Theater in Chicago.