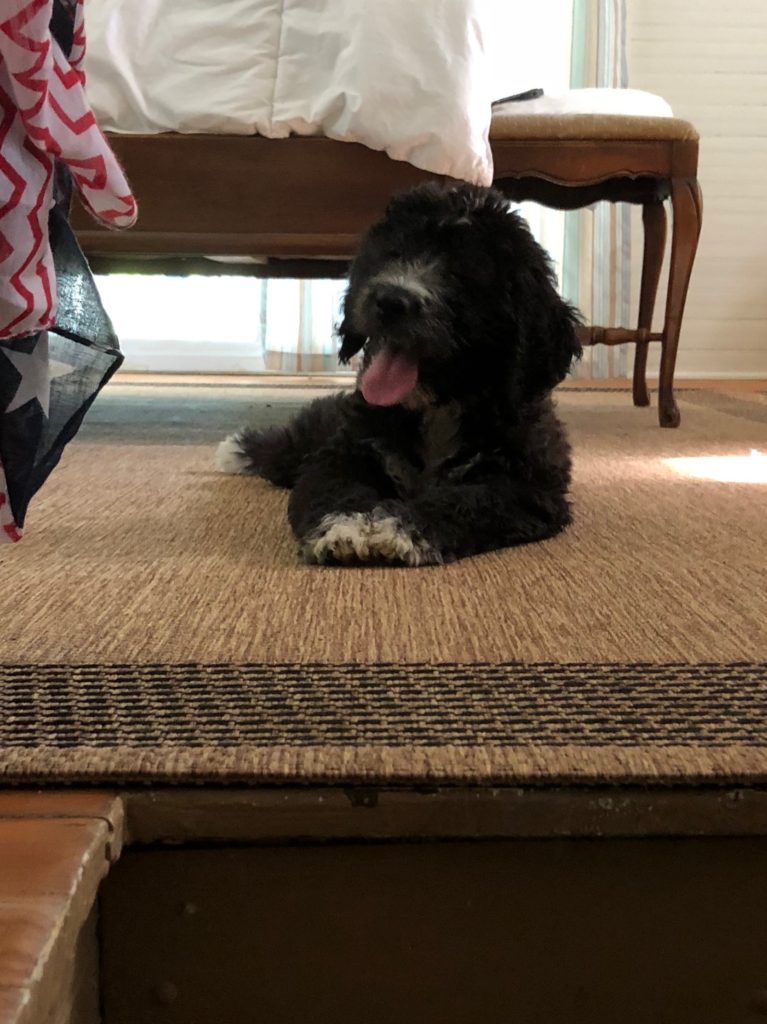 July was my first full month of independence from NRS . Although I'm proud to announce I hit Level 1136 on Candy Crush, I'm still in search of my next great career adventure.
I went into the month a little concerned. What would I do with my days? What do people do when they aren't working? I've been working seven days a week for years. What do I do now?  I was surprised how quickly my days filled up. I can't believe it's August!  31 days whizzed past me. Here's how I spent my July…
House guest = 3 days! My Kentucky bestie, Michelle, visited over 4th of July. We had fun catching up as we talked for three days straight. Michelle was the first person I met when I moved to Chicago, 24 years ago. We met at membership orientation for the National Society of Fundraising Executives. Over her stay, she provided great insight for next steps in my career.
Puppy sitting = 4 days! My sister Jenny adopted a lovable San Bernoodle and named her Dolly (see above). I've helped out on two Monday-Tuesday shifts by puppy sitting . It's a wonderful volunteer gig. I get to hang out with this sweet adorable muppet at her mom's lake house. And added bonus, I also got to visit with the parents, Jenny and my nephew Matthew.
Serving =  16 shifts! I describe myself as being 'underemployed' since I am working at Wood as a server. Since my resignation, Wood has given me extra shifts including a few food-running shifts. My supportive co-workers have also given up the occasional shift to help me out. I'm very fortunate to have this source of income.
Job Search = 18 applications, 1 interview, 1 network lunch! I'm spending a couple hours every day looking for jobs online. I look at job boards and on company websites. I only apply for jobs that feel like the right match. I look at the job description, the company mission, estimated compensation package and company rating in my decision on whether or not to apply. I only had one interview which was disappointing but I'm very interested in the job. It prompted me to have lunch with my friend Ben who is connected to the company. He was/is a wealth of knowledge. If I get to the next step, Ben even offered to help me prepare for the interview…which is phenomenal!
Workout with Josh = 7 times! With my increased serving shifts come my increased aches and pains. Josh teaches me how to stretch out and take care of my stressed muscles. Josh always challenges me to get stronger. He pushes me past my psychological barriers in both the physicality of exercises and my own mental health during this mid career crisis.
Yoga = 2 classes! I took a very relaxing two hour restorative yoga class after a Saturday brunch shift. I also was treated to a one-on-one therapeutic yoga session taught by Abby. My niece needed to teach it as a requirement for her yoga certification. And I was the lucky recipient.
LinkedIn = 3 articles and 5 online classes! I continue to build up my online presence and polish up my skill set through my LinkedIn profile.
Journaling = 26 entries! I'm chronicling almost daily about the struggles and self-exploration of this phase of my life. I plan to turn it into a book to help others when confronted with "Unexpected Changes."
I also reviewed 2 plays, scrubbed down my house and worked on a 3 bin consignment project. I drove 3 airport transports and a trip to the Baha'i Temple. I made a 10 pound casserole for a homeless shelter. And redid Patrick's resume. I socialized over dinners (Bilger twice, Ellen & Gabby, Steve), lunches (Ben, KLW & Sara), and Scubi's annual blow-out party. I watched way too much CNN. And I battled the flu for 2 days followed by a 3 day rebound.
As far as my 2018 goals…
Student for life: I've listened to 2 books and read 1/4 book. I finished up David Sedaris' "Me Talk Pretty One Day." Sedaris is a humorous storyteller focusing on his bizarre family. I listened to Cardiff D. Hall's "Tide Turners." Hall also abruptly left his company job. He chronicles how he actively stopped being a beach comber and became a tide turner by taking control of his life. Hall was a guest speaker during a Monday session of Joel Kessel's "Change Your Outcome" program. Unfortunately, I only participated in one session of CYO because of Wood and puppy sitting. Alternatively,  I have taken five LinkedIn courses because I can take the 1.5 hour class at my convenience. I find them very helpful! 
At my mom's recommendation, I've begun listening to "Small Great Things: A Novel" by Jodi Picoult on the subtle art of racism. Picoult weaves together an interesting tale of ordinary lives confronting their belief systems.   
I'm 3/4 through "The Yamas and Niyamas" by Deborah Adele. Abby gifted me an absolutely, perfect book for self exploration. I'm savoring it. I read a chapter and reflect on it for a day or week. I'm journaling on the principles and how they impact my life.
Be an advocate for marginalized populations:  My casserole for the homeless shelter was my unexpected support of a marginalized population. It was 'unexpected' because it was my sister Jenny's commitment. Jenny often cooks for the homeless shelter or for church funeral lunches. She is a generous person and a great cook. Since I was staying at her lake house and she was busy at work, I completed her assignment. The end result was a ten pound casserole. The ingredients included 4 lbs of ham, 4 lbs of cheese, 2 lbs of pasta, and lots of butter.  I felt good about supporting the homeless but the sheer quantity of the dish might have turned me off ham and cheese pasta forever.       
Be kind: I put it out on Facebook that I had time on my hands and was happy to help anyone polish up their resume. It was my attempt to pay it forward in the career arena. Only one person took me up on it. I met with Patrick, a friend from Wood who is working on becoming a speech pathologist. We talked about his goals. I gave him suggestions on activities he could pursue to look even better on paper. And I revamped his resume. It felt good to be sharing career advice and also working on a professional project utilizing my skill set. 
All and all July was a good month!  I spent a lot time in career and self exploration. I reflected on who I am and what I want. Although I'd like to begin my new career adventure in August, I'll continue to use the days to learn and grow to broaden my vision on my life.