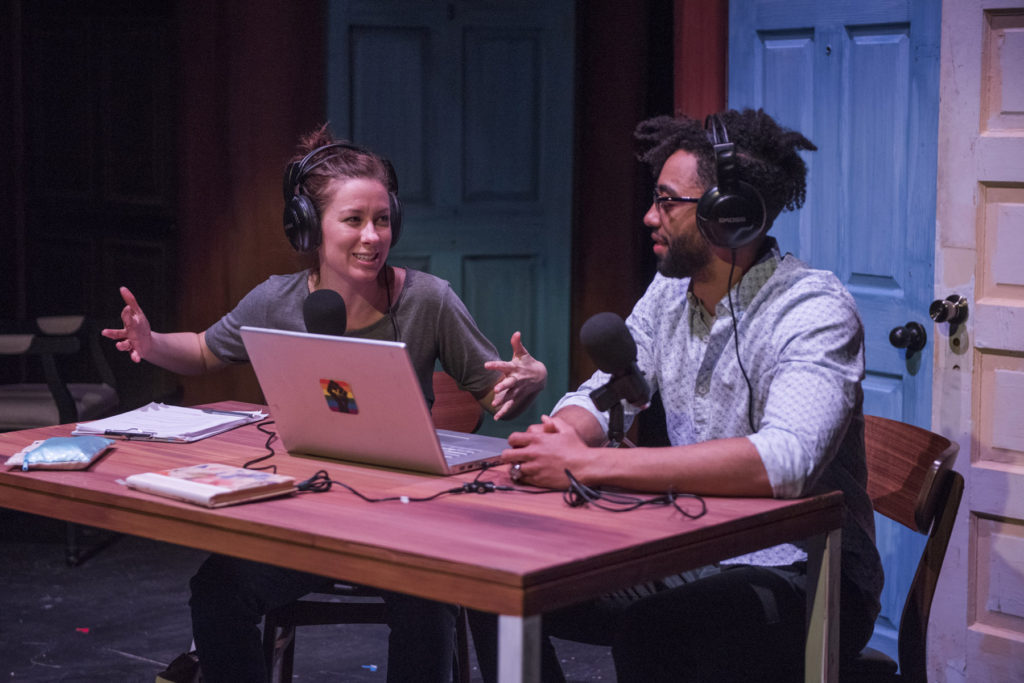 About Face Theatre presents the Midwest Premiere of TIME IS ON OUR SIDE.
Two podcasters stumble on a mysterious diary. The diary was Annie's grandma. When it hints at a lesbian relationship, Annie (played by Maggie Scrantom) forcefully wants to keep her grandma's secrets private. An obsessed Curtis (played by Rashaad Hall) starts putting the story together to pitch to NPR. A podcast and a diary sets up a clash of present and past storytelling. There is an underlying Hamilton murmur of "who tells your story?" Playwright R. Eric Thomas introduces dueling mediums of podcast verses diary. And his theme is a reflection on societal LGBTQ views fifty years apart.
Although Thomas' premise is very intriguing, his execution isn't as enticing. Thomas' play is two visual podcasts. The podcast within the podcast is interviews about the grandma. Framing that podcast is the backstory podcast. The mechanics around the making of that featured history podcast. The four-person ensemble are narrating the history and the current news. Thomas' choice not to insert flashbacks leaves us just listening to a spoken recollection or diary reading. The experience has less emotional connectivity. TIME IS ON OUR SIDE is like watching a podcast.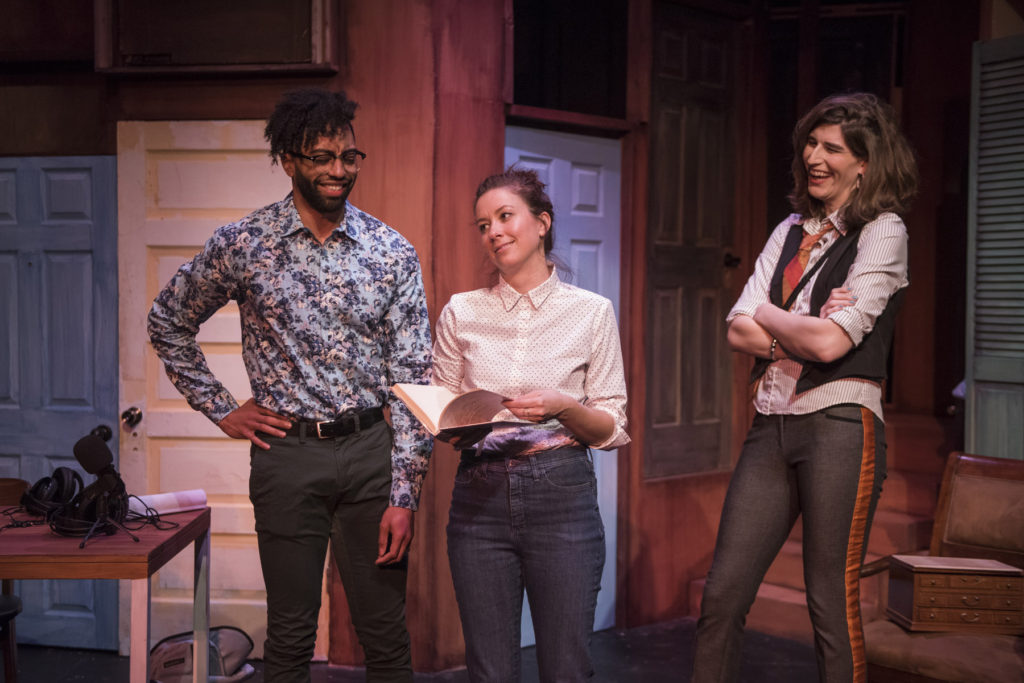 Since all the characters are LGBTQ, Thomas treating the past lesbian relationship like an explosive situation doesn't quite work either. It's more an interesting anecdote shared by a lesbian granddaughter with friends over drinks. The diary's secret doesn't drive tension. In these contemporary times and in this diverse city, it struggles like a Will & Grace remount for timely relevance.  It's hard for us to understand any real conflict between Scrantom and Hall. Why is Scrantom so agitated at her granny's tale? And why is Hall so obsessed with it? A recent breakup adds a relational wrinkle but no true angst.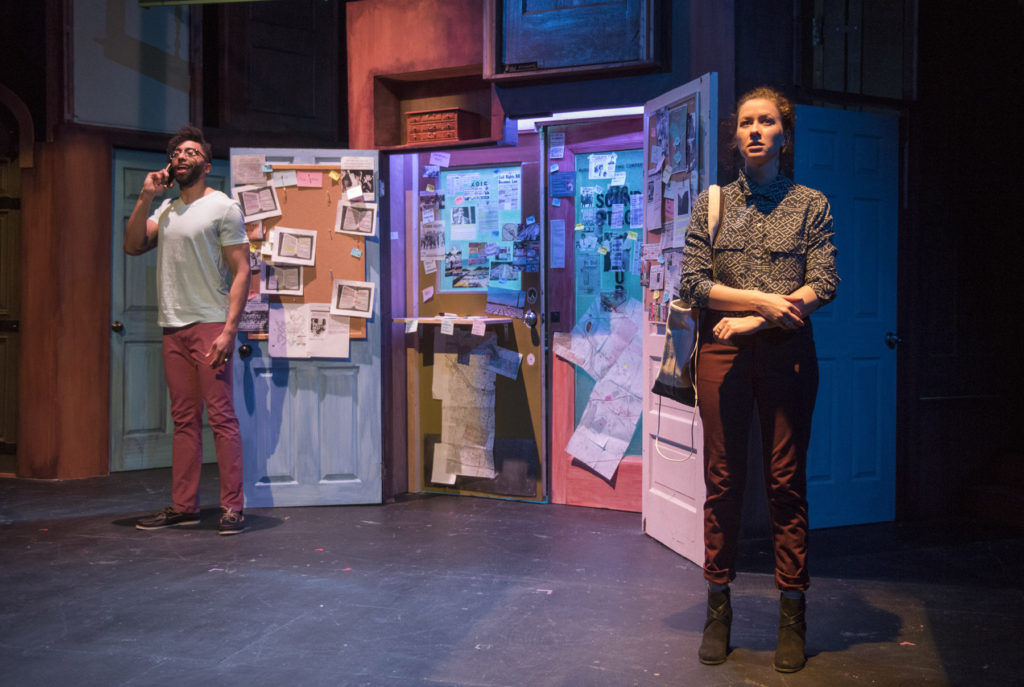 Despite the lackluster story, Director Megan Carney's ensemble commits to the characters. Hall and Scrantom come across as friends trying to create a successful podcast. If the podcast was real, I'd tune in to their retrospective. And the supporting characters, Esteban Andres Cruz (Rene) and Riley Mondragon (Claudia), provide over-the-top camp for some funny moments. Their flamboyant personas put some color into the audio tale. Scenic Designer José Manuel Diaz also adds visual interest. Diaz's backdrop is an eclectic collection of doors and windows. The romanticism of a door-to-the past pairs effectively with the functionality of a few hidden secrets behind a door.
Despite these vibrant nuggets, TIME IS ON OUR SIDE rambles for a long first act of about an hour and half. Although the shorter second act has an interesting reveal, Hall and Scrantom's conflict goes away by happenstance instead of reconciliation. All and all, TIME IS ON OUR SIDE has all the inflections and cadence of an NPR show. It isn't attention grabbing. It's audio storytelling that we tune in and out of.
Running Time: Two hours and thirty minutes includes an intermission
At Theater Wit, 1229 W. Belmont Ave., Chicago
Written by R. Eric Thomas
Directed by Megan Carney
Wednesdays, Thursdays, Fridays and Saturdays at 7:30 pm
Sundays at 3 pm
Please note: there will not be a performance on Friday, March 9.
Thru April 7th
Tickets: Previews: $15. Regular run: $20-$38. Discounts available for groups of 10 or more. Tickets are currently available at aboutfacetheatre.com, by calling (773) 975-8150 or in person at Theater Wit Box Office.
Production photos by Michael Brosilow
For more information and reviews on Chicago theatre, visit Theater in Chicago.