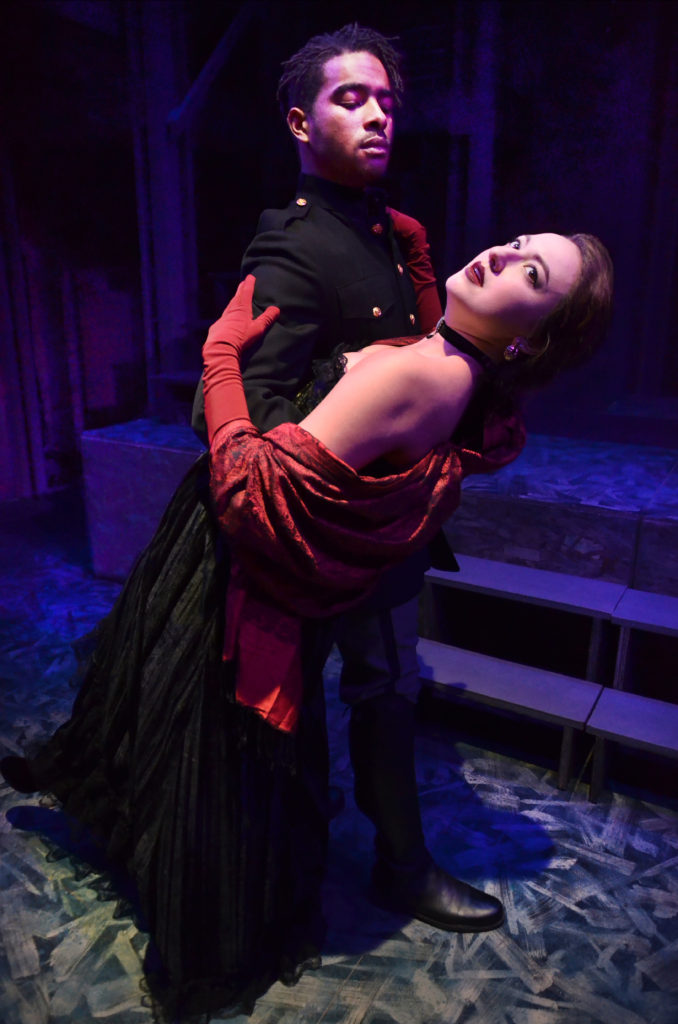 Lifeline Theatre presents the world premiere of ANNA KARENINA. 
Leo Tolstoy's classic could be dubbed "War and Love."  Tolstoy's lengthy Russian novel focuses on the tortures of all-consuming love. Anna (played by an outstanding Ilse Zacharias) desperately loves her son (played by skillful puppeteer Michele Stine) and her lover (played by the sensual Eric Gerard). Her estranged husband refuses to let her have both loves-of-her-life. If Anna divorces him, Karenin (played by wickedly reserved Michael Reyes) will make sure she never sees her son again. An increasingly unhappy Anna is swept away by lusty passions as her son awaits her return home.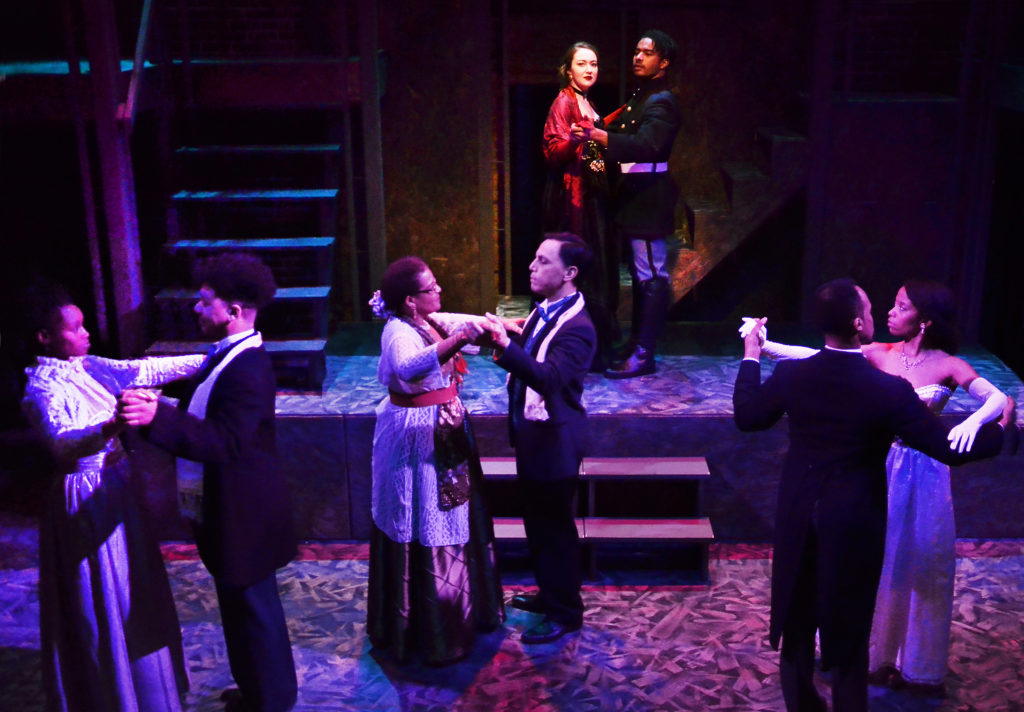 Adapter Jessica Wright Buha and Director Amanda Link do an admirable job of staging the epic 800+ page novel. The primary story is flanked by secondary stories. Buha nicely weaves scenes into Anna's life of the relational angst portrayed by Dan Cobbler (Stiva) and Aneisa Hicks (Dolly) and Dan Granata (Levin) and Brandi Lee (Kitty). Link utilizes a multi-leveled stage to draw attention to love in another corner and to separate story lines. It primarily works for me. Even with Buha's effective paring down, Tolstoy wrote a complicated tome of intersecting relationships and philosophies. At one point, Reyes appears on an upper perch dying. At first I thought, Anna's problems were solved but then I realized Reyes was playing Levin's brother. It seemed superfluous and confusing to have a new character for a brief appearance and played by an actor in a primary role. Tolstoy's novel is a deep dive and this condensed version is mostly easily deciphered and very engaging.  Buha inserts witty snippets, often delivered by Lindsey Dorcus (Betsy), to lighten up the drama. The deliciously flippant Dorcus downplays extramarital affairs as a casual happenstance.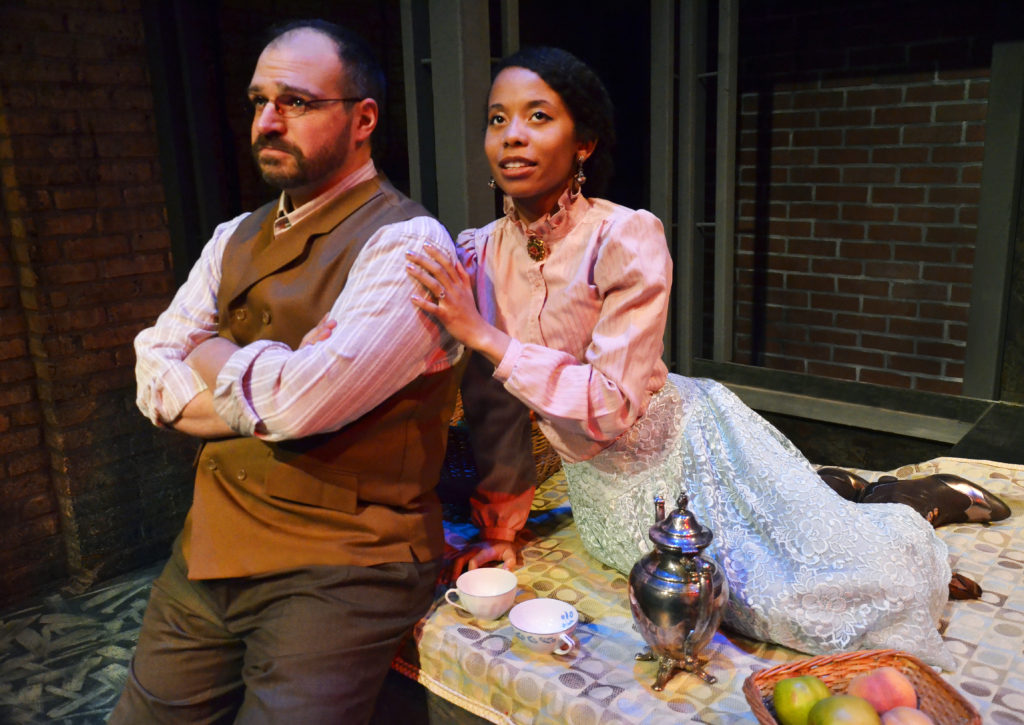 Links' ensemble is terrific. They love and live hard. Stine transforms from a playful boy to a sullen son. Zacharias is riveting as she continually shifts back and forth from pleasure and pain. Her conflict between yearning for her lover and her son is palpable. And the delightful Lee starts out fragile and unexpectedly becomes tough. In a final scene, Lee gives the brooding Granata a verbal 'slap' and hands him the baby.
Link masterfully uses her design team (Joanna Iwanicka-scenic, Izumi Inaba-costume, Abigail Cain-properties, Kasey Foster-movement, Diane D. Fairchild-lighting, Eric Backus-music/sound, Stephanie Diaz-puppet) for this love sonnet to Russia. Inaba fills Iwanicka's stage with rich textures of fur and lace. Zacharias' wardrobe is not only exquisite but she goes from everyday chic to sexy party frock without leaving the stage. Foster's orchestrated movement adds to the storytelling. To Backus' rich and haunting score, the secret affair ignites as a dance. Zacharias continually spins from her day-to-day routine and into Gerard's seductive arms. The sequence is gorgeous. Zacharias' final stage exit is a visual stunner.
Link and Foster create several choreographed moments at the train station and at the horse races. Sheets are rhythmically pulled through hands to show a baby being born. The synchronicity adds an elegance to the drama. Some movement isn't as effective. A staircase moving across the stage doesn't add anything to the encounter except length and an awkwardness. Eliminating some movement and a couple of unnecessary scenes would have tightened this journey across Russia.
Overall, Lifeline is adept to take on Tolstoy's masterpiece. One of my favorite theatre experiences in Chicago continues to be an adaptation of a historical classic by Lifeline. ANNA KARENINA is a steamy, winter treat!
Running Time: Two hours and thirty minutes with an intermission
At Lifeline Theatre, 6912 N. Glenwood
Written by Leo Tolstoy
Adapted by Jessica Wright Buha
Directed by Amanda Link
Thursdays and Fridays at 7:30pm
Saturdays at 4pm and 8pm
Sundays at 4pm
Thru April 8
Tickets may be purchased at the Lifeline Theatre Box Office, 773.761.4477, or by visiting www.lifelinetheatre.com.
For more information and reviews on Chicago theatre, visit Theater in Chicago.