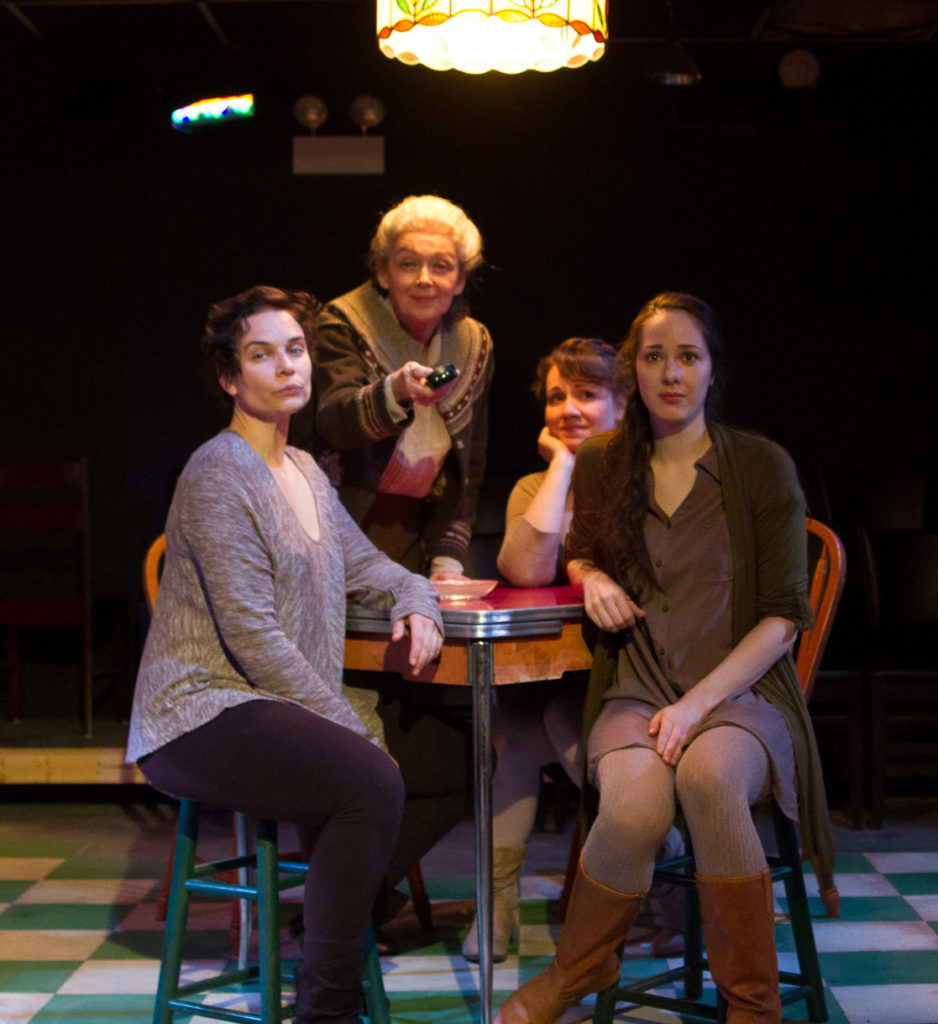 Strawdog Theatre presents THE NIGHT SEASON.
An actor chooses to stay with a family of locals during his film shoot in Ireland. Although he prefers a quiet homey setting to a noisy hotel, he finds himself center of attention in a loud, boozy, loving family. Playwright Rebecca Lenkiewicz pens a a different kind of love story.  It's not as linear as boy-meets-girl. It zig-zags. New loves are challenged. Old loves are revisited. And the love between a mother and a child is questioned… over and over. Lenkiewicz drops us in to the house of a dysfunctional yet close-knit family. Three grown daughters live with their drunken father and their sweet, crazy grandma. Although there is romance, this love story is really about a family.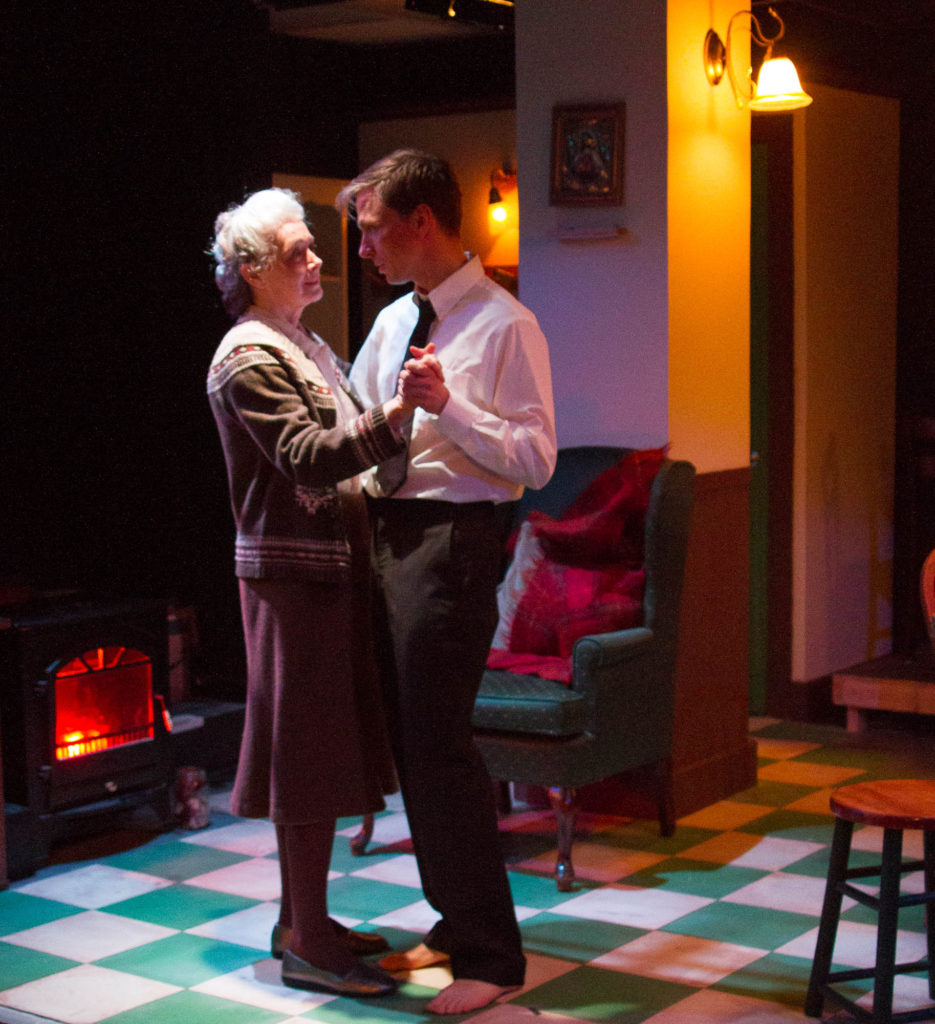 Director Elly Green skillfully navigates Lenkiewicz's robust script. The multiple locations: dancing on the beach, drinking in the pub or piggybacking through the village are illustrated effectively on Mike Mroch's optimized set. These side stories lengthen the play and deepen the personalities. At the heart of this family is Lily (played by the noteworthy Janice O'Neill). O'Neill serves up dementia in a heart-breaking way. She is perfectly lucid in one moment speaking sage advice to her granddaughters.  In the next moment, she is desperately calling out for her estranged daughter. This confusion is followed by her unapologetic and cheeky flirting with her houseguest (played by John Henry Roberts). Roberts and O'Neill are lovely together. Roberts is tender and O'Neill delightfully lights up in his presence.
The terrifically multi-dimensional sisters, Michaela Petro (Rose), Justine C. Turner (Judith), Stella Martin (Maud), don't fall in love as easily as granny. In the wake of a missing mother, they question all aspects of love. Petro has a steamy liaison with a stranger causing her crusty facade to flake away. Shedding the layers of disappointment, Petro shines with hopefulness. But in her need to know the parameters of the relationship, she drunkenly and vulnerably confronts the gent. Her fierce interaction is band-aid ripping raw.  Although her liquid courage drives her into the bed of an old boyfriend (played by the steadfast Michael Reyes), Turner isn't as brazen as Petro. She plays it much closer to the vest. Turner's desire for self-containment make her drunken antics and her library outbursts more vulnerable and more funny. Martin plays the youngest sister. Her guilelessness for her boyfriend's peculiarity and her mother's abandonment bring out the protective nature of Petro, Turner and the audience. An endearing Martin tries to be satisfied with her imagined relationships. Jamie Vann (Patrick) plays the blustery and hilarious patriarch. His good and bad advice to his girls is  delivered under the influence. Vann is deliciously plastered. The ensemble is grand altogether!
Green anchors us in this family's home. The oldies are playing on the turntable. The rain is pattering on the roof. (Heath Hays, sound designer). And the whiskey is flowing. Despite the family confronting unrequited love in various forms, this home is a cozy shelter from the cold, harsh realities of the world. I found it surprisingly uplifting. It left me wanting a part 2 and a shot of whiskey.
Running Time: Two hours and forty minutes includes an intermission
At The Factory Theater, 1623 W. Howard
Written by Rebecca Lenkiewicz
Directed by Elly Green,
Thursdays – Saturdays at 8 p.m.
Sundays at 4 p.m.
Thru June 24
Buy Tickets at 
strawdog.org
 or by calling OvationTix toll-free: 866-811-4111
Production photos by Heath Hayes
For more information and reviews on Chicago theatre, visit Theater in Chicago.