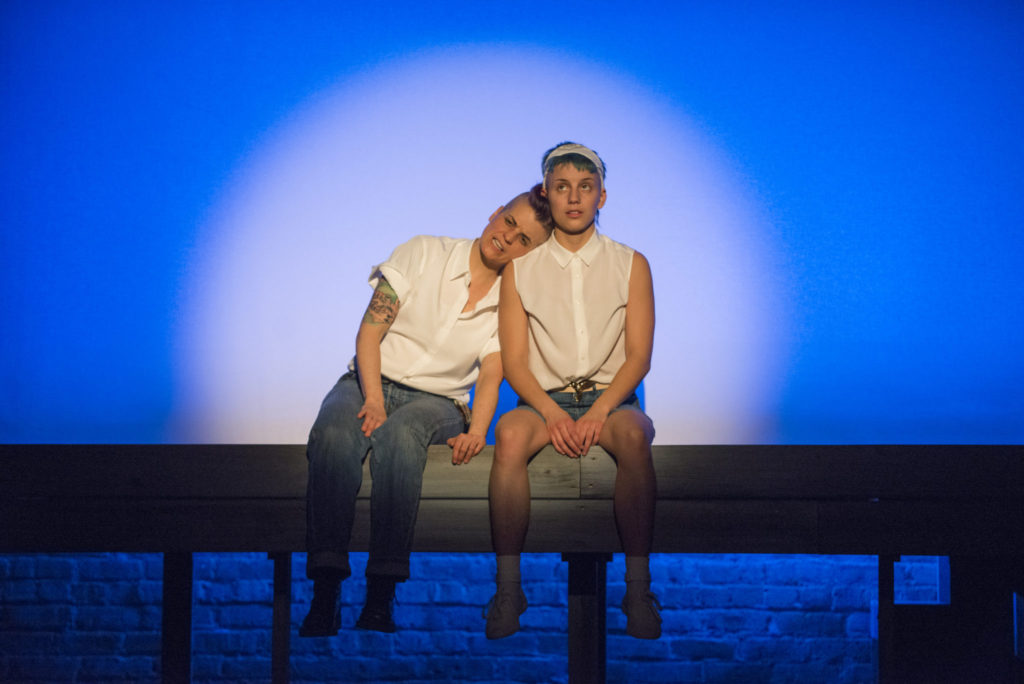 Reviewed by Tom Lawler
Who should this see this: Fans of intimately staged, lushly realized theatrical experiences. Anyone curious to see how ATC's young new artistic director, Will Davis, is putting his stamp on his first season with the company after arriving from New York late last year.
What's it all about: William Inge's 1953 Pulitzer-winning drama concerns a small town getting ready for its Labor Day picnic when a handsome drifter arrives and uproots the lives of several of its repressed residents – particularly the women and their young belle, Madge, who's dating the son of the town's wealthiest family. In his pre-curtain remarks before the opening, Davis described this production as a "gift to the ghost of William Inge."  One of the more successful playwrights of his era (he also wrote Bus Stop and Come Back, Little Sheeba) and screenwriter (Splendor in the Grass), Inge's works often featured repression and sexual longing as themes, likely inspired by his upbringing in the non-metropolis of Independence, Missouri. In his personal life, he lived a closeted homosexual existence compared to one of his peers, the out Tennessee Williams, and took his own life at the age of 60.  Through non-traditional casting, Davis (a transgender artist himself), has sought to make Picnic a completely new experience by showing us how each character represents a different personal side of the playwright and making  Inge's themes more overt.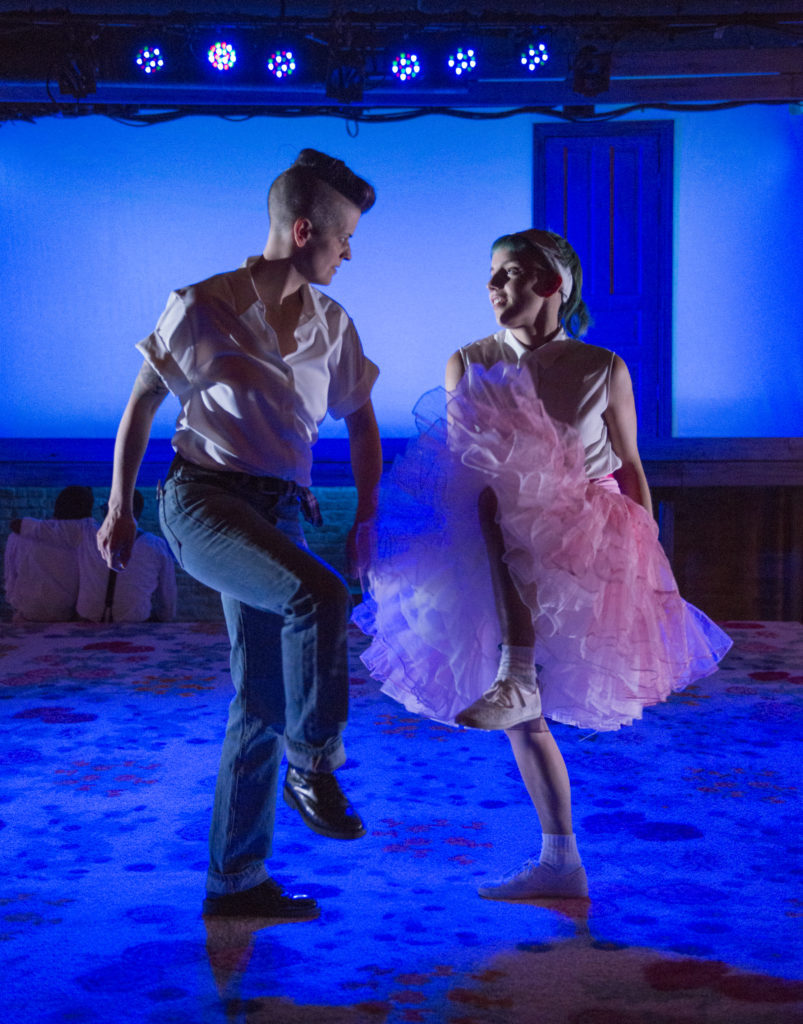 Stand-out performance:  As the charismatic drifter, Molly Brennan delivers boundless energy and physicality in the role of Hal. Brennan not only successfully projects a guileless brand of friendliness and aw-shucks humility required of Hal as a survival tool, but we also intuitively understand that it's a performance concealing this vagabond's darker, more complicated truth. Brennan's work here will both remind you of William Holden's indelible Hal from the 1955 film adaptation, while standing apart as something completely contemporary.
Also, check out: Michael Turrentine as the lonely schoolteacher, Rosemary, brings heaping portions of warmth and humor to this Picnic. (It also helps that he's wearing the wittiest of costume designer Melissa Ng's creations; the conformity of the town is reflected by the fact that they mainly all wear shades of white and beige.)  Later, as Hal's presence sets off a chain of upheavals with these characters, Turrentine in a perfectly-pitched scene with Rosemary's long-time, noncommittal lover (a superb Robert Cornelius) shows us the true desperation of someone who has been afraid to act on their true desires for too long and now fears that that their window of finding happiness is permanently closing.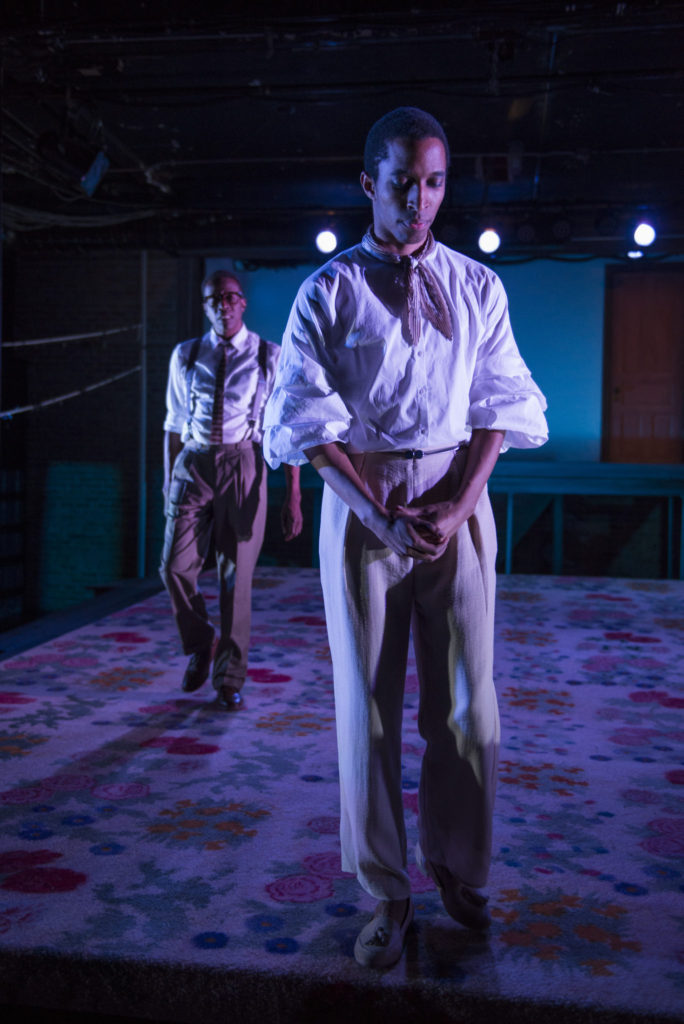 More of this, please:  At its best, a night at the theater should bring us unique sensations we can't experience in any other art form. Here are just a few examples of how Davis and his creative team accomplish this:
Hal and Madge's magical dance: As with the film adaptation, the scene you'll most remember from Picnic is the intimate, almost comically sensual dance between Hal and Madge as these two characters finally wordlessly open their hearts to each other solely through this dance. As the co-choreographer of Picnic, Davis makes this dance a centerpiece of this production as well, as it starts silently with the exception of Brennan's snapping fingers and eventually transports us into La La Land swoon territory with accompanying piano and lighting cues. Brennan and Malic White's Madge (also a couple off-stage) tap into their palpable chemistry to give us something memorable and wondrous that can only be experienced in person.
Music as an underlying mood: Beyond just producing a classic drama and faithfully executing its narrative, in his pre-curtain remarks Davis hoped that Picnic would wash over the audience and ideally allow us to mediate on feelings its summons from us. One key tool he leverages is Miles Polaski's sound design which often features an ominous drone-like sound that pervades under many of the scenes and conveys the nagging disquiet so many of these characters struggle to tune out.
Casting as theme: In his director's notes, Davis states that he doesn't see his cast as representing a gender swap-based approach and considers this line of thinking reductive.  For audience members who aren't as necessarily enlightened on the fluidity of modern-day gender identities however,  Picnic's splendid cast may represent a radical, yet canny introduction to this classic drama that could have even played as dated if performed with a "traditional" cast.  Example: how much more powerful is the scene with Rosemary begging her longtime lover to marry her now that it's being played by two men? How much riskier is it now for Madge to discard rich boyfriend Alan in favor of Brennan's Hal? If some of the repressed desires of Inge's small town play as more quaint today, Davis has interjected a powerful theme here on modern gender identities and sexual orientations and the upheaval that can accompany them that is completely of the moment.
Key surprises:  Look, I came into Picnic a big Laura McKenzie a fan – namely from a very offbeat, shape-shifting body of work she's put together over the years at the Factory Theater.  I didn't realize until scanning the program post-performance that the actress who not only played piano throughout Picnic (including most strikingly, in a post-modern John Cage way by bowing the piano's strings like a cello), but also the secondary character of Mrs. Potts and two other tertiary characters off-stage was none other than Ms. McKenzie. Wow.
In summary:  ATC's new artistic director puts a modern, personal stamp on a classic small town drama that makes its themes of fleeting opportunity, repressed love and class conflicts more relevant than ever.
Running Time: 100 minutes with no intermission.
At American Theater Company, 1909 W. Byron St.
Written by William Inge
Directed by Will Davis
Choreographed by Evvie Allison and Will Davis
Scenic Design by Joe Schermoly
Lighting Design by Rachel Levy
Sound Design by Miles Polaski
Photos by:  Michael Brosilow
Performance Schedule (through April 23)
Thursdays and Fridays: 8:00pm
Saturdays: 2:00pm and 8:00pm
Sundays: 2:00pm
Buy tickets at atcweb.org  or by calling 773.409.4125.   
For more information and reviews on Chicago theatre, visit Theater in Chicago.