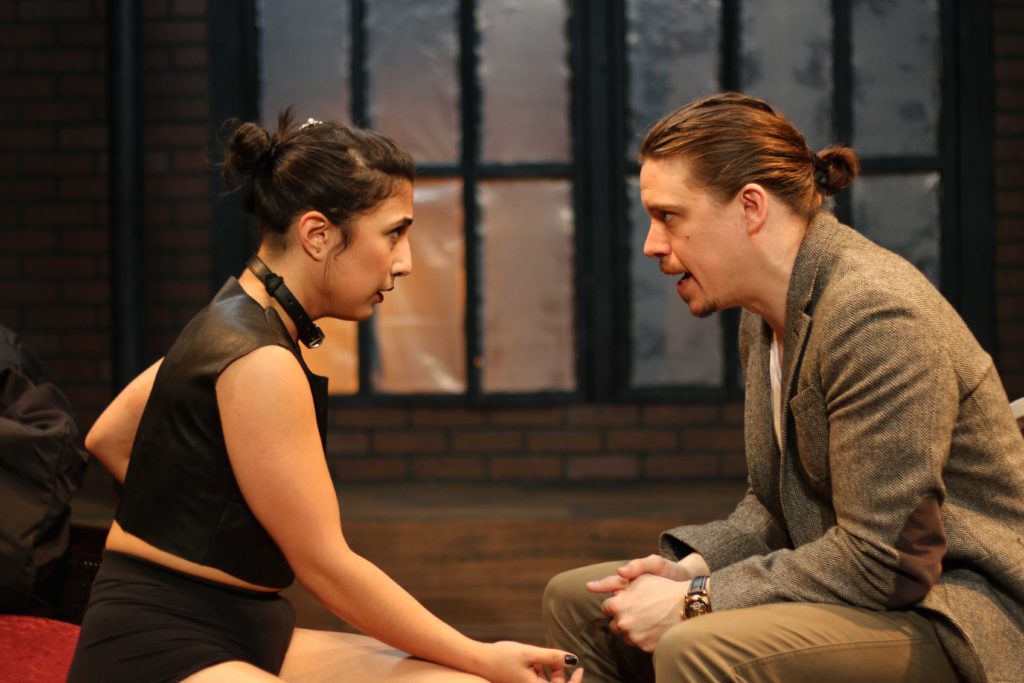 Circle Theatre presents VENUS IN FUR.
Playwright David Ives' dark comedy blurs the lines between love and hate, pleasure and pain, reality and fiction in this audition within a play. Thomas (played by Zach Livingston) is a frustrated playwright and director.  He can't find the right actress for his new play.  He is looking for a commanding goddess-type to sweep him off his feet and beat him with a cane.  Thomas' play flirts with domination, sadomasochism and gender roles.  A flighty Vanda (played by Arti Ishak) arrives late and forces Thomas to audition her.  For the next ninety minutes, Ishak captivates Livingston in an intense game of seduction and submission.
Director Charlotte Drover fills this intimate space with emotional fireworks. Ishak and Livingston go at it with tireless fervor.  Ishak, in particular, easily morphs from ditzy actress to sophisticated lady to goddess-in-charge sometimes within moments. We hear and see Ishak impressively shift her voice and her posture to embody a different person.  She goes from screechy slang to throaty soft-spoken to ruthless demands.  And she matches her voice with physicality. She carries around her wadded up dress. Or she primly glides into the room.  Or she bares a lot and shakes her booty in Livingston's face. The versatile Ishak delivers incredible range within a tight space and limited transition time.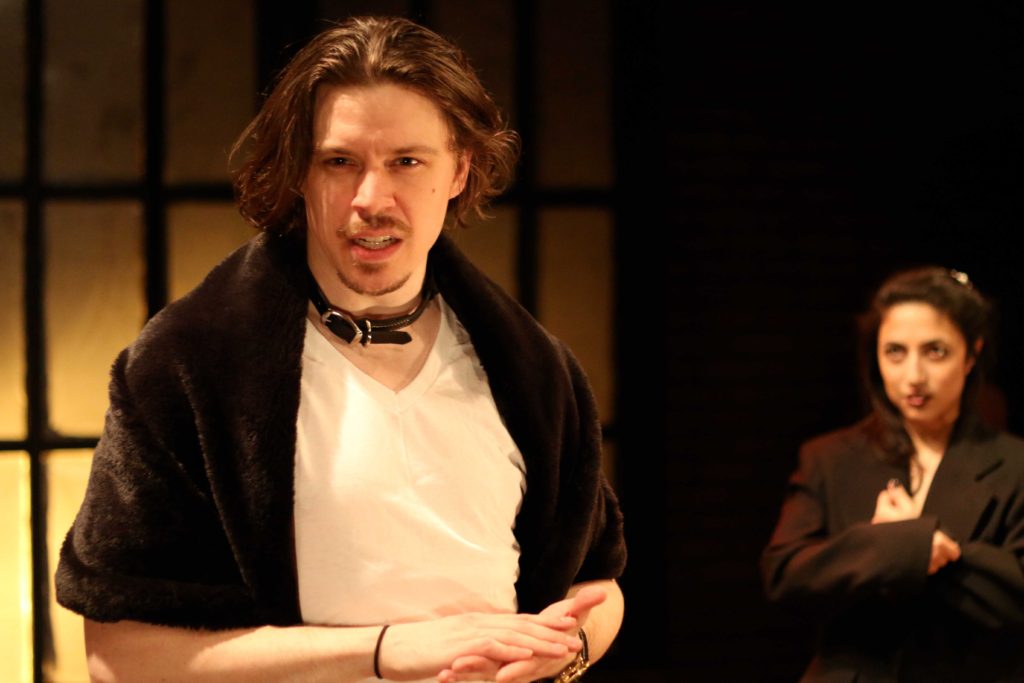 Livingston reacts to Ishak's multiple personalities with curiosity and an eagerness befitting a kid-in-a-candy store.  He effectively connects the audience to the web of sexual entanglements.  As Ishak gradually assumes the directorial reigns, Livingston and the audience are befuddled in her wake.  Who is she? How does she know so much? What's her end game? Her true identity is the mystery behind VENUS IN FUR.
Ives wrote this as a dark comedy. I saw it a few years ago at the Goodman Theatre.  On a larger stage, the humor is much more apparent. Drover's production is more dark drama than dark comedy.  The separation of stage and audience isn't there. It's uncomfortably close.  The audience experience feels voyeuristic. The wall to wall lechery is palpable.  It's like watching a virtual version of "50 Shades of Grey."  The lines between pleasureful and painful are fuzzy as we get lost in the role playing.
Running Time:  Ninety minutes with no intermission
At The Heartland Studio/BoHo Theatre in Rogers Park, 7016 N. Glenwood Ave.
Written by David Ives
Directed by Charlotte Drover 
Thursdays, Fridays, Saturdays at 8 p.m.
Sundays at 2:30 p.m.
Thru March 19th
Tickets are $28 and available at CircleTheatreChicago.org.
All Photos by Cody Jolly Photography
For more information and reviews on Chicago theatre, visit Theater in Chicago.