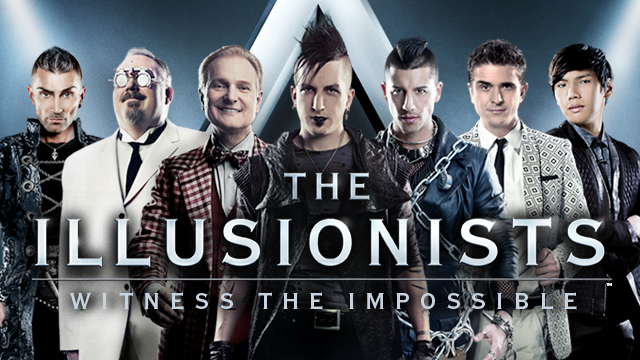 Reviewed by Abby Simon
As a lover of the unbelievable, I have a fond likeness to magic. There are incredible moments when watching a magician perform and truly being in pure awe. I don't care how it's done or if it's real (much like my understanding of gravity, coding, or taxes), the sheer fact that seeing the impossible made real is pretty amazing. I had the recent pleasure of seeing 7 magicians pulling out all the stops at The Illusionists. Each performer had their own tricks up their sleeves and I was left slack jawed.
The entire show is hosted by a glitter wearing, self-proclaimed "poof", also known as The Trickster (aka Jeff Hobson). The showmanship that this magician puts on brings a special flare throughout the show. Next up was the Anti-Conjuror (aka Dan Sperry), whose character and tricks shocked (and potentially made a bit queasy) during his segments. The illusions he put on were certainly out of the ordinary and were not for those with a weak stomach. The Inventor (aka Kevin James) literally brought life to the stage, by physically putting together a human body in more than one way. The Daredevil wowed as he shot a crossbow across the stage at his assistant holding up different objects. My personal favorite, The Deductionist (aka Colin Cloud) could fully read people's minds – I bought in to the whole bit. I don't' have much more to say than I was stunned. He is the Sherlock Holmes of performances and I only wish his segments were longer (and that I was chosen as a participant – but that's neither here nor there). The Escapologist (aka Andrew Basso), on the other hand, was my least favorite as he "paid homage" to the great Harry Houdini, preforming the water chamber escape act. We'll just leave it at that. And last, but certainly not least, The Manipulator (aka Yu Ho-Jin). We've all seen card tricks, but this guy… just wow. My mouth was gaping wide open any time he was on stage.
Un-freaking-believable. If you get the chance to get a ticket, go. There's few times in life when your mind is transformed away from constant running thoughts, but this will do it. My mind is still racing at many of the tricks I saw at The Illusionists.
Running time: 2 hours with one intermission
At Oriental Theatre
Presented by: Broadway in Chicago
Runs until: February 26
Thursday 7:30pm
Friday: 7:30pm
Saturday 2:00pm & 8:00pm
Sunday 2:00pm & 7:30pm
Tickets can be purchased here or by calling (844) 854-1450
For more information and reviews on Chicago theatre, visit Theater in Chicago.