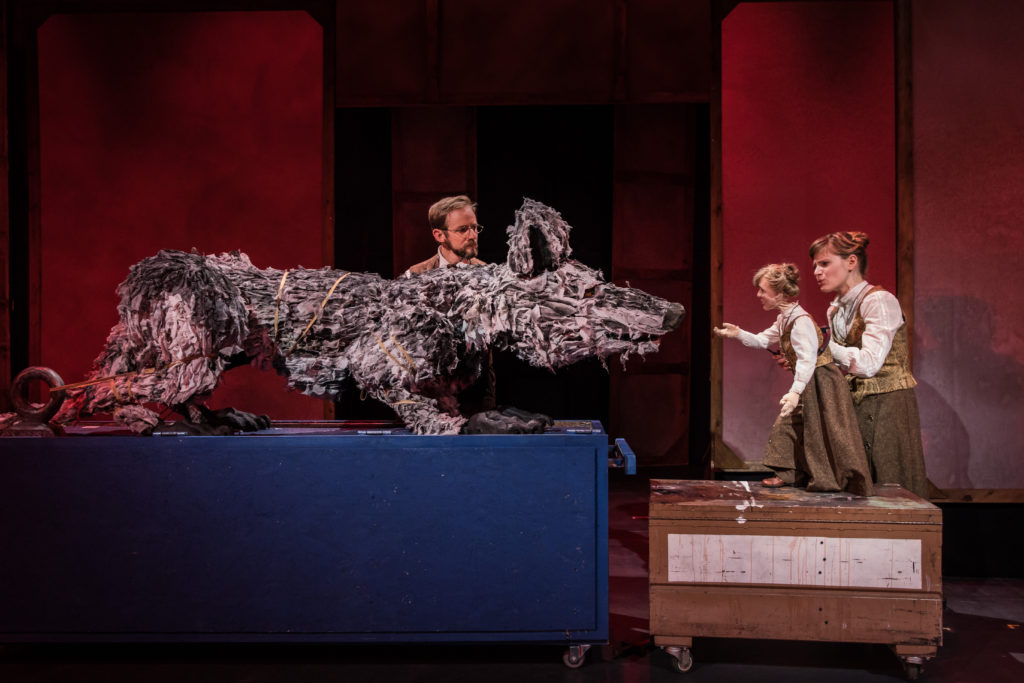 Lookingglass Theatre presents World Premiere of MR. AND MRS. PENNYWORTH.
Get ready to be enchanted by Playwright and Director Doug Hara's new play.  It's a story about storytellers and the stories they tell. Hara masterfully spins a love story out of fairytales. He sprinkles in mystical time travel. He casts it to perfection with Lindsey Noel-Whiting (Mrs.) and Samuel Taylor (Mr.). He enlists a cracker-jack design team: John Musial (scenic), Mara Blumenfeld (costume), Sarah Hughey (lighting),Andre Pluess and Ben Sussman (sound and composition), Mike Tutaj (projection), Amanda Hermann (properties), Blair Thomas (puppet), Drew Dir, Sarah Fornace and Julia Miller for Manual Cinema Studios (shadow animations).  And voila…a beautiful, whimsical charmer!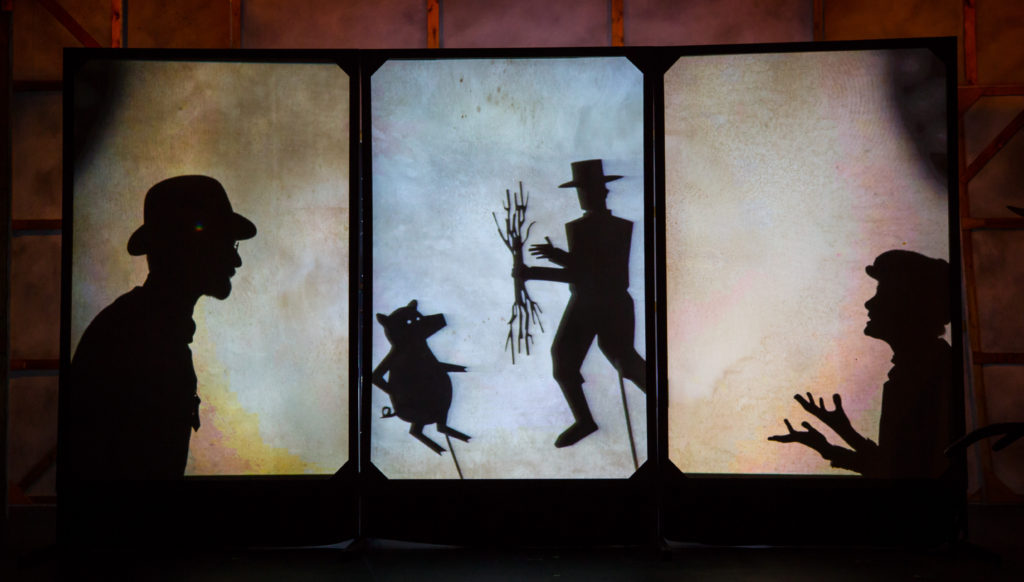 The show starts with the engaging Noel-Whiting speaking directly to the audience. On a stage cluttered with bare canvasses, Noel-Whiting begins telling the story.  She reflects on her husband chronicling what he would do if he were present.  During her narration, Taylor appears and behaves exactly the way she describes. She is remembering the story of them. Taylor affectionately teases her about his ending.  Noel-Whiting insists everyone prefers a happy ending. He asks her where she is starting the story she is going to tell us.  She indicates the day they met in the park.  He says that will make it too long (no worries, their first encounter will eventually be told.) Taylor suggests their story about the big bad wolf dying… uncharacteristically begin the play.
The action starts with one of the three little pigs, a Blair Thomas' puppet, arriving in hysterics. He  anxiously tells how his fairytale has been thwarted by the wolf being killed by a monster. The mechanics of this play's storytelling are as captivating as the neatly-bound stories themselves. The puppet starts out on Taylor's hand and eventually ends up on Noel-Whiting's hand.  Whoever has the pig is the storyteller.  The dynamic duo of Noel-Whiting and Taylor effortlessly switch back and forth from telling the story to being in the story.  It's words. It's puppets.  It's shadowy projections behind the canvasses.  It's magical! I've never experienced such a unique blending of stories and theatrical techniques executed by only two performers.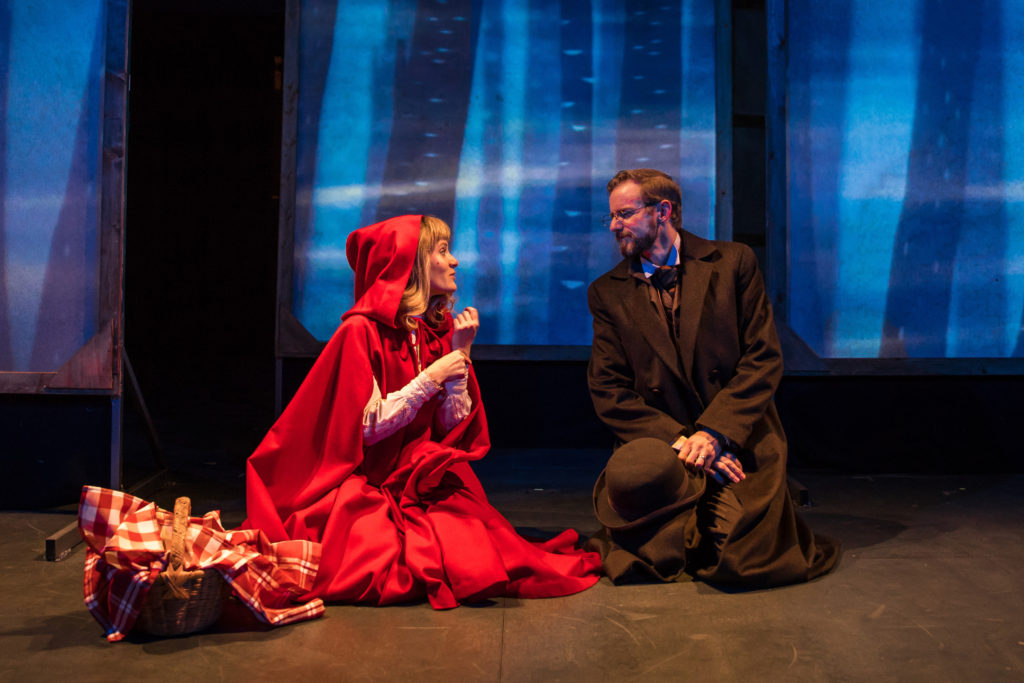 I imagine children would enjoy these fractured fairytales illustrated with such playful quirkiness. I loved it for all that and the deeper takeaways. Hara teases out the importance of pain and drama in any life story. He anchors all his tales within the uplifting Pennyworths' love story.  I highly highly recommend spending time with MR. AND MRS. PENNYWORTH.  They will make you believe in love and life and the vivid pursuit of both.    
Running Time:  Ninety minutes with no intermission
At Lookingglass Theatre, 821 N. Michigan
Written and directed by Doug Hara
Wednesdays, Thursdays, Fridays, Saturdays, Sundays at 7:30pm
Thursdays, Saturdays, Sundays at 2pm
Additional performances at 2pm on 12/22, 12/27 and at 7:30pm on 12/22, 12/27
Buy Tickets at www.lookingglasstheatre.org
For more information and reviews on Chicago theatre, visit Theater in Chicago.