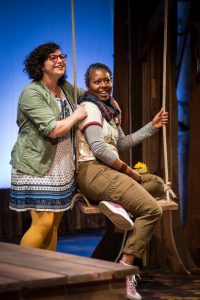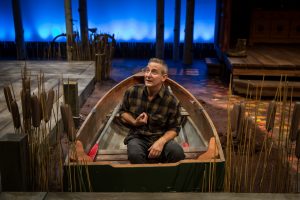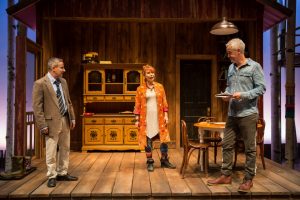 Lookingglass Theatre presents the Midwest Premiere of LIFE SUCKS.
This show keeps it real. The problems are relatable. The emotions are intense. These flawed humans ponder the very essences of the human condition. They love and long for someone or something to make them happy. They wrestle with how people see them, how they see themselves and who they truly are. And they use heavy doses of comedy and alcohol to dull the disappointment of those contemplations. The superb ensemble transition effortlessly from interacting with each other to addressing the audience for advice. The honest reflections and requests for feedback is in an effort to get unstuck. We are spectators and often consultants in this dynamic group therapy session.   
Playwright Aaron Posner dusts off Anton Chekov's "Uncle Vanya." He pulls off the literary lace curtains and exposes the themes to natural lighting. Posner takes the guts from the 19th century Russian classic and puts them into contemporary folks dealing with today's harsh realities. Life is hard. Life is unfair. Sometimes, life sucks. I loved Posner's brilliant pseudo adaptation for its contemplative engagement. Instead of letting characters wallow in self-pity and obscurity, he forces them to confront their issues.  In one of my favorite scenes, a vulnerable Eddie Jemison (Vanya) is lovingly assaulted by the ensemble. During this intervention, each starts his/her confrontation with the lead in 'I should feel sorry for you… .'  The personal laments are beautifully powerful.      
Posner blurs the lines between play and reality.  The ensemble start the show with warnings about the content. In one of the first few scenes, the lovely Danielle Zuckerman (Sonia) gives us a tutorial on the characters.  At one point, Jemison comes out and stops a conversation with 'I need the house.' He wants to ask the audience's opinion. The non-traditional set-up could be challenging in less capable hands. Director Andrew White masterfully weaves this together.   
White's solid ensemble kicks ass!  The moments of helplessness are intertwined with humor.  Jim Ortlieb's (The Professor) meltdown leaves him shriveled up on the kitchen floor.  His fall from his pompous perch gets plenty of laughs.  A drunken Philip R. Smith (Dr. Aster) hysterically talks to the love-struck Zuckerman.  And the fierce Chaon Cross (Ella) confronts all the men pursuing her on stage and off stage.  She bluntly asks, 'who wants to fuck me?'  Her arrogance is earned as the object of obsession by most of the cast.  I absolutely love the scene between her and Zuckerman.  The kind-hearted Zuckerman hates Cross for being beautiful and reveals this by saying, 'I want to slap you across the face and then make you a rum and coke.'
One of the most poignant moments is between Cross and Jemison.  The tormented Jemison spends a good portion of the play trying to convince Cross if she knew the real him, she would love him.  So, Cross asks him to tell her about the real him.  It's a gut-puncher!      
Throughout the show, the spunky Barbara Robertson (Babs) and the whimsical Penelope Walker (Pickles) bring opposite degrees of comedic relief.  A blunt Robertson addresses issues with 'no judgment.'  She hints at questionable past decisions that have taught her how to 'move on.' Robertson serves as a colorful sage encouraging others to pursue the adventure. Walker, on the other hand, injects an innocence into this troubled make-shift family.  She brings a bouncy excitement over a nature walk or knitted hand puppets.        
Lots to love in LIFE SUCKS!  Nod out to Scenic and Lighting Designer Brian Bembridge for constructing a house, treehouse and lake that match Posner's surreal tone. I highly recommend this life exploration show but be warned of its thought-provoking content. It'll inspire an existentialist journey. If you aren't looking for personal growth, consider Robertson's suggestion at the beginning of the show to 'catch 'Wonderful Town' at the Goodman Theatre instead.'
Running Time:  Two hours and fifteen minutes includes an intermission
At Lookingglass Theatre, 821 N. Michigan
Written by Aaron Posner
Directed by Andrew White
At 7:30pm Wednesdays, Thursdays, Fridays, Saturdays, Sundays
At 2pm Thursdays, Saturdays, Sundays
Thru November 6th 
Buy Tickets at http://lookingglasstheatre.org/
For more information and reviews on Chicago theatre, visit Theater in Chicago.