Cirque du Soleil, in conjunction with Visa Signature® in association with United MileagePlus®, presents its new touring show inspired by James Cameron's record-breaking movie Avatar, TORUK –  THE FIRST FLIGHT.
The lush cinematic experience of Avatar is recreated in TORUK. This stunning designer showcase is one step closer to actually being in the movie. The audience, like anthropologists, observe life in the mythical Pandora from our United Center perches. Under the masterful direction of Michel Lemieux and Victor Pilon (writers, multimedia directors), we are transported to this surreal place.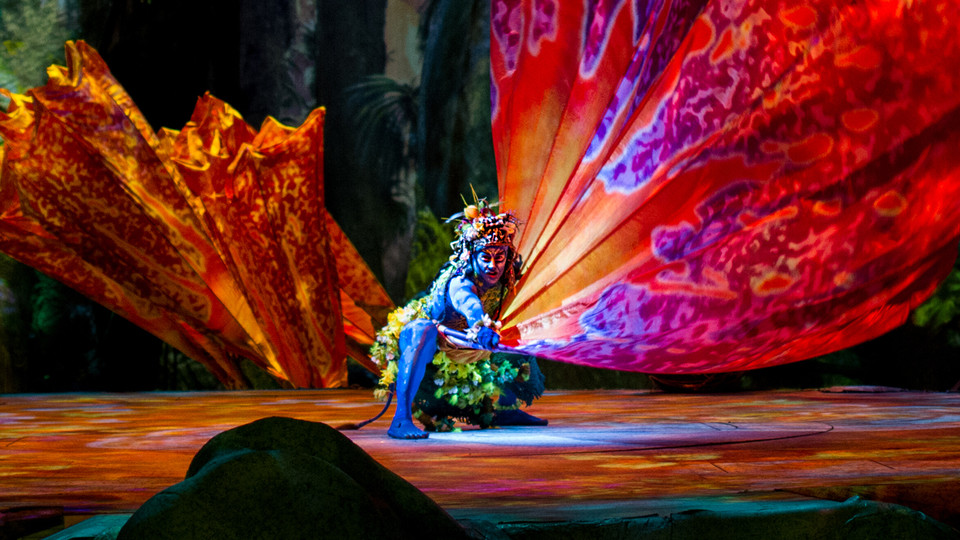 The landscape is dynamic. It goes from rocky and barren to rushing stream from a waterfall. The transitions are fluid and breathtaking. Vibrant butterfly-like wings sweep us into the mystery land.  Glowing amoeba-like organisms dangle from the sky. Texture and color skillfully ground us in this whimsical reality. Neilson Vignola, Director of Creation and Carl Fillion, Set and Props Designer establish this unbelievable yet believable world.
The entire design team aid in this dreamy illusion.  Bob & Bill (composers and musical directors) create a soundtrack that balances between tribal and tranquil. Jacques Boucher (Sound) adds in the nature with rushing water and jungle noises. Alain Lortie (Lighting) lights up the sky in glorious orange and red or emphasizes the barren with disturbing starkness. Patrick Martel (Puppet) creates these menacing predators. They are manipulated by humans on stage. The movement of puppet and human is so seamless that I start seeing them only as one ominous threat.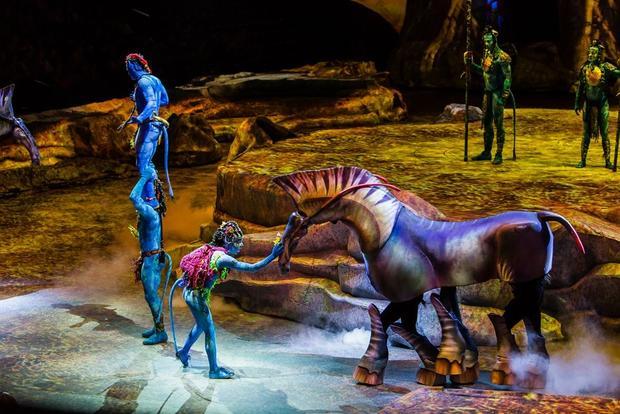 TORUK is a gorgeous escape into a new world!  In the past, Cirque du Soleil's shows have been a series of feats performed in storytelling sequence.  Although TORUK still has Cirque signature aerialists and contortionists, these movements don't have the usual marveling quality. Pandora and its inhabitants (Kym Barrett, Costume and Makeup Designer) are so real, their actions feel culturally authentic (Tuan Le and Tan Loc, Choreographers and Germain Guillemot, Acrobatic Performance Designer). The show ceases to be a performance. It becomes a fantasy trip to another planet's reality.
TORUK-THE FIRST FLIGHT is a sensory explosion. I saw. I heard. I felt. I was in Pandora last night. It was beautiful.
SIDENOTE: Avatar was PG-13. TORUK is too! The artistic splendor is best enjoyed by adults and probably double-digit youth. I was surrounded by smaller children with limited attention span.  Their questions, restlessness and even a baby crying were the only bad parts of this stunning other-world masterpiece.
Running Time:  Two hours and thirty minutes includes an intermission
In the United Center, 1901 W. Madison
Inspired by James Cameron's film, Avatar
Written and directed by Michel Lemieux and Victor Pilon
Thru August 7th
Buy Tickets at https://www.cirquedusoleil.com/toruk
For more information and reviews on Chicago theatre, visit Theater in Chicago.