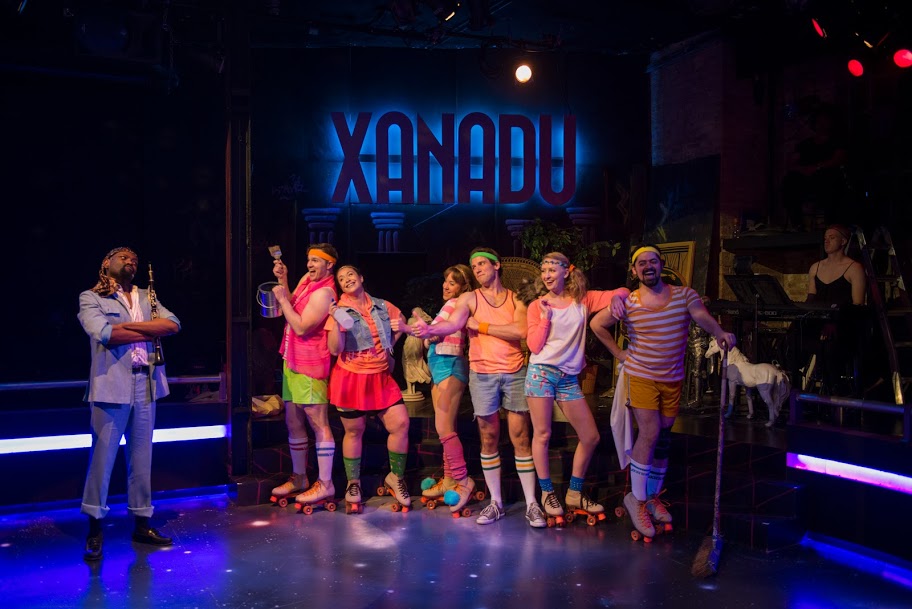 Reviewed by Tom Lawler
Set the scene: As the final production of American Theater Company's Legacy Season in tribute to their late Artistic Director PJ Paparelli, ATC produces Xanadu, a riotous, mega-campy musical comedy based on the misshapen 1980 roller disco musical starring Olivia Newton-John and Gene Kelly. Because this Xanadu was penned by Tony-winning playwright and screenwriter Douglas Carter Beane (The Little Dog Laughed, To Wong Foo…), the script is especially witty and arguably an improvement over the original movie. The punchy soundtrack (penned mainly by ELO's Jeff Lynne) continues to deliver an irresistible helping of ABBA-influenced dance pop.
What's it all about: Set in early '80s Venice Beach, a sweet-natured but depressed artist, Sonny (a pitch-perfect Jim DeSelm), is ready to end it all as he struggles to paint a mural of the Greek Muses. But hold up, sisters! The muses come to life, led by Clio (Landree Fleming) who hatches up a plan with her sister muses to inspire this artist and get his mojo back. Now calling herself Kira and strapping on a pair of roller skates and a hilarious Australian accent (a wink to Oliva Newton-John from the original movie) to disguise herself as a mortal, Clio's plan works to perfection. She even expands the plan by connecting Sonny with the no-nonsense owner of a shuttered nightclub (Aaron Holland, showing all-around game as a tap dancer and comedian) so that it can be reopened as a roller disco. Complications arrive when a couple of her jealous sister muses (a magical pairing of Missy Aguilar and Karla Beard) try to sabotage her – raising the wrath of the big guy, Zeus, himself.  Add in some frothy, often hilarious musical numbers by choreographer Brigitte Ditmars and musical director Aaron Benham (also fronting a live four-piece band) and you've got an instant camp classic.
Stand-out performance: As Clio/Kira, Landree Fleming delivers a stellar star turn in her ATC debut and builds on a quickly ascending Chicago stage career (she's also recently appeared in productions for Chicago Shakespeare Theater, Marriott Theater and Drury Lane Theater). Fleming's radiant smile and bubbly voice work in tandem to suck us in to this patently silly production – we actually care what happens to her and Sonny and want to see them open the roller disco. As a business proposition in 1980, that's a no-brainer, right?
Also, check out: As outstanding and committed as Fleming and DeSelm are in the leading roles, director Lili Anne-Brown and her creative team do an able job of giving every member of the ensemble their own chance in the spotlight. For example, a duet between jealous sister muses Missy Aguilar and Karla Beard performing ELO's "Evil Woman" is slinky and sensational.  Also, many of Xanadu's musical numbers are performed on roller skates – considerably adding to their difficulty.
More of this, please: Before the play started, I was curious about the woman sitting all by herself on a balcony above the band. I soon found out she was the spotlight operator. In a production that often championed the power of "magic," there is nothing quite as dream-like as a dark stage lit by a single wandering spotlight illuminating just what we're meant to see. Often, the most effective theatrical presentations are the simplest.
However: The first half hour or so of Xanadu was some of the most fun I've had in a theatre for years. In the few moments I wasn't laughing, I was mentally listing all of the friends I should contact to go see this show. By the end of it, Xanadu's mega-camp attack (particularly in the final confrontations with Zeus) exhausted me more than a little.
However II: Xanadu ended on a lasting delirious note when music director Aaron Benham strapped on the rare and wonderful "keytar" for the finale – an all-wheels-on-deck blowout of the title song. We went out the doors of ATC still humming it before inevitably proceeding to decidedly more workaday activities. Xanadu is a wonderful, magical place everyone in Chicago must visit – find some friends and plan your visit!
Do this first: There is no shortage of dining and drinking options near ATC,  but the better-than-average bar food at Brownstone Tavern is a safe bet, especially if you forgot to make reservations.
Do this after:  Not quite ready to leave the roller disco? Sadly, the roller rinks on the North Side are all gone, but for the disco take a cab to 3349 N. Halsted and inquire within.
Running Time: 100 minutes with no intermission.
At ATC, 1909 W. Byron Ave
Playwright: Douglas Carter Beane (Book) and Jeff Lynne & John Farrar (Music & Lyrics)
Director: Lili-Anne Brown
Musical Director: Aaron Benham
Choreographer: Brigitte Ditmars
Wednesdays-Fridays at 8pm
Saturdays at 2pm and 8pm
Sundays at 2pm
Thru July 17
Tickets: $48-58
Buy Tickets at ATC's site.
Photo by: Michael Brosilow
# # #