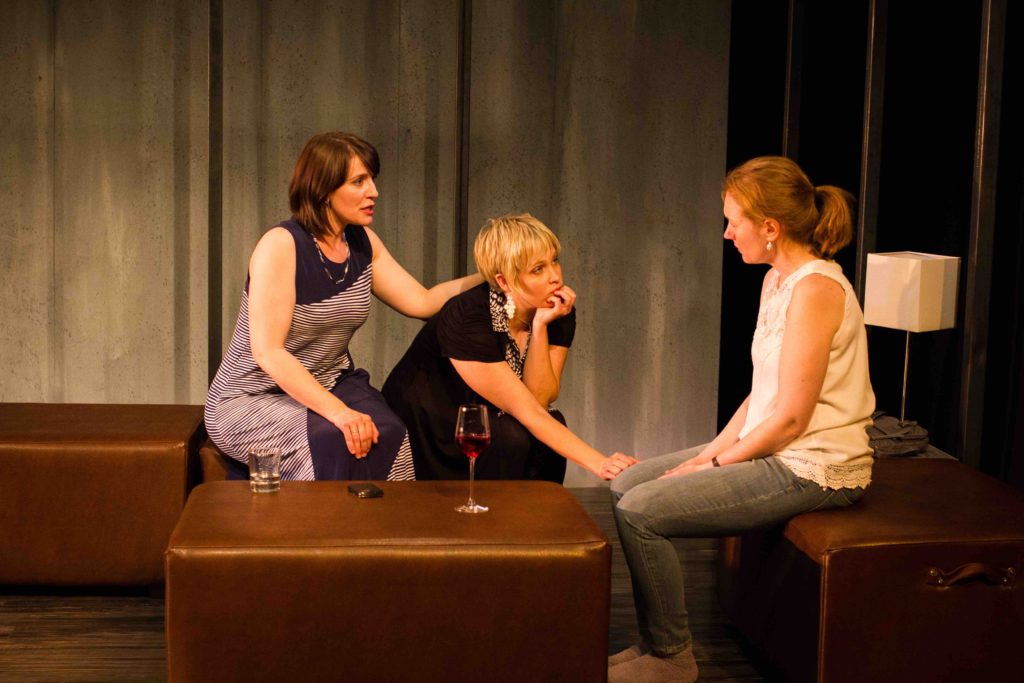 Haven Theatre presents the U.S. Premiere of THE DISTANCE.
The word to describe this show is brilliant!  Writing, directing and acting make it a tri-fecta powerhouse! The show starts out slow as two strangers (played by Josh Odor and Abigail Boucher) navigate an unexpected layover. Their interaction is equal parts nervous and sweet as Odor tries to placate Boucher's fears.  From that quiet scene, we, along with Boucher, are dumped into a noisy gathering of pushy, loving friends. Playwright Deborah Bruce masterfully spins a vibrant relational tapestry. Bruce explores the messiness of friends' influence in the parental and marital arenas.  The dialogue feels like an organic frenzy of judgment and affection and denial. For years, these friends have existed by side-stepping hot topics, suppressing real emotion and mellowing out on wine and weed. When one friend significantly deviates from the prescribed norm, everyone's life choices come under scrutiny. 
This show is a classic in the makings.  It reminded me of a British remake of the film "Big Chill." Friends have gathered to deal with Boucher's crisis. Or more accurately, what they perceive her crisis to be.  Megan Kohl (Kate) is in full special operative rescue mode. She is ready to fix the problem without knowing what it is. Kohl bulldozes over everything and everyone to 'help.' She fiercely advises Boucher and lambastes Layne Manzer (Darragh) with the same zest.  In hysterical contrast, Allison Latta (Alex) is subdued and distracted.  Latta casually comments or reacts in perfect comedic timing.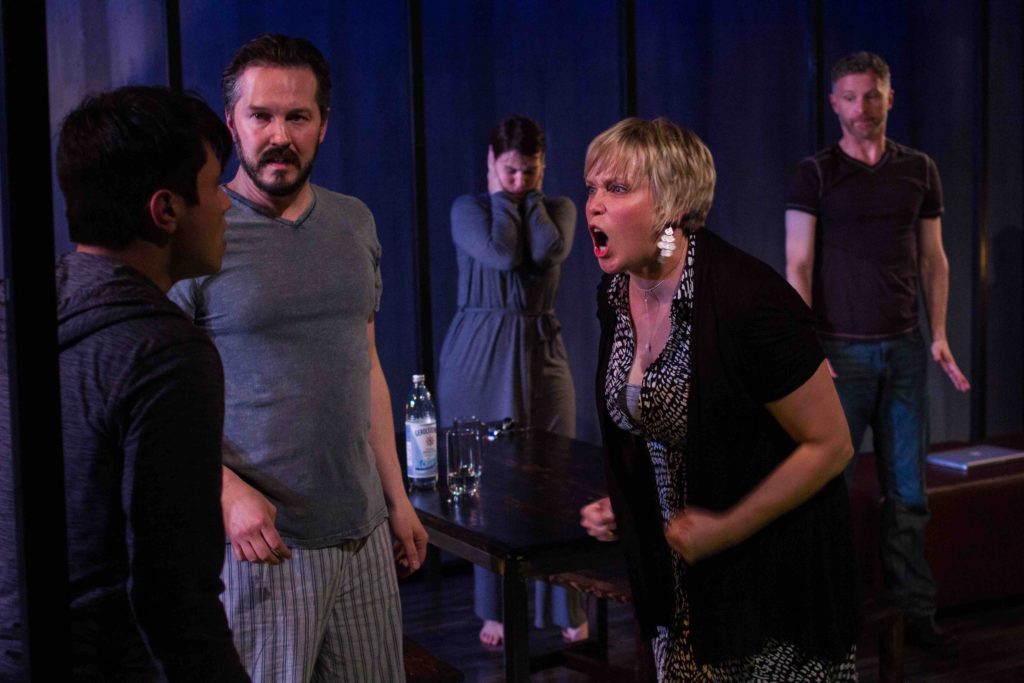 The talented ensemble own these roles.  Whether it's a passionate Patrick Gannon ripping Kohl a new one or the delightfully charming Nik Kmiecik (Liam) quietly calling out for his mom, it's funny and heart-wrenching in a wondrous blend of comedy, drama and real life.  We are invested in all these people.  We learn their past infractions and we love them each even more for their flawed existence. Bruce created real characters grounded in humanity.  And under the skillful direction of Elly Green, we are in the room. We pick sides.  We judge. We listen. We understand. And we want everyone to end up happy. How often in a show do you see multiple problems from every angle and want the ultimate resolution for all parties?    
Set Designer Joseph Schermoly constructs not a room but the studs framework of a place.  The talented ensemble not only exit and enter through the invisible walls, at pivotal points, they encircle the structure to peer in.  The audience joins in this can't-look-away-intimate-portrayal-of-real-people.  We don't feel like an audience.  We feel like the uninvited house guests silently watching from a chair in the corner.  We want to interfere with counsel, comfort or just to ask for a glass of wine before the next wave of disclosures. It feels so natural to join in but hopefully we understand we are merely observers in this well-scripted reality.     
THE DISTANCE is a witty, rocky journey to acceptance.  We see, hear and feel the shifts each person must make to put another first.  I absolutely love it.  I'm waiting impatiently for "The Distance II" to see how these people weather the changing tides.   
Running Time: Two hours and ten minutes includes an intermission
At Raven Complex, 6157 N. Clark
Written by Deborah Bruce
Directed by Elly Green
Thursdays, Fridays, Saturdays at 8pm
Sundays at 3:30pm
Thru June 26th 
Buy Tickets at www.haventheatrechicago.com
For more information and reviews on Chicago theatre, visit Theater in Chicago.