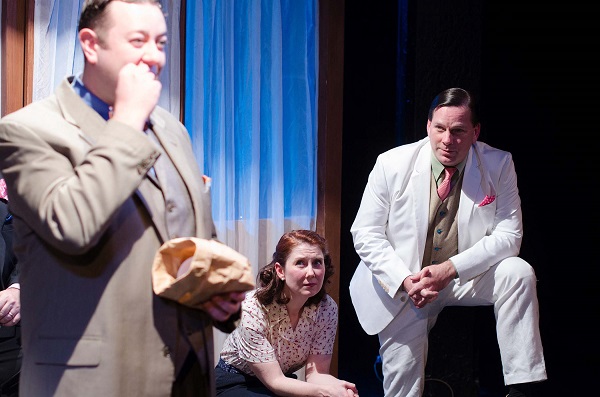 The Strawdog Theatre presents ONCE IN A LIFETIME.
Strawdog is on the move.  After 26 years in their cozy Broadway second story perch, the theatre company is forced to find a new stage.  While they look for a permanent place, their next season will be presented at The Factory's new home in Rogers Park. Meanwhile, they have chosen a madcap comedy as the closer for their long Broadway run.
The best part about ONCE IN A LIFETIME is it feels like a reunion show.  Eleven of the dozen cast members are also ensemble members. I felt a little Straw-struck to see who-came-home-to-say-goodbye. The George S. Kaufman and Moss Hart play is the perfect vehicle to unite this crew in buffoonery one last time on these boards. The kinship is apparent. They are having fun together and their amusement is contagious.  The story is crazy showbiz antics.  A washed-up vaudeville act moves to Hollywood.  They become voice teachers in the dawn of the talkies. The lampoon makes fun of the fickle nature of the film industry. Writers are ignored while a simpleton (played by the endearing Scott Danielson) rises in power.   The 'legit stage, what's that?' running joke is delivered with twinkling snark.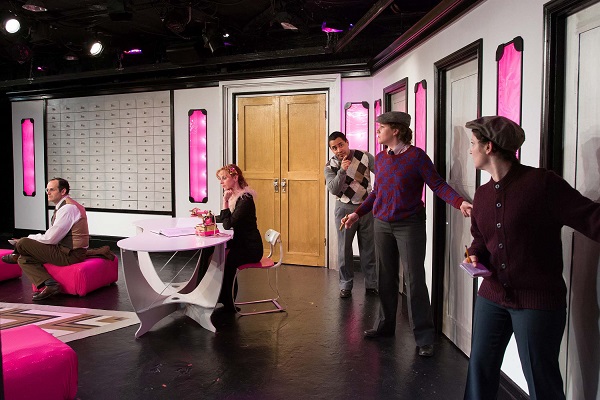 Director Damon Kiely masterfully infuses this 1930s comedy with 21st century pizzazz. At pivotal moments, he has the dynamic cast assemble on the stage singing, dancing and playing instruments to pop songs (Music Director Austin Oie and Choreographer Mike Ford).  The playful harmonies add to this party vibe. Kiely keeps the energy high and the pace moving.   Two ten-minute intermissions are used to transition Scenic Designer Joe Schermoly's slick sets.  At one point, a cleverly devised train car rolls in.  The car provides a hilarious slapstick scene.  Kiely continually goes for the laughs.  In the studio offices, the commotion is chaotic. Doors open and close. Folks come and go.  A very poised Nicole Bloomsmith answers multiple calls with unflappable efficiency. Her demeanor adds to the hilarity as she continues to not recognize the increasingly exasperated Paul Fagan.  Kiely's entire cast is rock solid.  He even has the great comedy duo of Anderson Lawfer and Michaela Petro playing multiple parts, sometimes in drag.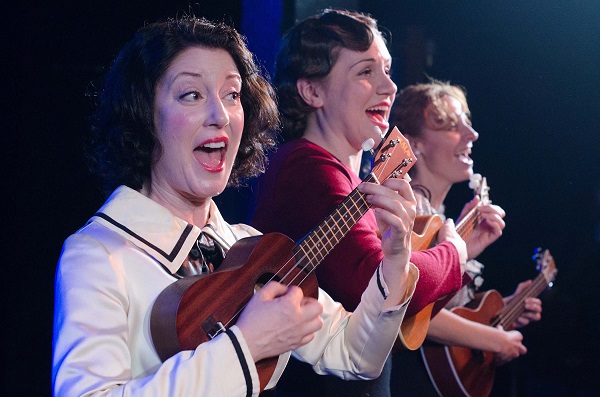 ONCE IN A LIFETIME is the perfect last 3829 show. It's about rolling with the showbiz punches. And it  showcases the resilience of this theatre company.  Even though the finale hilariously gives the real estate developer the finger, I got a little misty.  Undoubtedly, Strawdog is leaving the building laughing!  See for yourself this classy stage exit.
Running Time:  Two hours and ten minutes with two intermissions
At Strawdog Theatre, 3829 N. Broadway
Written by George S. Kaufman and Moss Hart
Directed by Damon Kiely
Thursdays, Fridays, Saturdays at 8pm
Sundays at 4pm
EXTENDED Thru June 11th
Buy Tickets at www.strawdog.org
For more information and reviews on Chicago theatre, visit Theater in Chicago.