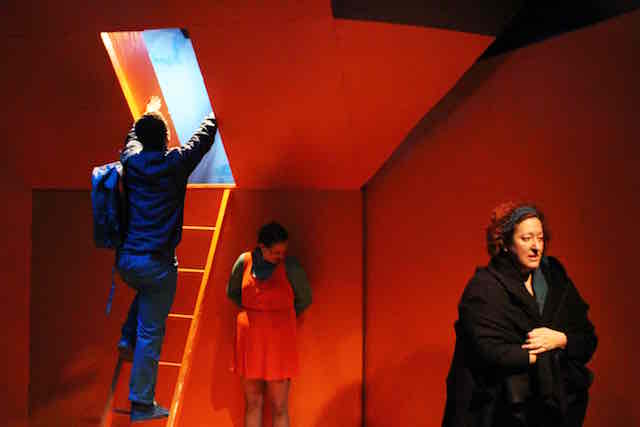 The Other Theatre Company presents THE REALM.
Before the lights go up, the whispering starts.  Voices repeat hushed phrases about believing.  Throughout the show Esme Ayvar-Perez (Kansas) will be haunted by these voices.  I'm never sure if these are voices in her head or voices of lost souls from within the Realm. It's one of many puzzle pieces to put together to understand this new world.
Playwright Sarah Myers pens a science fiction tale.  In her near future, people take refuge underground.  There is a shortage of water.  The leaders manage the chaos through mind control.  They remove people's desire for water or other things by eliminating language. People lose the ability to think and speak independently. The society becomes brainwashed into contentment. Myers drops us into her new world where Ayvar-Perez is rebelling against the system.  As teenagers, she and Abdu Hytrek (James) are targeted for conversion.  Hytrek is already losing words but replacing them with sounds.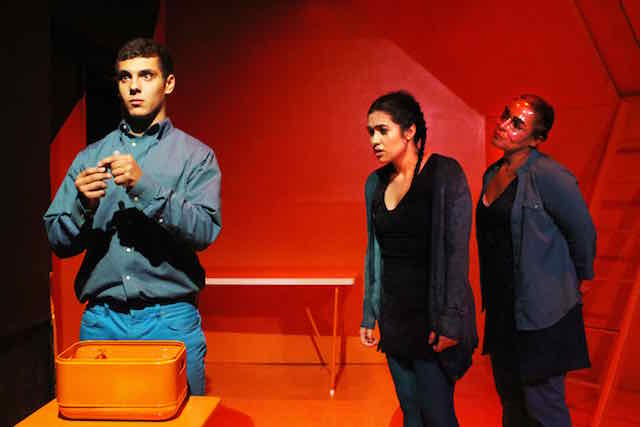 The story is intriguing. It reminded me of a young adult book series like "Hunger Games" or "Divergent."  The young people are fighting for their freedom. Myers establishes this quirky underground world of food morsels, water droplets and plastic masks. In one of the opening scenes, Hytrek is having dinner with Sarah Taylor (Mrs. Mother) and Philip Winston (Mr. Father).  It sounds normal-enough. It's not. The conversation is stilted with forced pleasantry. When Hytrek deviates with hints of teenage angst, Winston tries to shut him down. Hytrek rebels by generating a doorbell ringing.  What is this strange world?  We must separate the odd reality from the even wackier non-reality. Ayvar-Perez gets into a curious power struggle with Gay Glenn (Ms. Analyst). Is Glenn her mother, her therapist, her prison guard?  Is this really happening to Ayvar-Perez or is it a mind game?
Director Kelly Howe aids the storytelling by painting the stage bright orange (Scenic Designer Lizzie Bracken) and dressing the ensemble in contrasting shades of blue (Costume Designer Olivia Crary). The visual adds to the uniform weirdness of The Realm.  Out in the audience, a somber Carin Silkaitis (Laura) looms on the outskirts of this new world. Silkaitis regularly recites a litany of random words like 'windowsill' and 'doorbell'. This poetic oration is another puzzling aspect to figure out.
THE REALM was interesting. I was continually trying to resolve the meaning of this world. Although teen revolutionaries isn't a new concept, the process of eliminating desire through elimination of the words was a clever premise. THE REALM is a futuristic tale for sci-fi and young adult book lovers.
Running Time:  Seventy-five minutes with no intermission
At Side Project Theatre, 1439 W. Jarvis
Written by Sarah Myers
Directed by Kelly Howe
Thursdays, Fridays, Saturdays at 8pm
Sundays at 3pm
Additional performances on April 26th and May 3rd at 8pm and May 7th at 3pm
Buy Tickets at www.buzzonstage.com/theatre/other-theatre-company
All photos by Ashlee Estabrook
For more information and reviews on Chicago theatre, visit Theater in Chicago.