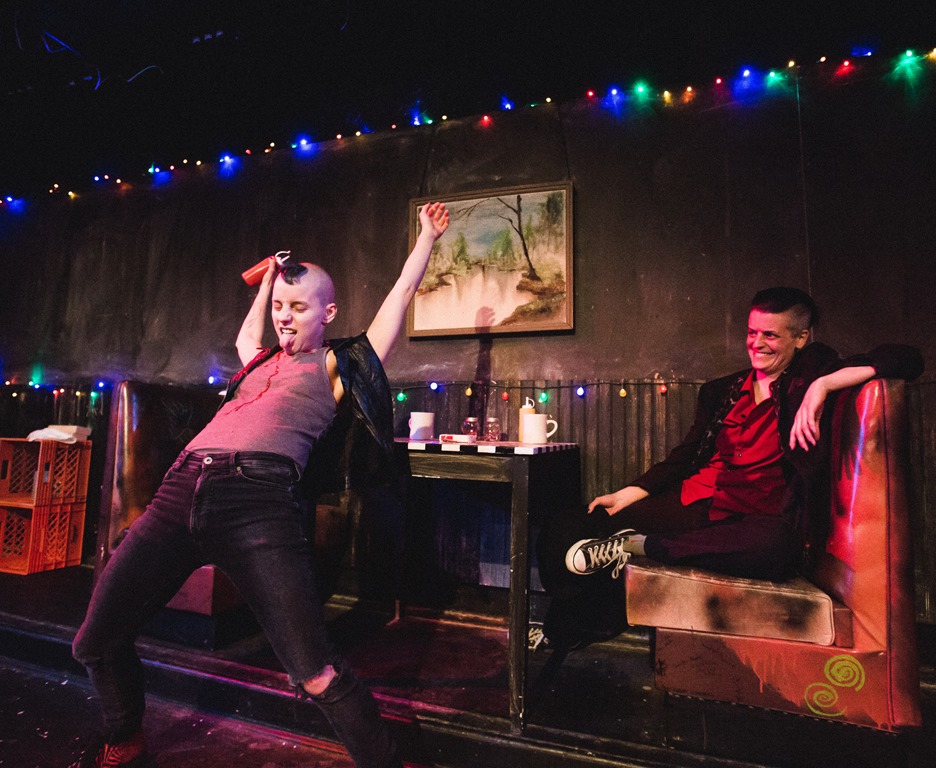 Reviewed by Tom Lawler
Set the scene: The Neo-Futurists are housed in a funky Andersonville space with colorful, art-festooned halls and vestibules perched above a funeral home. Since the late '80s the Neo-Futurists have occupied their own rung in the Chicago theater scene with a revolving ensemble of young, diverse writers-actors dedicated to creating their own autobiographical-based work – most notably in their long-running late-night show, Too Much Light Makes the Baby Go Blind.
What's it all about: Two experienced stage clowns, Molly Brennan (500 Clown, Mad Shak Dance) and Malic White (Too Much Light Makes the Baby Go Blind, Hypocrites Theater's American Idiot), combine powers to write and perform in an original production that plays off of the personas and music of two of their heroes, Iggy Pop and Tom Waits. Although Pop's and Waits' only known collaboration was a scene in Jim Jarmusch's 2013 film, Coffee and Cigarettes, Brennan and White themselves have plenty in common. Aside from their own interesting (and at times, harrowing) autobiographical monologues which they share between songs, they are a real-life couple. The main conflict in the piece is the need each of them have to create a persona to interact with the world, or instead just drop their masks and reveal their true selves to all – and each other.
Stand-out performance: Brennan and White are both utterly confident, captivating performers. Playing off of the gravelly-voiced bluesman persona of Tom Waits, Brennan provides a bit of ballast to the more flighty White who rocks out convincingly in several Iggy Pop classics – namely in a version of "I Wanna Be Your Dog" that totally goes for it and includes a mosh pit, some nudity and a sandwich condiment. (Yes, it's a bad-ass moment.)  Due to a last-minute musical rights snafu with Mr. Waits' music publisher, Brennan also needed to crank out several original songs to replace the Waits material just days before this production's opening. (Also a bad-ass move.) Inspired by a Waits credo, "I like beautiful melodies telling me terrible things," Brennan does just that with "Witches," a spooky, beautiful composition about a lynching that also implicates the audience.
Also, check out: Pop Waits' amazing live rock band fronted by musical director Spencer Weeks! After performing a bouncy interactive opening acoustic number with improvised lyrics we see crafted before the show starts with the audience's help, this white-hot band and White rip into Iggy Pop and the Stooges' Search and Destroy. Wow! Loud! Awesome! Playing well off of Weeks' scorching guitar lines is the cooler-than-cool drumming of Elisa Carlson. There are 13 songs in Pop Waits and this band gets to crank it up for about 10 of them. (Hint: If you want a more sedate spectator experience, head for the far side of the theater when you enter the space.)
More of this, please: There's an appealing confidence in these performers and looseness to the structure that makes this quite the unique theatrical experience. I'm thinking of watching Brennan sitting in a booth watching White rock out with obvious joy and wonderment. Or perhaps when White invites a few people from the audience to have a drink with them at their bar set as White begins to tell the story of how they originally met. Pop Waits benefits greatly from an electric chemistry and trust between the performers and the anything-goes vibe that surely make each evening's show a bit different. 
However: There are also some literally life-and-death moments in Pop Waits that may give some audience members a degree of pause – after some clowning around, things can quickly get very real. While the press build-up to this production and the show itself make clear that both Brennan and White created this work as part of their battle with depression (and it's commendable to share this struggle in public), there are conversations they have with each other on stage that feel a little too private for us to hear. Also, as Brennan reveals a medical condition that they've been working under for some time, it's only natural to feel tremendous concern for the well-being of Brennan and White after this run of shows end. (Brennan stalls sharing these details until almost the end of the show and their instinct is correct – it's a bit awkward to watch them slip back into their Waits persona after they reveal this type of truth.) Final words of wisdom: Every time Brennan and White invite you to be part of the show, do it! They will thrive off of your energy and positive vibes in more ways than one.
Do this first: Picking a good restaurant or bar isn't difficult in Andersonville, but the Hopleaf's stellar beer menu and bistro faire is hard to beat. Also, be sure to get to the theater about a half hour before it starts – give yourself at least 15 minutes to browse the Neo-Futurist "Hall of Presidents" portrait gallery in the front hallway as well as the Pop Waits art and installation in the lobby. The final 15 minutes? You'll want to watch Spencer Weeks and the band finish crafting the opening song.
Do this after: White name-checks it in the show as a possible location for an early date with Brennan and as a nearby destination for post-show drinks and discussion, the cozy Simon's Tavern with its retro fireplace is the obvious choice. 
Running Time: 90 minutes (no intermission)
At the Neo-Futurists, 5153 N. Ashland
Created by Molly Brennan and Malic White
Directed by Halena Kays
Music Directed by Spencer Meeks
Music Performed by Spencer Meeks, Elisa Carlson and Nick Davio
Thursdays-Saturdays at 7:30pm
Thru March 12
Price: $10 – $20 & Pay-What-You-Can-Thursdays
Buy/Request Tickets at the Neo-Futurists site or call 773-878-4557.  
# # #