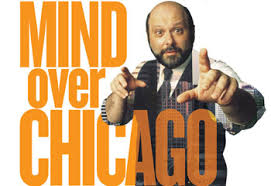 Richard Friedman and Rob Kolson present MARC SALEM'S MIND OVER CHICAGO.
According to the program, Marc Salem has been 'a student of the human mind for over 30 years.'  He is also considered 'one of the world's foremost authorities on nonverbal communication.'  Both of those descriptors would suggest Salem is more studious than magical.  In fact, Salem commented a couple of times that the performance would not be supernatural or occult in any form. Basically, he's just an ordinary guy reading minds in a matter-of-fact way. 
There isn't any smoke or mirrors or even a drum fanfare leading to any of the Ta-Da moments.  It's just creator and performer Salem interacting with the audience. The stage looks like a customary study with a few props to be used during the show; sharpies, newspapers, books and strips of surgical tape. Salem starts the show by throwing a crumpled wad of paper to an audience member.  After a few tosses, the paper is opened to reveal what someone just said. It's these seemingly careless happenstances that make his act eyebrow raising.
It's all interactive.  At one point, Salem asks five different people each different questions about a jaunt in Chicago.  One of these people is my '+1' so I know it's not rigged.  After everyone has given their answers, another person is chosen to open up a notebook in Salem's suit coat. The audience member reads all five answers from the piece of paper.  WTF?  It's mind boggling. Is there paper that hears something and translates it into writing on paper?  I don't think there is that technology yet.  And all these sheets of paper look pretty common. 
Another 'trick' has Salem thoroughly blindfolded with coins in his eye sockets, strips of surgical tape and an actual blindfold.  He asks the audience to concentrate on their name and a recent trip. He then does a variety of antics involving heartbeats, watches and popping a balloon with a knife.  All the while, he randomly shouts out people's names and then wishes them happy birthday or comments on their travels. 
SALEM:  Ashley?
ASHLEY:  I'm here.
SALEM:  Happy Birthday!
****
SALEM:  Bruce?
BRUCE:  Here.
SALEM:  Welcome back from Bora Bora.
His accuracy is confirmed by the mystified audience member exchanging baffled looks with people around him/her. It's crazy! Salem continually performs these incredible mind stunts that appear arbitrary but have bullseye precision. He does it with a casualness that belies other illusionists or magicians.  With readers perched on top of his head, he exhibits a normalcy as his mental feats astonish the crowd.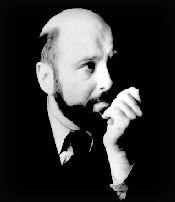 MARC SALEM'S MIND OVER CHICAGO is extraordinary wrapped in ordinary. 
Running Time: One hundred minutes with no intermission
At Apollo Theatre, 2540 N. Lincoln
Created and performed by Marc Salem
February 20th at 5pm and 8pm
February 28th at 3:30pm and 7pm
February 29th at 7:30pm
March Saturdays, 5pm and 8pm
March Sundays, 3:30pm and 7pm 
Buy Tickets at www.apollochicago.com
For more information and reviews on Chicago theatre, visit Theater in Chicago.