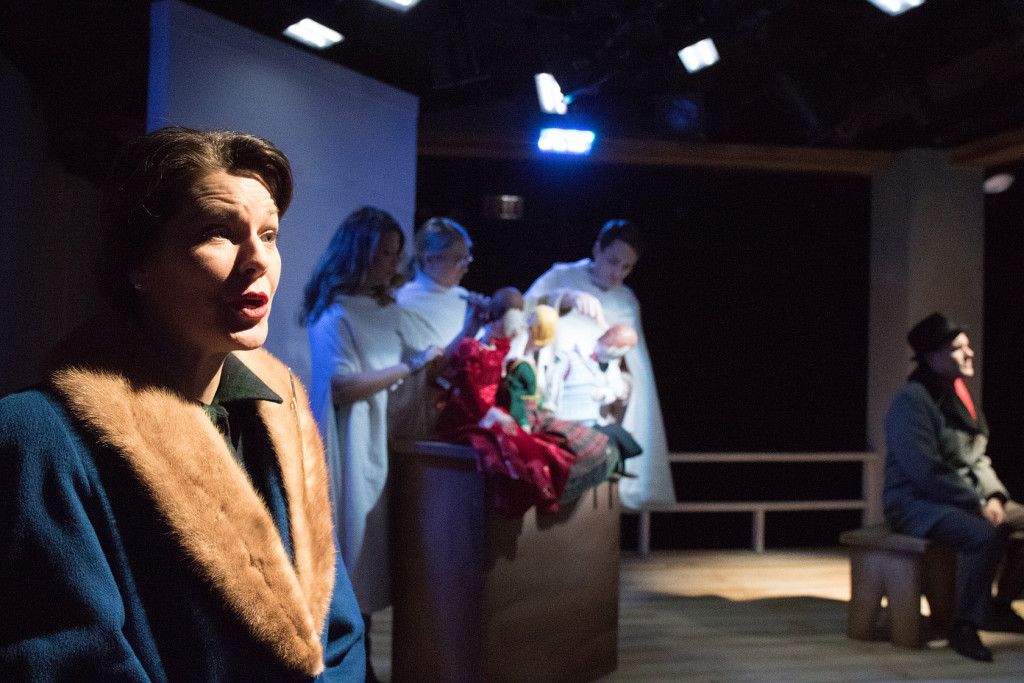 Strawdog Theatre presents THE LONG CHRISTMAS RIDE HOME.
WARNING:  This play isn't the one to see before Zoo Lights.  It won't make you want to bake Christmas cookies.  And 'going to grandma's house' isn't something to sing about.  Despite the title sounding like a children's book, there isn't anything merry about this Christmas story. 
Playwright Paula Vogel uses a family car ride to show how a childhood incident affects adult children. Vogel's memory play utilizes various storytelling techniques and bunraku, Japanese puppetry.  The show starts with Sam Hubbard (Stephen) alone on stage.  He introduces a flashback to a holiday of significance.  His family is driving to their grandparents for the holiday. Hubbard then crosses the stage, dons a white cloak and lets a puppet become his younger self.  He sits in the back of the car with Sarah Gitenstein (Rebecca) and Kristen Johnson (Claire).  All three are dressed in cloaks with puppets designed by Stephanie Diaz.  Throughout the show, the trio manipulate their puppets with very real and often touching gestures; a hand on a knee or scooting closer to each other. They also give the puppets a sibling realism; poking each other and grabbing for possessions.     
Initially, Ed Dzialo (man) and Lorretta Rezos (woman) are the primary storytellers.  They are in the front seat. Their faces are expressionless.  Their words piercing whether they are describing their thoughts or expressing their children's voices. They establish the tension and disappointment of their marital woes.  Dzialo fantasizes about his mistress.  Rezos ponders getting pregnant as one last ditch effort to save the relationship.  They have singular moments of connection.  In the car, they converse in parental hushed tones. In church, they amicably share a private joke. Later, at Rezos' parents, the disdain is back and palpable. Vogel's story of a dysfunctional family is captivating especially in these scenes with Dzialo and Rezos in the forefront and the puppets in the background.  Director Josh Sobel paces their storytelling banter with razor-sharp timing. 
The memory of this car ride bookends the play.  Before the audience completely understands what happened that night, we experience Hubbard, Gitenstein, and Johnson as adults in their own relational woes.  Each has a soliloquy where they deal with rejection.  These scenes were less satisfying for me.  For one, I didn't get the overall timing. The car ride was their childhood past.  These scenes are their young adult past. In between, another critical moment has occurred in the family that Gitenstein and Johnson both mention and Hubbard explains in his scene.  Hubbard goes from future to his childhood past to his sisters' young adult past to a flashback before his sisters' young adult past back to his childhood past and then into the future.     
It's a lot of time travel. 
And the new-age time travel doesn't quite sync up with the mid century origin of this play. The contrast between the first part and the second part of the show was a speed bump for me. The soliloquies were often over-the-top dramatic compared to the earlier storytelling. Vogel doesn't follow the same elegant elocution from the beginning to end.  Whereas Dzialo and Rezos fight with impressive wordplay, the adult kids implode with unnatural messiness.  The only consistency in tempo throughout is Michelle Underwood's (projection and video designer) gentle snowfall in the background. 
THE LONG CHRISTMAS RIDE HOME is an interesting road trip with dark humor and relational angst.  It is an alternative option from the influx of holiday theatre offerings.
Running Time: Ninety minutes with no intermission
At Strawdog Theatre, 3829 N. Broadway
Written by Paula Vogel
Directed by Josh Sobel
Thursdays, Fridays, Saturdays at 8pm
Sundays at 4pm
Industry night November 16th at 8pm
Thru December 12th
For tickets, visit www.strawdog.org
Photos by KBH Media
For more reviews and information on Chicago theatre, visit Theatre in Chicago.