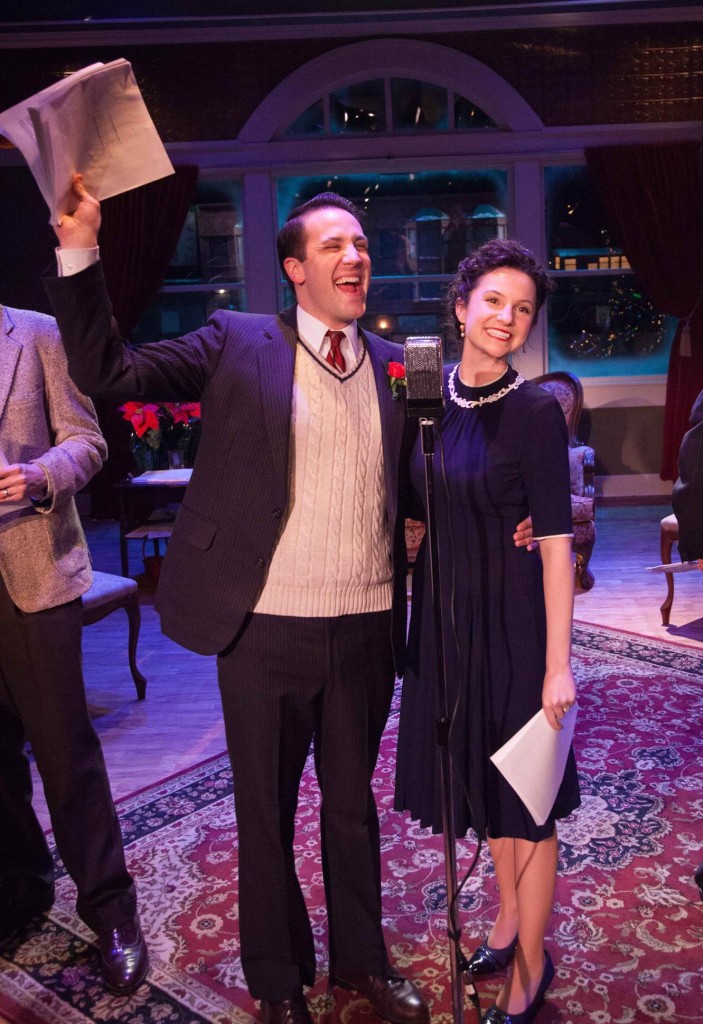 American Blues Theater presents IT'S A WONDERFUL LIFE:  LIVE IN CHICAGO.
Although I missed it last year, ABT's IT'S A WONDERFUL LIFE has become one of my favorite holiday traditions. It kicks off the season like putting up lights or listening to Christmas tunes. For fourteen years, ABT has produced the Frank Capra's classic as a radio play.  Under the direction of Gwendolyn Whiteside, this year's tight frolic combines Capra with caroling, cookies and commercials. 
The show starts out light-hearted with a sing-along and a name-that-holiday-tune game. Music Director Michael Mahler navigates the audience through the 1940s radio broadcast. The energetic Mahler has the perfect announcer voice for the old-timey shtick.  He also plays the piano, narrates and sings. Sponsors of the show, like Com-Ed and Bunches of Flowers, receive a clever personalized jingle that is sung by Mahler & Co. This year, Mahler even conducted and sang with a holiday barbershop quartet comprised of Shawn Goudie, Zach Kenney and Jarrod Zimmerman. 
It's these additional elements orchestrated into the radio play that make it so entertaining.  It really feels like we are watching a radio show in progress.  And along with all this holiday hoopla is the actual heart-warming story of a suicidal man on Christmas Eve.  ABT has changed up roles this year and Zach Kenney is playing George Bailey. And he does an amazing job with it. Whether he is sputtering about his job or praying for help, Kenney's emotional performance had me misty the entire time. He, along with the talented ensemble, make the show a holiday classic. 
IT'S A WONDERFUL LIFE:  LIVE IN CHICAGO is wonderful!  I highly recommend it. I left the show with carols in my head, hope in my heart and a cookie in my hand.        
PLEASE NOTE:  Although ABT is serving cookies and milk at each show, this is not a kid show.  At my performance, a couple tots cried and fussed during most of the show. Despite the playful radio hi-jinx, the subject matter of this play is still suicide.  Little kids would not enjoy the play within the radio broadcast.
Running Time: Ninety minutes with no intermission
At Greenhouse Theatre, 2257 N. Lincoln
Based on the film by Frank Capra
Original direction by Marty Higginbotham
Original score by Austin Cook
Directed by Gwendolyn Whiteside
Music direction by Michael Mahler
Thursdays, Fridays at 7:30pm
Saturdays at 4:30pm and 7:30pm
Sundays at 2:30pm
Thru December 27th
For tickets, visit http://americanbluestheater.com/
Photo by Johnny Knight
For more reviews and information on Chicago theatre, visit Theatre in Chicago.