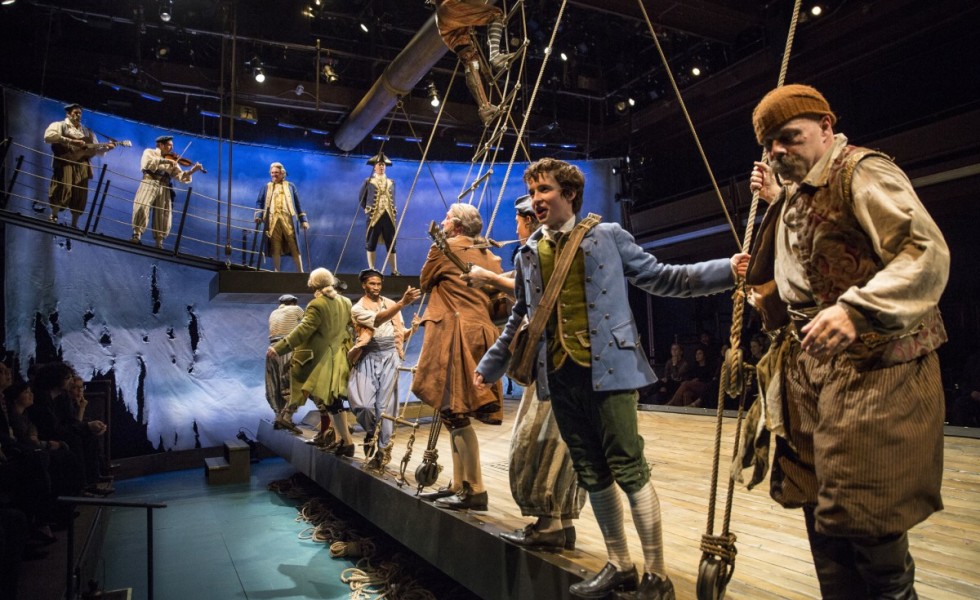 Lookingglass Theatre, in conjunction with Berkeley Repertory Theatre, presents the World Premiere of TREASURE ISLAND. Adapter and director Mary Zimmerman is at the helm of Lookingglass' second voyage to sea.  After closing their past season with the successful MOBY DICK expedition, Lookingglass opens this season with their TREASURE ISLAND adventure. 
Zimmerman adapts Robert Louis Stevenson's classic by taking us on a boat ride… literally.  Scenic Designer Todd Rosenthal has constructed a massive hull as the stage.  Ropes fasten it to a horizontal industrial pole allowing the watercraft to move back and forth.  At different points, the ensemble either by hand, pushing it like a swing or by foot, they scurry from one side to the next, rock this boat. With audience on three sides of the hull, I feel the sensation of swaying with the waves. The lulling accompanied by a sea shanty or two coaxes me into this boy's tale of pirates and buried treasure.
Zimmerman's signature whimsy is missing in this latest endeavor.  It doesn't have the symbolic pageantry of her "Metamorphoses" or the creative playfulness of "Jungle Book."  The unadorned set is fairly stark. And the look allows Costume Designer Ana Kuzmanic to colorfully fill it with pirates and gentlemen sporting very individual styles.  Kuzmanic layers together unique and authentic looks.  The pirates' attire is weathered and slightly grungy.  And the gents are polished, pressed and often wigged. Zimmerman uses her stark stage to focus on the clash of the classes in this animated bro-fest. This is a boatload of masculinity from bow to stern. Kasey Foster is the only gal in this sea of men and half the time she is playing a guy. This rogues verses gents race is a quest for gold, power and survival.
From the start, John Babbo (Jim) captivates in his innocent narration of his own coming-of-age memoir.  Babbo engages with authentic excitement.  Although he's addressing an audience, Babbo tells the story as if he's telling his buddies what he did on spring break. He easily slips between the narration and the action.  When Babbo meets the mysterious rogue Christopher Donahue (Billy/Redruth), he is enlisted to be on the look-out for suspicious scoundrels.  Babbo agrees to help guard Donahue's chest. That decision is the impetus for being thrust into this unknown testosterone driven world.
Babbo befriends the kindly Andrew White (Doctor) and the eccentric Matt DeCaro (Squire). They get caught up in Babbo's notion to hunt for buried treasurer.  The trio are this delightful mix of sweetness and naivete.  They have no idea of what to do or the danger of their mission. DeCaro haphazardly and unknowingly hires a seedy crew led by the charismatic Lawrence Delgado (Silver). Delgado delivers a charming portrayal as the notorious Long John Silver.  He plays it gregarious with a cunning bite. Delgado is likable and despicable at the same time. Even after Babbo realizes Delgado's criminal nature, it's believable that he would not completely resist being Delgado's captive. He's a nice bad guy!    
Bringing some solid comical moments are the buttoned-up-tight Phillip R. Smith (Captain) and hot mess Steve Pickering (Black Dog/Ben Gunn).  Smith delivers his pompous lines as unexpected zingers.  At one point, he insists wilderness survival only requires the British flag, the Bible and a few other questionable items.  I laughed every time the droll Smith uttered a statement.  The exact opposite of the prim captain, Pickering is a raving loon in wild hair and a makeshift onesy.  Pickering is impressive in dual roles.  He plays a ruthless pirate and madcap castaway with equal intensity. 
I thoroughly enjoyed TREASURE ISLAND.  Except for climbing rope ladders, there aren't any circus-style feats that usually accompany a Lookingglass spectacle.  Since that was the main reason I didn't like the first act of MOBY DICK, I've been pondering why that wasn't a speed bump for me in TREASURE ISLAND.  And I've surmised that in TREASURE ISLAND the script is tighter, the acting is better and the adventure more organic than dramatic. 
It feels every bit a return to the classic of my childhood.  And Zimmerman keeps pretty true to the book.  And  because of that, the adventure itself gets bogged down in complications.  This may be a challenge for younger audience members.  And the time for a parental tutorial is not during the show.  At my performance, I heard a father in ongoing dialogue with his son… maybe 5 years old… about what was going on in the play.  He was in the front row.  I was in the back row and on the other side of the theatre.  Yes, it's nice to help kids comprehend but this isn't a living room.  Please respect the performers and other audience members and have learning moments during intermission or at home.      
Running Time: Two hours and thirty minutes with one intermission
At Lookingglass Theatre, 821 N. Michigan
Written by Robert Louis Stevenson
Adapted and directed by Mary Zimmerman
Tuesdays at 2pm (Dec 29 only) and 7:30pm (Nov 24 and Dec 22 & 29 only)
Wednesdays at 2pm (Nov 25 and Dec 23 & 30 only) and 7:30pm
Thursdays at 2pm (except Nov 26 and Jan 7 & 21) and 7:30pm (except Nov 26 and Dec 24 & 31)
Fridays at 7:30pm (Except Dec 25 and Jan 1)
Saturdays at 2pm and 7:30pm
Sundays at 2pm and 7:30pm (except Nov 8 & 27, Jan 3, 13 & 31)
Thru January 31st 
For reservations, visit www.lookingglasstheatre.org
For more reviews and information on Chicago theatre, visit Theatre in Chicago.