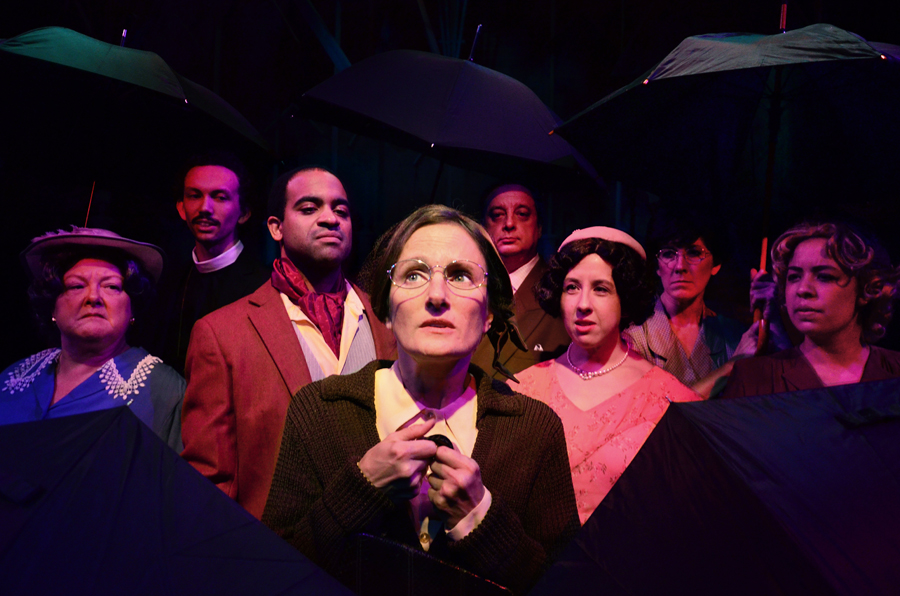 Lifeline Theatre presents the world premiere of MISS BUNCLE'S BOOK.
Fortunately for us, the Lifeline library is limitless and open to the public.  Every season, they select a few books to showcase.  Although they have an extensive collection of Austen and Bronte, Lifeline can't be labeled as doing one type of book best.  They do it all; adventures, fantasies, westerns, mysteries, romance and even sci-fi.  And they often do it with comedy and music.  And usually, it's curl-up-in-the-chair-page-turning entertainment perfection.  This time, the literary roll-out is a witty satire on the residents of a sleep English village.
Playwright Christina Calvit skillfully adapts the 1934 novel by D.E. Stevenson. Calvit pens the charming tale of a spinster writer who anonymously writes a tell-all book about her neighbors. When the community realizes the bestseller is about them, the amusement escalates as they go on a witch hunt to find the author.  It's 'Housewives of the UK' where the residents hide lies and insults under polite chit-chat.  Calvit and Director Dorothy Milne work together to heighten the absurdity of each resident while maintaining the dry British humor.  Some moments are so subtle and smart, the audience's laughter is a couple beats behind.
Under Milne's tight orchestration, the entire ensemble continue to pick-a-little-talk-a-little like an animated hen party.  In their spirited discussions to discover who the author 'John Smith' is?, they regularly dismiss the mousy Jenifer Tyler (Miss Buncle).  Tyler does an amazing job of being the main character and also being invisible. She seems to physically shrink into the background in contrast to the big personalities in the room.  Her transformation throughout the play from nobody to somebody delights like a depression-era Cinderella story.
The town is filled with plenty of character.  Elise Kauzlaric (Mrs. Greensleeves), Katherine Hildreth (Mrs. Carter) and the others bring out the quirky nature of small town life.  Listening to them badmouth each other while delicately sipping tea and eating scones is hysterical. In particular, Katie McLean Hainsworth (Mrs. Featherstone Hogg) dominates as the self-appointed city matriarch. McLean Hainsworth is a blowhard with a sophisticated British accent.  This combo, along with McLean Hainsworth's razor sharp timing, delivers the punchline with an extra bloody oomph.
I'm already fond of Lifeline's zestful Brit-Lit adaptations.  This playful romp is more of an English com-rom.  I thoroughly enjoyed the light-hearted buffoonery.  Lifeline's versatility as a storyteller is physically illustrated by Scenic Designer Alan Donahue.  This time, Donahue dangles lacy curtain remnants from long poles.  It gives the stage a neighborhood feel while reinforcing the secret lives and lies behind the sheers.  It's a simplistic look yet visually engaging.  Everything about MISS BUNCLE'S BOOK makes it another collector's edition in Lifeline's repertoire.
Running Time: Two hours includes an intermission
At Lifeline Theatre, 6912 N. Glenwood
Written by D.E. Stevenson 
Adapted by Christina Calvit
Directed by Dorothy Milne
Thursdays and Fridays at 7:30pm
Saturdays at 4pm and 8pm
Sundays at 4pm
Thru November 11th
Buy Tickets at www.lifelinetheatre.com
Photo by Suzanne Plunkett
For more reviews and information on Chicago theatre, visit Theatre in Chicago.