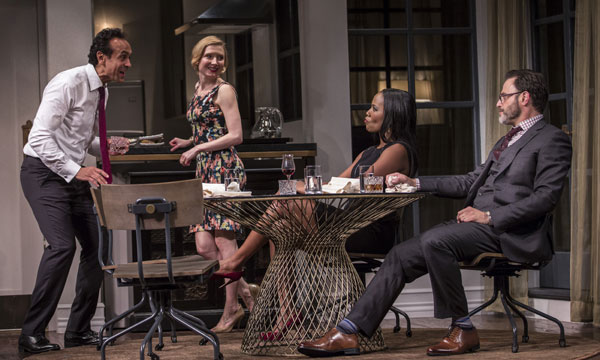 Goodman Theatre presents DISGRACED.
I was fortunate to have seen DISGRACED debut at American Theatre Company in 2012. 
Three years later, the play still is evocative. Even knowing how this dinner party unravels didn't stop me from continually flinching and holding my breath. Playwright Ayad Akhtar and Director Kimberly Senior continue their reign as the DISGRACED creative powerhouse.  They worked together first on the ATC stage and then Broadway and now back to Chicago. 
My immediate reaction to this show is admiration for the script.  Reinforcing my initial and ongoing regard for Akhtar's story is that the play was awarded the 2013 Pulitzer Prize for Drama.  Akhtar tells his contemporary tale steeped in archaic prejudices.  He impressively weaves religious, ethnic, political and gender biases into his dialogue.  Sometimes, it's hilariously funny.  And sometimes, it's a jaw-dropping shocker.   
Under Senior's masterful direction, the talented ensemble interact naturally.  The play opens with Bernard White (Amir) and Nisi Sturgis (Emily) in their living room.  Sturgis is sketching White. During their casual banter, White continues to field phone calls from work. Sturgis affectionately nudges him to stay present.  White animately spews on about his work, his nephew, his life while standing in his underwear.  It feels personal as we see the content couple in their weekend mode. 
Fast forward three months, we are back in the apartment but it's not the same place.   
White and Sturgis are distant. Their edginess is palpable.  Sturgis mentions, "it's been three months."  No lengthy explanation required.  We get it.  Throughout the show, Akhtar's smart script is riddled with big reveals in smallish statements.  It aids the notion of spontaneity.  The exchanges seem genuine.  When the effervescent Zakiya Young (Jory) charges into the couple's home, she turns to J. Anthony Crane and blatantly says, "no bread tonight."  The jab sounds completely impulsive.  And that is the brilliance behind the Akhtar-Senior team.  Everything feels organic and in-the-moment which allows a celebratory dinner party to rapidly escalate into a full-blown sh#t storm.  The out-of-control altercations are riveting.  I'm glued to every sound, every movement like a helpless bystander watching cars sliding on ice.  I see where they are going only a few seconds before the massive pile-up.  And no one will leave from this dinner party wreckage unscathed, not even the audience.       
If you missed DISGRACED before, don't miss it again.  If you saw it before, consider a repeat performance.  Knowing how the play ends made me appreciate how intricate Akhtar's script is at setting it up.  And the drama all unfolds on Set Designer John Lee Beatty's posh NYC apartment.  From floor to ceiling to curtain, DISGRACED is a stunner!     
Running Time: Eighty minutes with no intermission
At Goodman Theatre, 170 N. Dearborn
Written by Ayad Akhtar
Directed by Kimberly Senior
Tuesdays, Wednesdays, Thursdays at 7:30pm
Fridays at 8pm
Saturdays at 2pm and 8pm
Sundays at 2pm
Additional 2pm performances on October 1st and 15th
Additional 7:30pm performances on September 27th and October 18th
Thru October 25th   
Buy Tickets at www.goodmantheatre.org
For more reviews and information on Chicago theatre, visit Theatre in Chicago.