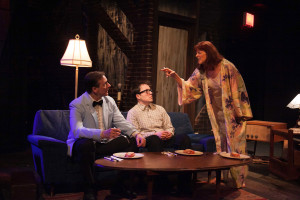 American Blues Theater presents SIDEMAN.
We read about modern day musicians splurging on luxury items or trashing their five star suite.  Although their lives look pampered, easy and enviable, the glamour of being an accomplished musician isn't always the reality.  And the struggle to 'make it' is a long journey tainted with rejection.  Playwright Warren Leight gives an insider's account in this behind-the-music expose.  Leight parallels the decline of jazz as a music genre and the deterioration of a trumpet man's family.  The memory play is impressively narrated by Michael Mahler (Clifford).  Mahler thoughtfully reflects on his parents' addictions, his mom to booze and his dad to music. 
SIDEMAN won the 1999 Tony Award for Best Play and was also nominated for a Pulitzer Prize.  It's easy to see why.  The story is emotionally-engaging and intimate memoir from the kid who survived it.  Within Leight's dark portrait of alcoholics and junkies, Mahler emerges scathed but resilient.   Mahler speaks matter-of-fact of his past and regularly points out the absurdity.  His monologues feel organic and effortless as if he's sharing childhood stories with a buddy.  He delivers his jokes like a confidential sidebar to the audience. Because this is hindsight, Leight effectively weaves in humor. 
In one scene, the trashed Kate Buddeke (Terry) is screaming 'mother f#cker" at her husband and kid.  And in the next scene, Buddeke bellows out 'who are you talking to?' to break into Mahler's address to the crowd.  We are cringing tightly from the tension.  And the unexpected comical moment lets us not only laugh but exhale and drop our shoulders.
Director Jonathan Berry masterfully orchestrates plenty of hold-your-breath moments.  Joe Foust (Jonesy) rivetingly describes a police interrogation.  His storytelling makes me queasy.  And my throat gets a knot learning his concern is not for his own safety or physical well-being, it's for his horn playing.  The supportive Michael Ehlers (Gene) nods knowingly.  Ehlers plays father and husband with visible vacancy on his face.  His animated moments are music oriented  He only comes to life when he is talking with the band or caressing his horn 
The commitment to making music is both commendable and complete lunacy.  These guys are living for the music.  Every time I see this play, the crescendo for me is when Terry asks one of the guys if Gene is good enough to make it.  The confused response is 'he has made it.'  Buddeke reacts to that statement with a look of sheer terror. Buddeke is marvelous at playing 'Crazy Terry.'  She rants with scary believability.  She is a mean spitfire!  We go into the intermission unnerved by her threats.  She is superb as a drunken maniac.               
SIDEMAN is a music appreciation lesson.  And jazz wafts through the scenes.  We learn the ultimate sacrifice of artists for their craft.  Leight's story is haunting.  And Berry's ensemble kick brass to make it a poignant experience.  I left the theatre wanting to find a jazz club to hang with musicians.    
Running Time:  Two hours includes an intermission
At Greenhouse Theater Center, 2257 N. Lincoln
Written by Warren Leight
Directed by Jonathan Berry
Thursdays, Fridays, Saturdays at 7:30pm
Saturdays at 3pm on May 16th and 23rd only
Sundays at 2:30pm 
Thru May 24th 
Buy Tickets at www.AmericanBluesTheater.com
For more reviews and information on Chicago theatre, visit Theatre in Chicago.