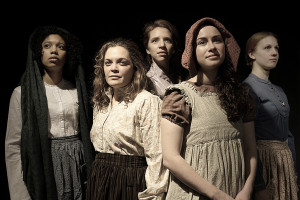 Artemisia Theatre presents the American Premiere of BELFAST GIRLS.
Playwright Jaki McCarrick pens a tale of five young women fleeing the Irish Famine on a ship bound for Australia. Promises of rich husbands and endless food beckon these gals to leave their beloved homeland for an unknown country.   McCarrick's play dramatizes the real life women on their 1850 voyage aboard the Inchinnan.  The trip is long.  The accommodations are tight.  And it will be increasingly hard to hide secrets for long in these close quarters.     
Under the direction of Julie Proudfoot, the individual stories spill out over time.  From the beginning, we know that McKenzie Chinn (Judith), Caitlin Chuckta (Hannah) and Lindsay Tornquist (Ellen) are public women.  They survived on the streets of Belfast by prostitution.  Chinn is an edgy realist.  She establishes herself as the leader of this makeshift nook within the larger berthing area.  She protects the space and the girls with attitude and a shiv. The effervescent Chuckta is continuously on the prowl for a man.  She talks of the ship's cook, her Australian prospects and even her drunken father with the same dreaminess.  A steadfast Tornquist keeps Chuckta's playful antics in check.  They spiritedly argue like sisters. 
Patty Malaney (Sarah) and Cassandra Schiano (Molly) join these city girls.  They each hail from small villages.  Whereas Malaney has a stand-offish sharpness, Schiano has a welcoming demeanor but a vague presence.  Each holds truths that will drastically change the group's dynamic. 
McCarrick's script is less conversational and more storytelling.  In turn, each of the girls will reveal a past that caused her to turn her back on her Irish heritage.  The stories are chilling and personal.  It's the deep, dark secrets of the Famine not covered in textbooks.  Although Proudfoot allows each actor time to tell her story, the pacing throughout the show is sluggish. There are multiple wardrobe changes from the same dress to undergarments at nighttime.  It gets redundant and clunky and makes for prolonged scene transitions. 
During a big reveal, Proudfoot dramatically shifts the pace.  She creates an unexpected mob mentality.  The chaos is immediate!  The sense of helplessness is gut-punching and the disturbing aftermath is heart-wrenching.  With minimal scenery or props to aid in the storytelling, the idea of what we are looking at still conjures up an unforgettable visual. 
Each of the talented ensemble puts her heart and soul in to connecting the audience to her story.  By the time the ship docks, we are bonded to each of these girls.  We know their stories.  We've watched them change over time.  They stand side by side on the pier bravely awaiting their fate.  They are less hopeful than when they left Belfast.  Yet, they are scrappy and optimistic.  And I get misty imagining what lies ahead for these pioneering women.                   
Running Time:  Two hours and ten minutes includes one intermission
At Den Theatre, 1333 N. Milwaukee
Written by Jaki McCarrick
Directed by Julie Proudfoot
Thursdays, Fridays at 7:30pm
Saturday at 3pm and 7:30pm
Sundays at 6pm
Thru June 14th
Buy Tickets at http://www.artemisiatheatre.org/.
For more reviews and information on Chicago theatre, visit Theatre in Chicago.