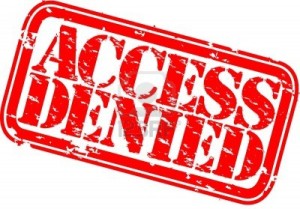 The 2015 NON-EQUITY JEFF AWARD nominations were announced last night.  Meh!
Don't get me wrong. I sincerely congratulate all the nominees that are being acknowledged for their extraordinary contribution to Chicago theatre.   Well done!  My lackluster response is seeing the same theatre companies always honored… maybe overly.  Below, I took the time to compare all the plays 'Jeff recommended' and within that list I noted where the nominees fell.  And it looks a little bias to me.
Here's a prime example:  I know Redtwist does phenomenal work.  I also know that they aren't the only company showcasing great work by principal actors.  What about actors that performed at Idle Muse, Jackalope, Lifeline, Strawdog?  I saw excellence in performances.  Why do the Jeff judges tend to only see high caliber acting on a few stages?
This past year, I saw plenty of shows that didn't even get a Jeff recommendation which surprised me at the time.  And this oversight irritates me now when I scan this recommendation/nomination list and see some companies seem to have their entire season 'Jeff Recommended' with or without the nominations to back it up.  I'm questioning the level of bias on the committee.
I'm not suggesting huge theatre conspiracy.  I'm certain judges aren't accepting financial kickbacks for votes.  I'm just saying it would be nice to see directors, writers, actors and designers recognized for their hard work with equal opportunity to be honored on any non-equity stage.  I'm weary of the slanted honoring system.
Complete list of  2015 'Jeff Recommended' Non-Equity Shows and Their Nominations 
Bailiwick Chicago
Carrie (actress/princ/mus, actress/sup/mus)
The Wild Party (musical, ensemble, director, actor/prin/mus, actress/princ/mus, choreo, mus dir, lights, costumes)
BoHo Theatre/ Bohemian Theatre Ensemble 
Ordinary Days (actor/sup/mus, 2 actress/sup/mus, specialization)
Parade (director, actor/prin/mus, actress/princ/mus)
Eclipse Theatre Company
Intimate Apparel (director, actress/princ, costumes)
Ruined (play, actor/princ, actress/princ)
Eclectic Full Contact Theatre
Take Me Out
The Fine Print Theatre Company
A Place in the Woods (new work)
Griffin Theatre Company
Balm in Gilead (ensemble, director, actress/princ, actress/sup, scene)
Men Should Weep (play, director, actress/princ)
Titanic (musical, ensemble, director, actor/sup/mus, mus dir, costumes)
Hell in a Handbag Productions
Caged Dames (choreo, scene)
The Hypocrites
All Our Tragic (play, ensemble, director, actor/sup, actress/sup, adapt, lights, costumes, sound, specialization)
Endgame (actor/sup, scene, lights)
H.M.S. Pinafore (director, adapt)
Idle Muse Theatre Company
Dr. Jekyll and Mr. Hyde
Interrobang Theatre Project
The Doll's House Project: Ibsen Is Dead
Really Really
Jackalope Theatre Company
Exit Strategy (play, ensemble, director, new work)
Four
Kokandy Productions
Assassins (musical, director, 2 actor/sup/mus)
The Full Monty (musical, actor/prin/mus, actor/sup/mus, actress/sup/mus, choreo)
Lifeline Theatre
Monstrous Regiment (adapt)
One Came Home (orig mus)
LiveWire Chicago Theatre
Partners
Ma'at Prod. Assoc. of Afrikan Centered Theater
Softly Blue
Oracle Productions
Circle-Machine (orig mus)
The Jungle (play, ensemble, adapt, orig mus)
Pride Films and Plays
Angry Fags
The Book of Merman (actor/prin/mus)
Some Men
The Submission (actress/sup)
Raven Theatre
All My Sons (actor/sup)
Dividing the Estate (scene)
Vieux Carre (actress/sup, scene)
Redtwist Theatre
Another Bone (actress/sup)
Geezers (actor/princ)
I and You
Look Back in Anger (actor/princ)
Red (actor/princ, sound)
Sideshow Theatre Company
Stupid Fucking Bird (actor/sup, orig mus)
Tyrant
the side project
Mike and Seth (actor/princ)
Signal Ensemble Theatre
The Next Thing (actress/princ/mus, new work)
Stage Left Theatre
The Coward
Keys of the Kingdom
Stage Left Theatre i/a/w Theatre Seven of Chicago
Principal Principle (new work)
Steep Theatre Company
If There is I haven't Found it yet (actor/sup)
The Life and Sort of Death of Eric Argyle
The Vandal (actress/princ)
Step Up Productions
Dead Accounts (actor/princ)
Strawdog Theatre Company
The Arsonists (lights, sound)
Charles Ives, Take Me Home (actress/princ)
The Sweeter Option (sound)
Theatre Y
Happy Days
Theo Ubique Cabaret Theatre
Jesus Christ Superstar (musical, actor/prin/mus, actor/sup/mus, actress/sup/mus, choreo, mus dir)
A Musical Tribute to the Andrews Sisters (specialization)
A Kurt Weill Cabaret (revue, mus dir, lights)
Always..Patsy Cline (revue, actress/princ/mus, actress/sup/mus, mus dir)
Trap Door Theater
Cookie Play (sound)
La Bete (actor/princ, costumes)
Vatzlav