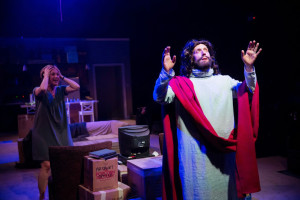 Windy City Playhouse presents its inaugural production of END DAYS.
The play opens with Stephen Cefalu Jr. (Nelson) strumming guitar in an Elvis jumpsuit.  He is singing his heart out to an unseen girl while being plummeted with paper wads.
Next, we meet a disheveled Keith Kupferer (Arthur) waking up from sleeping on the couch.  He can't seem to focus as a frenzied Tina Gluschenko (Sylvia) is prattling about her mission to save souls.  Glunschenko is aided in collecting bibles by Jesus (played with reverent hilariousness by Steven Stafford).  We realize quickly that Glunschenko is the only one that can see Jesus.  This realization makes his facial expressions and her 'thank you, Jesus' even more hysterical.  Then, a white-faced, goth-dressed Sari Sanchez (Rachel) walks through the living room on her way to school.
Playwright Deborah Zoe Laufer gets our immediate attention with her quirky characters.  We are instantly curious to what happened to make these people extreme caricatures.  The house is cluttered with unopened moving boxes.  The cupboards and refrigerator are empty.  This house is not a home.  But why?
Through Henry Godinez's skillful direction, the connection gets stronger as we get closer to each person's backstory.  Their current personas are aftermath inventions following severe trauma.  Kupferer (dad), Gluschenko (mom), and Sanchez (daughter) are stuck in their self-containments of dysfunction.  It takes the endearing efforts of Cefalu (neighbor) to bring them back to normalcy.  Cefalu enthusiastically meets each character in their dark zone and amicably nudges them forward.  His nonjudgmental supportive nature wins each over.  And although Kupferer and Sanchez begin to act like an average sandwich-making family, Glunschenko cranks her religious fervor to apocalyptic levels.  She is focused on 'The Rapture' coming in the next 24-hours. And Glunschenko becomes hell bent on ensuring her family stays together.
Cefalu delivers an honest sincerity that is uplifting. Under his influence, the divided family unites beautifully.  Even when Glunschenko continues to prophesize the end of the world, there is a respect for her belief.  Casual plans to go to a bar mitzvah are made with the caveat 'if the world doesn't end.' The remark is funny and sweet. There is an unspoken deeper love now in this home. And there are confessions of loss and requests for forgiveness. Even with the wacky overarching religious zealousness, Godinez facilitates this as a truly heartfelt family reunification.
And as much as I enjoyed it for its tender redemption quality, END DAYS is also pretty damn funny.  The talented ensemble hit their own lampoons hard.  When requested to stay home from school for the end of the world, Cefalu and Sanchez both express concern about missing a quiz.  There is the irony about not needing school because the world is ending.  And that gets humorously amplified because Cefalu is dressed like Elvis and Sanchez is dressed in her goth. They don't look like serious students.  Kupferer delivers comedy like its improv.  At one point Sanchez's makeup gets on his sleeve, Kupferer zings with 'it's good to know this white stuff comes off.'  His timing seems completely organic.  Still, the comical standout is Stafford.  Not only does he play Jesus, he plays Stephen Hawking.  And his delivery is an impeccable tribute to each. Hysterical!
END DAYS is a great show in a great new space!  Get caught up in this rapture!
SIDENOTE:  The Windy City Playhouse is glam.  Most of the seats are black, leather swivel chairs.  They are ample sized and separated by a cocktail table.  There is a full-size bar in the lobby and bar carts in the theatre.  We were able to order drinks and nibbles from our seat.  Both the theatre and lobby are loungy and posh for pre-show and post-show festivities.  This is a new way to see theatre…and I loved the special pampering!  Welcome to the theatre community, Windy City Playhouse!
Running Time:  Two hours includes an intermission
At Windy City Playhouse,3014 W. Irving Park
Written by Deborah Zoe Laufer
Directed by Henry Godinez
Wednesdays and Thursdays at 7:30pm
Fridays and Saturdays at 8pm
Sundays at 3pm and 5pm (alternating)
EXTENDED Thru May 3rd
Buy Tickets at www.windycityplayhouse.com