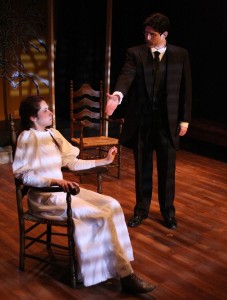 Idle Muse Theatre presents the Chicago premiere of THE TALKING CURE.
The origin story of psychoanalysis is presented with wonder and reverence in this play about the evolution of thought.  Playwright Christopher Hampton tells the story of Carl Jung's discoveries in applying his mentor's, Sigmund Freud, theories into actual treatment.  The play starts with Jung (played by a steadfast Patrick Doolin) treating Sabina Spielrein (played by the impressive Caty Gordon).  In her first few appearances, a tireless Gordon is a bundle of nerves.  Her face is red. Her speech has a hic-cup rhythm. Her limbs uncontrollably jerk.  Gordon is in hysterics. And the audience intriguingly tethers to her story.  The therapy sessions unfold with spastic anxiety.  It's riveting. 
In dramatic contrast, Doolin also is treating a colleague scholar played by the rascally but smooth-talking Nathan Pease.  While Gordon painfully confesses her perversions, Pease charmingly boasts of his sexual conquests.  Especially for the puritanical time period, Pease plays it perfectly nonchalant about his babies' mamas.  Against Doolin's buttoned-up uptight facade, Pease is even more authentically comfortable.  Director Evan Jackson finds the distinct personality of his characters through his talented cast. Gordon and Pease's standout scenes and the startling conclusion to Act 1 builds anticipation of Act 2. 
*Full disclosure, I'm reviewing the final preview prior to the official opening.*   
The bulk of Act 2 is theory debates between Doolin, Gordon and Vincent P. Mahler (Freud).  It's mired in academia and less in passion.  After some of the risque reveals in Act 1, it becomes stuffy.  Hampton's script is a series of long-winded orations.  Although Hampton's scenes are short, Jackson has chosen to rotate furniture in between each scene to show a locale change.  And there are a lot of scenes going from Freud's to Spielrein's to Jung's.  The artistic decision is unnecessary and leads to sluggish pacing. The characters are so distinct I always know whose home I'm in. The moving scenery is not as apparent in Act 1 but in Act 2 with science replacing emotion, it becomes more blatant and bothersome.  If the furniture stayed stationary throughout the show, not only could 20-30 minutes be clipped, transitions would be much more fluid.
THE TALKING CURE mixes history and psychology in this true story of psychoanalysis roots.  It's especially fascinating from Jung's perspective since Freud became more legendary over the generations.  Although I thought it could be tighter, I enjoyed my therapy session. 
Running Time:  Two hours and forty-five minutes includes an intermission
At Rivendell Theatre, 5779 N. Ridge
Written by Christopher Hampton
Directed by Evan Jackson
Thursdays, Fridays, Saturdays at 8pm
Sundays at 3pm
Thru March 22nd
Buy Tickets at www.idlemuse.org
For more information and reviews on Chicago theatre, visit Theatre in Chicago.