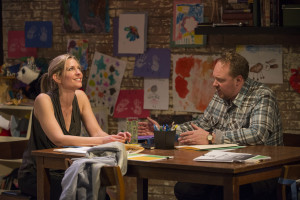 About Face Theatre presents the Chicago premiere of A KID LIKE JAKE.
From the get go, I was uncomfortable with Daniel Pearle's sharply written drama.  It wasn't from the intended subject matter, a young boy wanting to be a princess.  Instead, my stomach started churning because of his intense parents.  Katherine Keberlein (Alexandra) and Michael Aaron Lindner (Greg) are obsessed with getting their kid into the best kindergarten.  The especially fierce Keberlein never loses focus on the prize, Jake's enrollment.  She is tenacious in her pursuit.  She has even befriended an admission guru to optimize Jake's chances. 
Under the skillful direction of Keira Fromm, the dialogue feels organic. An inexhaustible Keberlein is a frenzy of anxiety.  She passionately heaps her mountains-out-of-molehills on Linder.  He exhibits the helplessness of a man buried alive.  He attempts to balance Keberlein out with humor.  And just like in real life, sometimes it works.  Sometimes, it doesn't.  Their relationship feels natural.  Their interactions have a rhythm of familiarity. Their unhinged fervor is contrasted by a grounded Cindy Gold (Judy).  Gold acts as a type of kindergarten broker.  Gold handles the parents and her role like a pro.  In my performance, an unplanned black-out prompted Gold to improvise a crack on New York.
Pearle's story of gender non-conforming behavior seems secondary to the cautionary tale for parents.  The madness around kindergarten placement is a new level of absurdity.  I found it strange and disconcerting.  I wasn't concerned about Jake being  possibly transgender.  I was worried about him having a nervous breakdown instigated by parental pressure.  'Parental guidance suggested' takes on a whole new meaning for me.
We never meet Jake in A KID LIKE JAKE.  He is only described by the adults in his life.  Although Pearle gives him plenty of personality through the stories shared, I would have enjoyed the show more if Jake had made an appearance. Without his youthful presence, the adults easily forget he's just a kid.  The play is much more "Parents like Jake's."  Actually meeting Jake would have put the focus on him and not just his scholastic career.             
Running Time:  One hour and forty-five minutes with no intermission
At Greenhouse Theatre, 2257 N. Lincoln
Written by Daniel Pearle
Directed by Keira Fromm
Thursdays, Fridays at 7:30
Saturdays at 3pm and 7:30pm
Sundays at 3pm
Thru March 15th
Buy Tickets at www.aboutfacetheatre.org
Production photo by Michael Brosilow
For more reviews and information on Chicago theatre, visit Theatre in Chicago.