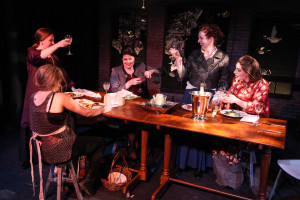 The Arc Theatre presents TOP GIRLS.
At a restaurant, women of historical distinction gather for ladies night out.  The hen party crosses continents and centuries as a Scottish explorer, the Japanese Emperor's mistress, Pope Joan, a present day HR manager and some other gal pals lament over wine.  This absurd feast is followed by a scene with young girls playing in a backyard and then scenes in an employment agency.  Each piece is engaging for its own deft storytelling and acting.  They almost serve as stand alone pieces.  And to add to the action separation, Director Mark Boergers puts on stylish, all-business fashion shows as the transition from scene to scene. His cast of ten females strut their stuff as they move furniture and strike power poses.  It's sleek synchronization in heels.        
I left for intermission equally confused and riveted.
Playwright Caryl Churchill pulled me into her Amazon world.  And her ladies ruled!  Churchill's writing is smart. She does an incredible job of relating the 1980's breaking-the-glass-ceiling corporate notion to women's attempt throughout history to be independent and in charge.  In her initial scene, she illustrates the broad range of the women's movement throughout history.  Although the women are vastly different, they share a common element of struggling for individuality in a man's world.  As each shares her story, the female camaraderie plummets.  Boergers has the talented cast interrupt, ignore and talk over each other.  It's not really meaningful conversations as much as boastful monologues of conquests.  Each of these women made their mark in the world but none of them really celebrate the accomplishments of the others. 
This initial scene is mirrored in the final scene.  This time, it's not dinner with a room of surreal colleagues.  It's an intimate exchange between two real sisters; the plucky Patricia Lavery (Marlene) and the resigned Natalie Sallee (Joyce). Although they have a serious personal bond, the sisters also have a distance of familiarity.  They interrupt, ignore and talk over each other.  Each of them disapproves of the other's life choices.  And during their argument, a big reveal is spilled that connects all the scenes together.  Churchill's storytelling becomes this mosaic of sharp and vibrant pieces. At the very end, Salle even places an afghan and pillow on the floor and we realize this is the scene before the initial scene when Lavery awakens.     
Even though the underlying message is powerful, Churchill still sneaks in plenty of humor in this female revelation. Not only is the first scene ripe with merriment, other exchanges find the comedy in the reality too.  Lana Smithner (Win) and Kate Marie Smith (Nell) are these confident spunky gals that work for the employment agency.  Their interviews are pretty funny.  Smith meets with Pamela Mae Davis (Louise) this serious minded worker overlooked for promotions.  Smith tries to lighten Davis' melancholy and broaden her focus.  Smithner talks to Kelsey Phillips (Shona).  Phillips responds to the question 'what do you do in your job?' by describing what she likes to eat for lunch.  The encounters are amusing.  Tyler Meredith (Kit) plays an hysterical precocious sidekick to the dark and fragile Aislinn Kerchaert (Angie).  Meredith, in particular, has this lively affected speech like a British valley girl.  And special cudos to Dialect Coach David Schlumpf, the show calls for a variety of distinct accents and he facilitates the ladies nailing them.
I highly recommend TOP GIRLS.  The writing, direction and acting is like slipping into perfectly sized Jimmy Choo pumps. Fabulous!  TOP GIRLS are top girls!       
Running Time:  Two hours and fifteen minutes includes an intermission
At The Den Theatre, 1333 N. Milwaukee
Written by Caryl Churchill
Directed by Mark Boergers
Thursdays, Fridays, Saturdays at 7:30pm
Sundays at 6pm
Thru February 8th
Buy Tickets at www.arctheatrechicago.org
Photo by Emily Schwartz
For other reviews and information on Chicago theatre, visit Theatre in Chicago.