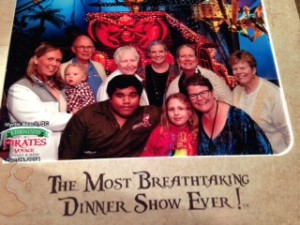 Myrtle Beach, in conjunction with Jenny Hamel, presents PIRATES VOYAGE.
When driving into Myrtle Beach, two specific signs will make you go 'huh?'  Hardees boasting a bologna-Velveeta-egg biscuit. And the billboards promoting a Pirates Voyage with live nativity. Both sound like odd, distasteful combos.  Although the Hardees' announcement can be disregarded, 100+ Pirates' billboards and a sister insisting it's a pirates Christmas can not be ignored.
(I can hear Emma Thompson saying, 'there was more than one pirate at the birth of Jesus.')
Pirates Voyage is dinner theatre over-the-top.  It's not your mama's Medieval Times.  It's on a much grander scale.  Medieval Times wears a training bra compared to Pirates Voyage double D hooters.  And the reference is spot on when you realize Dolly Parton owns the company.  Dolly knows how to entertain. This show is flashy pageantry!      
When you arrive, you take a seat in a bi-level great hall.  There is a gift shop in the back, a bar on the side and a stage in front.  A gaggle of pirates lead the crowd in sea shanty themed songs.  For our visit, it was Christmas songs with an arrgh twist.  Between the songs and comedic schtick, pirates juggle in feats of varying amusement and amazement.  It's entertaining.  And this is not even the show! 
We are shuffled from this holding area to a stadium-sized theatre.  Both sides of the arena have multiple levels of counter eating so each guest is looking out unobstructed  onto the massive stage.  The stage itself is flanked by the bows of two ships within a lagoon. Even before the show starts, the production is impressive. 
Between servers and performers, Pirates Voyage is a slick orchestrated experience.  During the two hour show, a hearty dinner of soup, chicken, pork, corn, biscuit, potato and apple turnover is served to the masses.  It's big portions of everything as the show goes on!! 
The main story is Captain Scrooge being haunted into being nicer to his crew.  Within that comical drama, plenty of action is weaved.  It's a Cirque Booty as performers backflip across the deck, dive into the lagoon, and spin from the rafters.  Captain Scrooge learns the true meaning of Christmas through wildly different spectacles.  During a nutcracker sequence, performers are dressed as neon toys twirling from the ceiling in black light. (Warning:  they look creepy close-up.)  Later, the story of Jesus' birth is reenacted.  Mary and Joseph arrive on a donkey.  The three kings travel in on camels.  It momentarily smells like a petting zoo but the visual is worth it.
Animals make regular appearances in the show.  Sea lions, dogs, ducks mingle in with the actors in creative ways.  Besides the Scrooge storyline, there is an ongoing competition between the green team and the crimson team.  The theatre is split in half and pitted against each other.  The tournament gives the evening an interactive element.  Volunteers from the audience play in games to advance their teams' score.  It adds to the family-focused merriment.
Themed styled shows can be cheesy.  This one is much more like a blockbuster extravaganza.  The performers are athletic.  The action is non-stop.  The  Pirates Voyage is an excursion worth taking.  Aye Aye!
Thanks Jenny and Dolly!                     
Running Time:  Two hours without an intermission.  Three hours includes a preshow.
At 8901 North Kings Highway