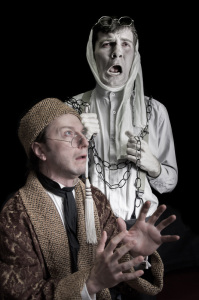 Dream Theatre Company presents A CHRISTMAS CAROL:  AN EVENING OF DICKENSIAN DELIGHTS.
The "Christmas Carol" is a holiday classic.  Currently, Chicagoland is boasting multiple versions onstage.  Over at Goodman, the production is the traditional showcase.  Nearby, Chicago Shakes is premiering a hip-hop alternative of the story.  Both plays use different techniques to give the public entertainment value.  Goodman's is heartwarming whereas Chicago Shakes is playful. Although each of the shows is marveling for their individual styles, the story almost gets lost in shiny paper and curly ribbon gift wrap.   Up north, Dream Theatre Company offers an unwrapped Scrooge redemption adaptation. Their show is more a tribute to Charles Dickens. 
Without elaborate scenery or musical shtick, Dream Theatre fills the stage with words, Dickens' words.  Adapter Rachel Martindale condenses the story but teases out the finely-crafted word choices of the master himself.  Even though the preserved Dickens' language has the familiarity of beloved Christmas past, Martindale keeps it sharp and fine-tuned for a contemporary audience.  Her script is for three performers.  She, along with Joe Kloehn, share narrating duties and multiple character roles.  And Nick Ferrin plays Scrooge. 
The show looks like it could almost be a reading on the stark stage with sparse props.  Yet, there is impressive spectrum of emotion in the performers especially considering the short transition time from character to character. Martindale authentically weeps twice.  As Belle, Martindale breaks off her engagement with an elegant devastation.  Later, she cries as Mrs. Cratchit in an apologetic misery.  We feel the difference in the emotional outbursts.  Kloehn also shows a tremendous range of feeling and accents playing the jovial nephew to the raving Marley to the dirty-dealing-grave-robbing scoundrels.  Although Ferrin only plays Scrooge, he shows us the aging process of the miser.  Ferrin's first appearance is stooped over with his face puckered in a scowl.  In flashback scenes, he animatedly drops a few decades of negativity.  With Martinsdale's script, Ferrin observes and relates to his past with palpable regret.  In other versions of "A Christmas Carol," the redemption is the big pay-off at the end.  The Dream Theatre focuses on Dickens' true intent of an ongoing transformation.
I thoroughly enjoyed A CHRISTMAS CAROL:  AN EVENING OF DICKENSIAN DELIGHTS.  It was like putting on a cozy Christmas sweater and being entertained Dickens-style by a talented trio.  And for this no-frills production, the Ghost of Christmas Future is memorably scary!  A hat rack is cleverly cloaked in towering spookiness. In picking a holiday show, this one gets back to the basics.  Charles Dickens would be pleased.                      
Running Time:  75 minutes with no intermission
At Dream Theatre, 5026 N. Lincoln
Written by Charles Dickens
Adapted by Rachel Martindale
Fridays at 8pm
Saturdays at 3pm and 8pm
Sundays at 3pm
Thru December 21st
Buy Tickets at http://www.dreamtheatrecompany.com/
For more information and reviews on Chicago theatre, visit Theatre in Chicago.