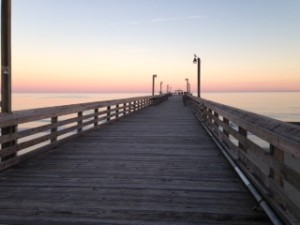 Balance is important to me.  I juggle my jobs, my writing and my working out.  I'm always trying to get everything in.  I have a weekly To-Do list.  And I enjoy scratching off each play review, treadmill stint, and even the most mundane of tasks.  'Pick up toilet paper.' Scratch!  I find satisfaction in the doing. I enjoy multi-tasking.  And as obsessive compulsive I am in my day to day living, I can completely let it go on vacation.
I'm becoming a beach slug.  I can spend hours doing nothing but watching and listening to the ocean.  I finished my book last Friday and I've only read 10 pages in my new one.   I get up in the morning and my nephew Joey starts cooking for me.  We've nicknamed the kitchen Joe's Diner.  When he isn't working at the golf course, he's serving his very lazy and incredibly grateful aunt.  I recommend the omelet of the day.  My fave was the pork roast one. I'm certain I've put on 10 pounds.  Still, I love being a regular at Joe's.   
My biggest effort of the day is changing out of my pajamas.  And usually it's just changing into sweats but it seems so daunting.  I brought my work out clothes to work out.  They've become my beach wear.  Who doesn't love an elastic waist band? On occasion, I also just do some beach walking in my pajamas.  I think it makes me look like an eccentric local. I am brushing my teeth but not always combing my hair. 
I leave tomorrow.  And even though I'm currently in my pajamas and I might pull an all-dayer in them, I'm already transitioning mentally.  I've sent out a few emails to make plans for January.  I'm noodling on my 2015 goals. I'm planning my veggie-fruit blender combo to drink Wednesday morning before I work out with Josh.  And then I've got gal pal time with Jen.  And I'll end 2014 dining with my peeps. 
I love a good respite but I also really love my life.  I'll miss the ocean but my favorite place in the world is the life I've made in Chicago.  I just wish we had a Joe's Diner back home.