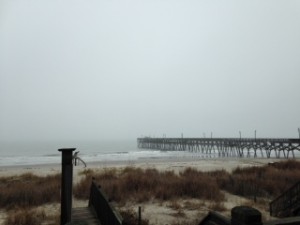 Train, automobile and plane!  No, I'm not confused about the movie title.  This is my holiday travel plan. I rode into Elkhart on a train on Sunday night.  The next day, I set out with my parents for Myrtle Beach.  It was a 14-15 hour excursion over Monday-Tuesday. It's a one way automobile adventure because I'll be returning to Chicago on a plane.  Which is good because 3 hours in the car and I was already feeling stiff and antsy and we hadn't even left Indiana yet. 
My parents love driving in the car.  My dad is the driver.  My mom is the co-pilot.  They get audio books, hard candy and hit the road.  They have a zest to see our country and enjoy the entire journey instead of just longing for the destination.  We took breaks every few hours to stretch, to relieve and to gas. One of our breaks was a stopover in Indianapolis to have a pre-Christmas brunch with my sister Cindy and her kids. We traveled through Indiana, Ohio, Kentucky, Tennessee until we reached North Carolina.  We stayed over night in Asheville. The locale ensured we only had less than 5 hours before hitting the ocean.
I spent the ride doing a little writing, reading, texting, paying bills, and even bought a couple books on Amazon.  Besides driving a short stint from Elkhart to Indy, I didn't have a role on my parents' road trip routine.  It was an extended, forced relaxation.  I'm not one for audio books for the same reason I don't listen to talk radio… I tune it out.  Just like my music playing in my office, it's white noise to me.  Although I'll catch a phrase or two, I'm not concentrating on it.  It is merely an audio backdrop. Sometimes, it lulls me into a comatose state. 
15 hours and we are here!  When we arrived, it's worth every mile because the view that greeted us is a stunner.