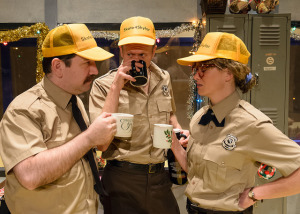 Reviewed by Tom Lawler
Pavement Group presents the Midwest premiere of BUDDY COP 2.
The anti-comedy movement is usually traced back to Andy Kaufman, who began entertaining hip New York audiences in the '70s by doing Elvis Presley impressions, pantomiming to recordings of the Mighty Mouse theme and threatening to read The Great Gatsby in its entirety among other bits. Anti-comedy was about discarding the familiar formula of set-ups and punch lines and instead subverting an audience's expectations and luxuriating in the tensions they feel while waiting for something funny to happen.  It was an experiment that paid off for some, but clearly not for all audience members. 
A similar misdirection comes to mind when watching Pavement Group's handsome production of Buddy Cop 2, originally created and performed in 2010 by The Debate Society, an acclaimed theater company based in Brooklyn. Let's call this anti-drama. Instead of a plot with sharply defined characters in rising conflict, you instead receive a theatrical experience focused almost exclusively on setting and tone.
As the play opens, we're no doubt introduced to an interesting setting. We already know we're in small town Indiana in the early '80s, but as the gigantic wrapping paper curtain drops, the '80s police station set is an astonishing sight to behold!  To actually see police officers working out of a retro-perfect recreation center – with a couple of them even playing racquet ball in a tiny court in the background is truly bizarre – and a huge visual achievement for director Cassy Sanders and her technical team.
Not only has the Buddy Cop 2 team created a striking tableau to bring us into the story, but Sanders also uses the downstage picture windows and stage mikes to dramatically stage scenes with other characters (namely Leah Raidt doing energetic double-duty here as a politician's daughter and Skylar, a cancer-stricken youth that the entire town is rallying around as she approaches her final days). The tone of these scenes with Raidt wobble as they push a alternately for laughs and pathos compared to the main laidback "story" in the police station. 
Meeting the team at the station house: dependable Don (a subtle Joe Zarrow), lazy, bingo-loving Terry (a limber and loopy Gabriel Franken) and eager newbie Novak (a spot-on Cyd Blakewell), we get a big helping of folksy tone and behavior. And that's basically all we have to feast on. It's like watching Fargo with the main crime plot edited out.
Between the mundane interactions and rituals of this small-town police department, a few details of exposition drift in: the town is celebrating Christmas in August for Skylar's last wish and the governor (and his ice-skating, horse-loving daughter) is coming to town tomorrow for a rally for the dying youth. This essentially is the "plot" of Buddy Cop 2, save an out-of-nowhere twist in the final 10 minutes of the play that subverts most of the previous sentence. Just as the innocent girl with cancer seemed to give this small town a larger purpose, it also seemed designed to give this would-be satire some deeper meaning.
If this play has a theme, it's subversion. From the '80s title, which implies an action-, comedy-heavy story, to the friendly small town where nothing really happens (until it does), Buddy Cop 2 accurately has the indecisive tagline of: Nothing Is As It Seems. Or Is it?
More importantly: There has clearly been a lot of effort expended to capture this slice of '80s small town life. But why, and to what effect?
Running Time: 85 minutes without an intermission.
At Theater Wit, 1229  W Belmont Ave Chicago Avenue
Written by Hannah Bos and Paul Thureen
Directed by Cassy Sanders
Thursdays-Saturdays at 7:30pm; Sundays at 3:00pm
Through December 21
Buy tickets at http://pavementgroup.org/event/buddy-cop-2 or call (773) 975-8150.
Photo courtesy of Pavement Group.
For more reviews and information on Chicago theatre, visit Theatre in Chicago.
# # #