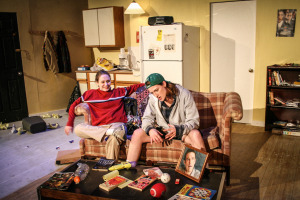 First Floor Theater presents MATT AND BEN.
Musing about a celebrity's climb to fame is a typical American response.  Without any USA royalty, our century-long fascination has been with moviestars.  When was their lucky break?  What was happening in their personal life?  Who are these people? Playwrights Mindy Kaling and Brenda Withers did more than muse about it.  In 2003, they wrote and performed in an off-Broadway ode to Matt Damon and Ben Affleck.  Set in 1996, the play imagines the origin story of Damon and Affleck's Academy Award-winning "Good Will Hunting."  Kaling and Withers use their two woman play to explain the creation of the script that would shoot the childhood best friends to stardom.    
Under the tight direction of Amanda Fink, the duo of Nora Bingham (Matt) and Kate Healy (Ben) give us a rowdy peek at the rivalry and camaraderie in this coming of age story.   The before-they-were-stars exposé takes place in Ben's run down apartment.  Healy perfectly matches the slovenly decorated living room designed by Bobby Huggins.  Whether throwing Doritoes or air punches, Healy is all guy-guy.  Her swagger and head bobbling make the transformation authentic. She uses her statuesque height to loom over the smaller Bingham.  This play is about the contrasting personalities of the boyhood pals.  And Healy and Bingham embody the Matt-Ben stereotypes we imagine.  Healy is the dumb jock.  Bingham is the hard-working intellectual.  At one point, the twosome act out a scene from "Good Will Hunting" and the reason Matt starred in it and Ben got a minor role becomes hilariously apparent.  In the scene of a scene, Bingham delivers an impressive Bostonian accent to Healy's plethora of accented over-acting.  It's riotous!   
MATT AND BEN is a tight, fun bromance.  There are plenty of laughs and heartfelt moments. The show ends with the actual video clip of the real life twosome accepting the Academy Award.  Since I observed the relationship reenactment courtesy of the tightly-bonded Healy and Bingham, the already emotional acceptance footage becomes even more personal to me.  Through this MATT AND BEN fantasy flashback, I feel like I knew Matt and Ben before they hit it big!  And now, I'm curious if they are still best friends.  I'd like to see Kaling and Withers produce a "Matt and Ben 2.0" about the "Good Will Hunting" aftermath.                
Running Time:  Sixty minutes with no intermission
At Collaboraction Theatre, 1565 N. Milwaukee
Written by Mindy Kaling and Brenda Withers
Directed by Amanda Fink
Thursdays, Fridays, Saturdays at 8pm
No performance on November 27th
Additional performances at November 24th and December 8th at 8pm
Thru December 13th
Buy Tickets at www.firstfloortheater.com
For additional information and reviews on Chicago theatre, visit www.theatreinchicago.com