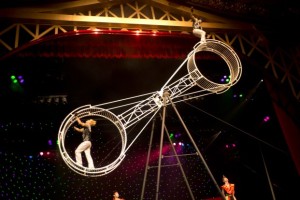 Navy Pier, in conjunction with International Special Attractions, LTD., presents CIRQUE SHANGHAI:  WARRIORS. 
WARRIORS starts and ends with a parade of two dozen, brightly dressed performers marching through the aisles.  The fresh-faced, smiling troupe is every bit the performing showbiz crew.  They wave.  They smile.  They encourage… the excitement.  It's love at first sight as the cast and audience relish in each other's company.
Skillfully directed by Miao Miao Chen the show builds on each act.  It starts out with floor-work and moves up to ceiling-work. All the acrobats have impressive strength.  They showcase their abilities in synchronized movement and astonishing feats of physical control.  In one act, five tumblers build a human ladder.  Each climbs up the next one's shoulders. Later, an aerialist spins through the air tethered to her partner by a ribbon around her neck as he is suspended upside-down with silks wrapped around his feet.  The feats are marveling.  The breathtaking whimsy is balanced with jaw-dropping astonishment.
Chen paces her show with zip.  Exits and entrances are part of the amazement.  As we applaud the flowergirls, they disappear behind a large wall.  It rises to reveal a huge pack of dancing warriors.  The seamless transition was instantaneous.  
Before the biggest acts; the Wheel of Destiny and Imperial Thunder, a comedian performs his schtick with a volunteer from the audience.  His number is done in front of the curtain to allow ample time for backstage set-up.  Wearing a shiny poncho covered with the word 'WOW,' the guy panders to the crowd's participation.  He may be adorably hilarious but he's also an acrobat.  He balances himself on a board on a ball while kicking up bowls to catch on his head.  Right?!  Wondrous!  The abilities of this entire cast seem Guinness Book-worthy.     
The two biggest acts always make me cringe.  I'm only a thrill-seeker in that I don't want anybody to get hurt in the pursuit.  I constantly worry about the Cirque Shanghai folks! The Wheel of Destiny is this humongous, hamster-like pivoting wheels.  I get nervous enough when the pair of performers are inside the wheels revolving floor to ceiling.  That's not enough for them.  One gets out and runs on the outside of a wheel. And that's not enough for him.  He does it jumping rope and later blindfolded.  He gets the crowd to egg him on to his next stunt.  Not me!  I'm the one screaming, 'don't do it.'  It is cringe-able and gawk-able!  
Following that, the Imperial Thunder slides out onstage.  It's this massive metal sphere structure.  Motorcyclist race inside it.  They go around and around; sideways, diagonally, and top-to-bottom.  It's enough to see one rider zoom in it.  In this show, they have four simultaneously defying gravity and each other as they whiz in different directions to avoid collision.  The visual is stunning.  The concept is terrifying.         
This is the ninth season that Cirque Shanghai has summered at Navy Pier.  Of those nine shows, I've seen 4.  Each production offers a slightly different theme that carries through in acts and costumery.  Primarily, it's the same death-defying show with new silky razzmatazz. The family-friendly show guarantees plenty of gasps, ooohs and awwws and sore hands from clapping.    
2013 Cirque Shanghai:  Dragon's Thunder
2012 Cirque Shanghai:  Year of the Dragon 
Running Time: 75 minutes with no intermission
At Pepsi Skyline Stage @ Navy Pier, Chicago
Wednesdays at 2pm, 6pm and 8pm; Thursdays at 2pm and 8pm;  Fridays at 2pm, 7pm and 9pm;  Saturdays at 2pm, 6pm and 8pm; Sundays at 2pm and 4pm
Now Playing through September 1st
For more information, visit http://www.navypier.com/cirqueshanghai/index.html
For more information and reviews for Chicago theatre, visit Theatre in Chicago.