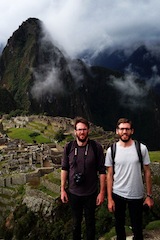 Reviewed by Tom Lawler
There is a moment, early on in Vision Quest: A Cocktail of Hallucinations in the Amazon Rainforest that would be very hard for most productions to top. No spoilers here, but let's just say it involves two men and a bucket. These two men are soon revealed to be the stars and creators of Vision Quest – Brad Einstein and Gary Pascal (AKA sketch comedy duo Ray BradGary).  The Bucket Scene starts off as coarse and shocking but as Einstein and Pascal fully ground this scene in reality – and then push it past where it would normally end, it transcends into a truly communal theatrical experience. The howling audience feeds off of a screaming Einstein and Pascal – and vice versa until it builds and builds and we're all finally spent.
As I said, this would be a hard moment to top, and while Vision Question never quite scales these lofty what-the-hell-are-they-doing heights again, it does effectively announce that this is a ballsy, go-for-broke comedy production that is mucho fun on a Monday night. Inspired by a real life trip (geographically and chemically) they took in the jungles of Peru, Einstein and Pascal team up with director Scott Goldstein to create an "immersive theater experience" based on this journey. 
In this case, "immersive" is generally limited to a  complimentary jungle potion (alcoholic and non-alcoholic options were offered) that the audience members were to drink when instructed during the proceedings so we could all take our "trip" together. Alas, the cue for when were to drink our jungle juice this got a little lost in the shuffle when we were transported to another theater space entirely (a very clever use of the Public House Theatre's venue on a Monday night). 
In reality, Vision Quest felt less like an immersive theater experience and more of a very funny sketch show with a broad enough conceit to fit in anything that cracked up Team BradGary:  
Singing Nazis hiding out in an Argentina German restaurant

A hard-bitten military pilot being recruited for one final deadly mission (Einstein is especially good navigating the camp elements of this scene while struggling not to let Pascal break his composure)

A parody of a southern courtroom scene out of To Kill a Mockingbird in which the judges and attorneys are all snakes (Director Scott Goldstein shines here as the lead reptile attorney asking for justice for these "warm-blooded" killers")
A bickering couple scene at least 10 shades darker than War of the Roses featuring a fiery

 

Erin Kay Van Pay
I also enjoyed an abundance of fast-flying in-jokes that were hard to keep up with but included fourth-wall attacks on director Goldstein (who is apparently moving to L.A. soon), a reference to a German-language version of Bye Bye Liver that "pays the bills" and at one point, one of the actors turning to the audience and declaring "This Vision Quest isn't very good." 
I have to  strongly disagree – from the comedy chops, chemistry and intelligence of the Ray BradGary duo to the very game cast who ably support them on their journey in  multiple roles (In addition to Goldstein and Van Pay, I'm not leaving out the stellar work of Tom Fell, Charles Pettitt or Mike Malarkey), Vision Quest is a trip worth taking.  Act quickly: In all of the ways this show is unique, it also only plays on the next three Monday nights (closing on Monday 6/23).
 Running Time: 60 minutes.
At The Public House Theatre, 3914 N. Clark St
Written by Brand Einstein and Gary Pascal
Directed by Scott Goldstein
Mondays at 8pm   
Through June 23
Buy tickets at PubHouseTheatre.com or call 800.650.6449