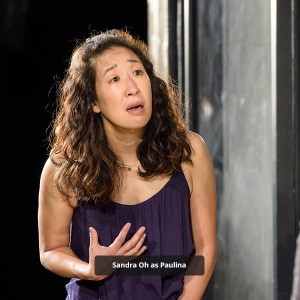 Victory Gardens presents DEATH AND THE MAIDEN.
The audience walks into the theatre and immediately wants to vacation on stage. Set Designer William Boles built a breathtaking beach house against an ocean backdrop.  The contemporary one room has sliding glass doors and a staircase leading to a lower level. At different points in the show, the house revolves to showcase a conversation on the veranda.  Although the spinning room audibly creaks, the visual is stunning.  
In the first scene, Sandra Oh (Paulina) is cowering behind a curtain.  We hear voices offstage and see headlights.  The opening is immediately engaging.   Raul Castillo (Gerardo) walks in the room.  Through Oh and Castillo's conversation, we get snippets of their past and present.  They are married.   A high-strung Oh has survived a trauma.  An even-keel Castillo has been commissioned by the new President to lead a task force investigating crimes of the old regime.  The set-up intrigues as Playwright Ariel Dorfman intentionally keeps it vague.   What happened to Paulina?  Why is Gerardo investigating?  Where are they even living?  How can they afford that house on a government salary?  Our curiosity is piqued.  Or maybe more accurately has peaked.
Dorfman goes from vague to contrived.  In the middle of the night, John Judd (Roberto) comes banging on the door.  Castillo recognizes him as the guy who helped him that afternoon with a flat tire.  So, he invites him in for a drink.  And later invites him to stay overnight.  What???  Why would a sleeping Castillo offer an intruder a drink?  And why would he ever let a stranger stay overnight? Especially knowing his wife is traumatized by even an unfamiliar car?  It doesn't make sense.  The preliminary tension breaks under the illogical framework.
Director Chay Yew orchestrates intermittent edginess.  Oh pacing and hiding in the first scene is captivating.  In another scene, she stands eavesdropping on Castillo and Judd's drinking banter.  The conversation is too long for Oh to be so statuesque.  The fear factor dissipates and Oh starts to just look noisy.  Interactions between Oh and Judd are at their best with abrupt movement or reveals. The vulnerable and tough Oh, in particular, has an emotional connection with the audience.  We are on her side.  This alliance works against the overall play.  For the script to work, the audience needs to be uncertain.  
DEATH AND THE MAIDEN is a work in progress.  The story is there.  It just needs to more specific in its vagueness and vague in some of its specifics.  The wannabe thriller needs to be as sleekly constructed as the house Boles built.    
Running Time:  One hour and forty minutes with no intermission
At VIctory Gardens, 2433 N. Lincoln
Written by Ariel Dorfman
Directed by Chay Yew
Tuesdays, Wednesdays, Thursdays, Fridays at 7:30pm
Saturdays at 4pm and 7:30pm
Sundays at 3pm 
No performance on July 4th 
Additional performance on July 2nd at 2pm
Thru July 20
Buy Tickets at www.victorygardens.org
For more Chicago theatre information and reviews, visit Theatre in Chicago.