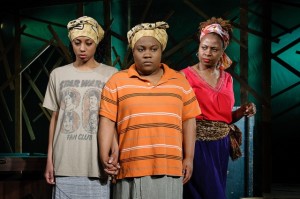 Eclipse Theatre Company features one playwright in one season.  The Pulitzer Prize winning drama RUINED opens Eclipse's 2014 season as the first of three Lynn Nottage plays.
Playwright Lynn Nottage's RUINED won the 2009 Pulitzer Prize Award for Drama.  The story looks at the Congo Civil War from a brothel perspective.  Mama Nardi (played fiercely by TayLar) negotiates her survival by serving both sides.  She sells her booze or girls to any man, rebel or soldier, for money or diamonds.  The story, based on interviews in Africa, is riveting.  When the definition of 'ruined' is revealed, the expose on the brutality of men against women is horrifying.  The war on women by strangers and kin is unconscionable.
Nottage's premise is a shocker.  The Eclipse production doesn't always actualize that nightmare reality.  Under the direction of Aaron Todd Douglas, the danger is intermittent.  In the first act, the bar scenes are more carousing than threatening.  The gals shake their booties as the guys fondle them.  These activities are taking place all around Scenic Designer Kevin Hagan's impressive multi-level bar.  Gawking at the debauchery in every corner pulls focus from the actual conversation taking place.   The movement of the large ensemble in and out and all around the bar makes the scenes unruly but not menacing.  The pace is clunky.  The second act is much more intense.  Confessions and machetes make heartbreaking appearances.  The high stakes are established. The tension is sweltering.
TayLar commands the stage.  She delivers a strong tough-talking, soft-hearted and business-minded persona. TayLar and Andre Teamer (Christian) spar together with familiar collusion and conflict.  The charismatic Teamer slyly plays TayLar to change her mind… continuously.  Although there are plenty of men in this hostile environment, RUINED is about the female casualties of war.  Both the spunky Celeste M. Cooper (Josephine) and the fragile Krystal Mosley (Sophie) have poignant bittersweet moments.  And BrittneyLove Smith (Salima) is unforgettably haunting. In a gripping soliloquy, Smith remembers the day her life changed forever. Smith is beautifully tragic.
RUINED is an important story to be told, to be heard, to be understood.  The atrocities inflicted on these women are the kind of wrong that we need to make right.
Running Time:  Two hours and twenty minutes includes an intermission
At Athenaeum Theatre, 2936 N. Southport
Written by Lynn Nottage
Directed by Aaron Todd Douglas
Thursdays, Fridays and Saturdays at 7:30pm
Sundays at 2pm
Thru May 25th
Buy Tickets at www.eclipsetheatre.com
Production photo by Tim Knight