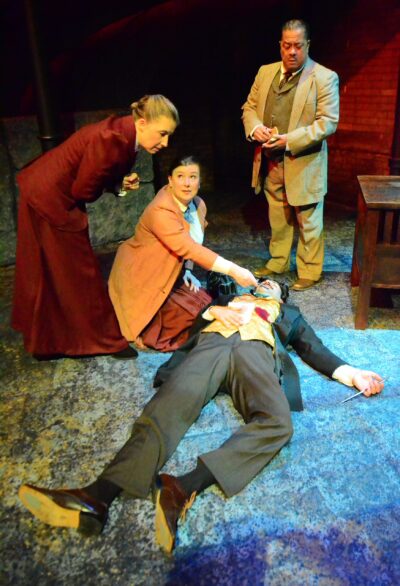 Lifeline Theatre presents MISS HOLMES RETURNS.
A pandemic, the Trump administration, and six years have passed since Playwright Christopher Walsh (no relation) premiered "Miss Holmes". Walsh has a clever twist on the legendary characters created by Sir Arthur Conan Doyle. He has made them female! Walsh imagines Sherlock and Watson as women detectives navigating their profession under the constraints of 19th Century England. I loved the premiere and I was more than excited for this sequel (seeing the original is not a prerequisite to thoroughly enjoying MISS HOLMES RETURNS).  
Walsh impressively creates more than a murder mystery. Although he has the traditional body, weapon, intellectual wit and obscure clues of a Sherlock whodunit, he goes deeper and broader. He masterfully weaves in the history of the time period into his tale. He introduces us to the real-life heroine Josephine Butler (played by Julie Partyka) and her campaign to repeal the Contagious Disease Act. This Act allowed women to be accused, arrested and evasively 'searched' for sexually transmitted diseases. Walsh uses this unjust law as a backdrop to his characters grappling with relationships and murder. His strong feminist voice is apparent in his character choices, illustrations of gender inequity and commentary on male authority over women's bodies.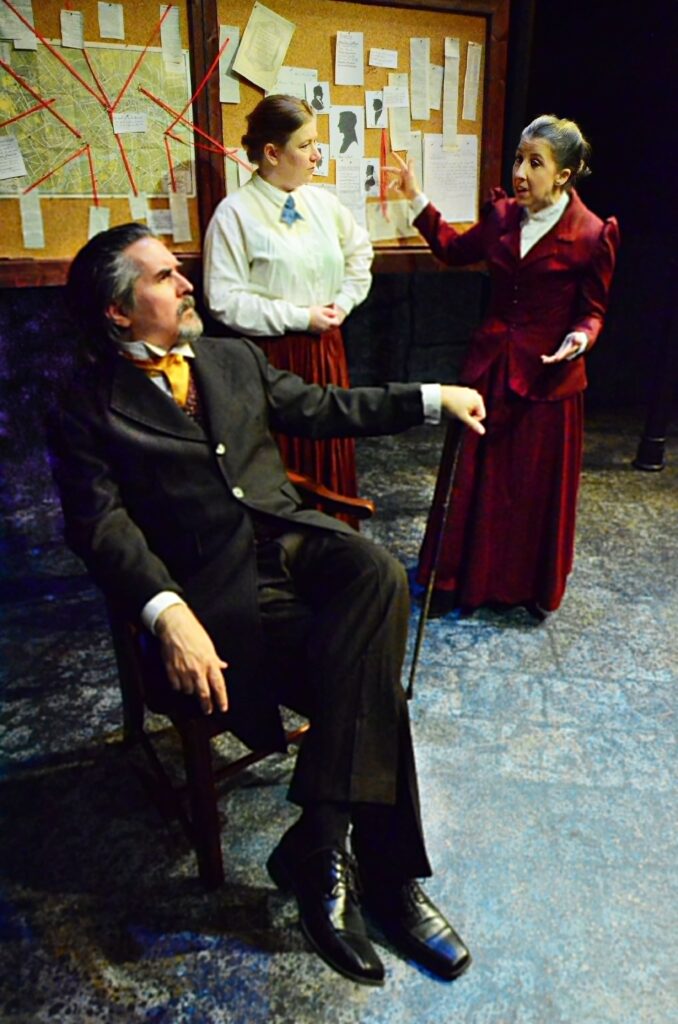 From the start, Sherlock (played by the delightfully quirky Katie McLean Hainsworth) and Watson (played by the steadfast and unflappable Mandy Walsh -no relation) refer to the killer as a 'victim.' They explain this preliminary deduction to a bewildered inspector (played by Linsey Falls) by piecing together evidence fragments. Later, they review their intricate findings with a skeptical Mycroft (played by a haughty Christopher Hainsworth). Hidden facts are continually uncovered followed by riveting theories. Walsh's story is peppered with subtle clues, snappy dialogue and an underground knitting circle with their needles on the pulse of London's underworld.
MISS HOLMES RETURNS is back bursting with female energy. Director Elise Kauzlaric skillfully takes the helm in this second Sherlock tale. She navigates the ongoing action utilizing every inch of Scenic Designer Alan Donahue's two story set. The entire ensemble add textured threads to the complicated web Walsh has spun. Tommy Malouf (Adam Worthington/Daniel Burke) charms as the bumbling book nerd crushing on Sherlock. Vinithra Raj (Priya) captivates as a tenderhearted nurse being discriminated for gender and race. Hilary Williams (Olive) delights as Butler's earnest assistant. Annie Slivinski (Mrs. Hudson) is the snarky housekeeper with a know-it-all demeanor. Everyone has a story or three and Walsh brings them out in this multi-layered, cerebral-tickling, amazing storytelling. During one twist, I got shivers with the unexpected realization.  I LOVED IT!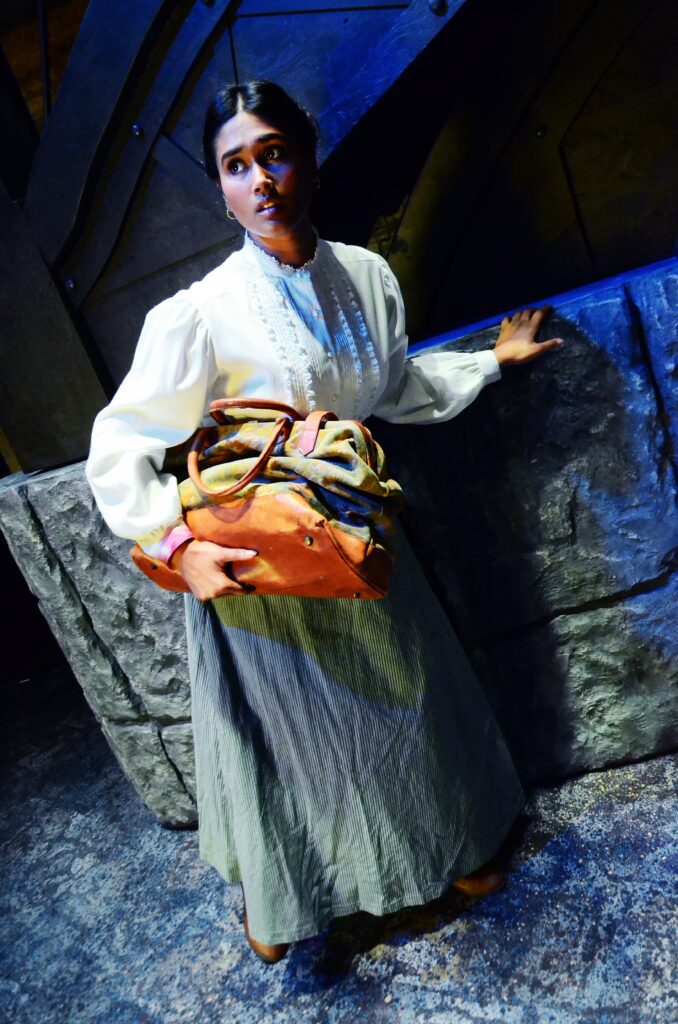 MISS HOLMES RETURNS is the second in what I'm hoping will be an ongoing series. I did find a few breadcrumbs within the telling suggesting Sherlock and Watson have more adventures to come. Fingers crossed! Two notes to Mr. Walsh: less soliloquies and tighter conversations in the final scenes and don't wait six years for Miss Holmes returns… again!   
Sidebar: Huge kudos to McLean Hainsworth, M. Walsh, and Hainsworth for the-show-must-go-on professionalism. On opening night, the threesome were intensely pouring over clues as the lighting went awry. For several minutes, house and stage lights kept turning on and off leaving them repeatedly in the dark. The distraction didn't stop these pros. Oh, the unexpected drama of live theatre!  
Running Time: Two hours and thirty minutes includes an intermission
Lifeline Theatre, 6912 N. Glenwood
Based by characters from the works of Sir Arthur Conan Doyle
Written by Christopher Walsh
Directed by Elise Kauzlaric
Fridays at 2:30pm
Saturdays at 2:30pm and 7:30pm
Sundays at 2:30 pm
Thru October 16th
For more information or tickets
Photos by Suzanne Plunkett
For more Chicago theatre information and reviews, please visit Theatre in Chicago