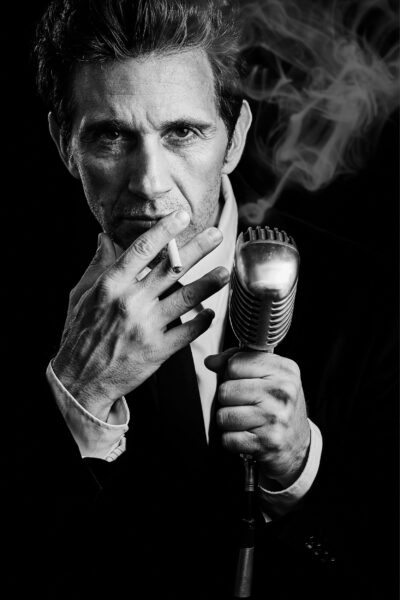 Theatre 68 and the Venus Cabaret Theatre present I'M NOT A COMEDIAN… I'M LENNY BRUCE. 
Ronnie Marmo, writer and performer, has chosen a more than accurate title for his Lenny Bruce tribute. It is not a comedy… it is a life! True to Lenny's provocative core, the show starts at the end and ends like it starts. A naked Bruce is dead on a toilet. He is a victim of a heroin overdose. Marmo then shows us how and why Lenny Bruce ended up a tragic yet infamous entertainer. The audience learns of Lenny's legendary controversy that started as 'pushing the envelop' went to 'poking the bear' and ended in a fatal round of 'Russian Roulette.'   
Marmo, as Lenny Bruce, narrates his own story while mingling in his nightclub schtick. He tells us how as an awkward teen he was goaded by his mom to be the substitute MC onstage. Marmo effectively brings us into the room of his shaky debut where a heckler is the impetus for  releasing Lenny's fully-loaded arsenal of words. Lenny Bruce's act was all about the lunacy of words. He focused on the absurdity of words deemed obscene. His truth telling drew crowds and cops.
The Venus Cabaret is an ideal setting for this show. The intimacy of the space allows Marmo to interact with the audience as he performs Bruce's biting bits. At one point, he pledges not to say this ten letter word with a hyphen so as not to offend. He plays with his zipper, dramatizes licking his lips and polls the crowd to see if anyone enjoys or partakes in this particular sexual act without actually saying the word. It's definitely funny yet it's more ridiculous and mind-opening. Why indeed were these words so taboo and even illegal in the 1960s?    
Director Joe Mantegna masterfully pulls out an exhausting range of emotion in Marmo. His contentious struggle with the law and hypocrisy is palpable. His tight-wire balancing of his life on and off stage is heart-gripping. And his utter delight in word dissection is shocking and amusing. I imagine Lenny Bruce would appreciate I'M NOT A COMEDIAN… I'M LENNY BRUCE as a very human portrayal of his life. Marmo delivers a brutally honest reflection of a flawed man questioning authority and his own choices. Marmo may not be a comedian yet he absolutely is Lenny Bruce!! 
Running Time: One hour and forty-five minutes with no intermission
Venus Cabaret at Mercury Theatre, 3745 N. Southport
Written and performed by Ronnie Marmo
Directed by Joe Mantegna
Thursdays and Fridays at 8pm 
Saturdays at 3pm and 8pm 
Production Photos by Doren Sorrell
For more Chicago theatre information and reviews, please visit Theatre in Chicago