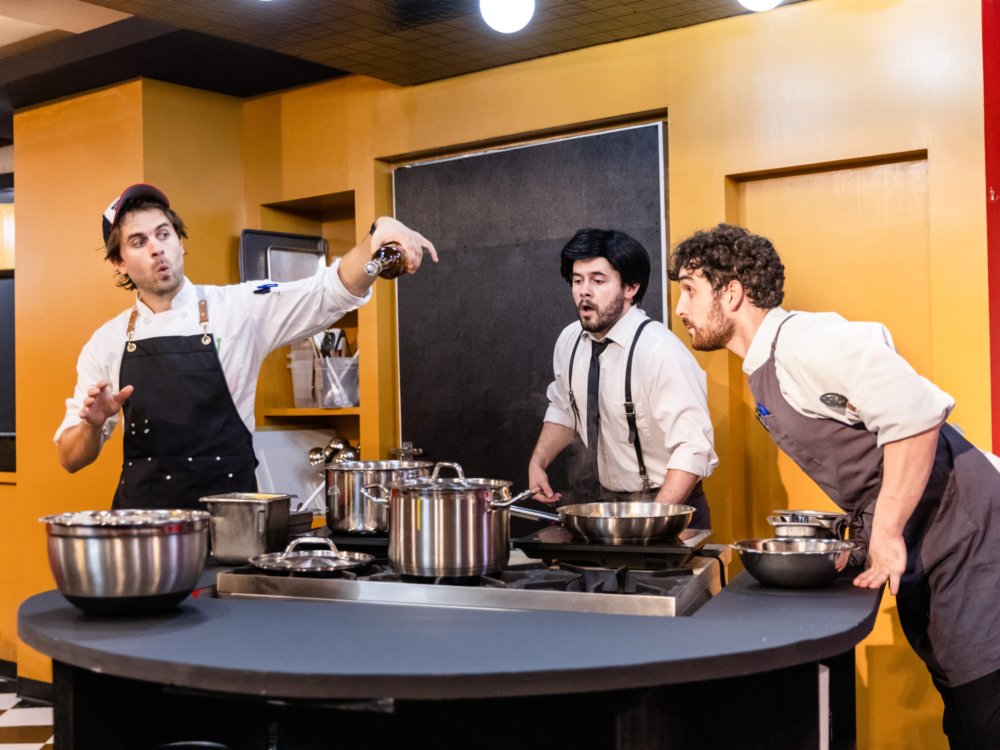 Chef Rick Bayless and Windy City Playhouse present the World Premiere of A RECIPE FOR DISASTER.
Chef Bayless brings his extensive knowledge of restaurant catastrophes to the stage. Bayless conceived the story and wrote it with the support of WCP Amy Rubenstein and Carl Menninger. They have created another Windy City Playhouse immersion experience. This one takes place at the fashionable restaurant, The Contumacious Pig. On the night the restaurant is hosting social media influencers, the Chef has called in sick. The sous chef has a bad case of nerves. A mysterious guy has shown up to 'stage' (from the French word 'stagiaire' meaning apprentice).  And the health inspector arrives for a surprise assessment.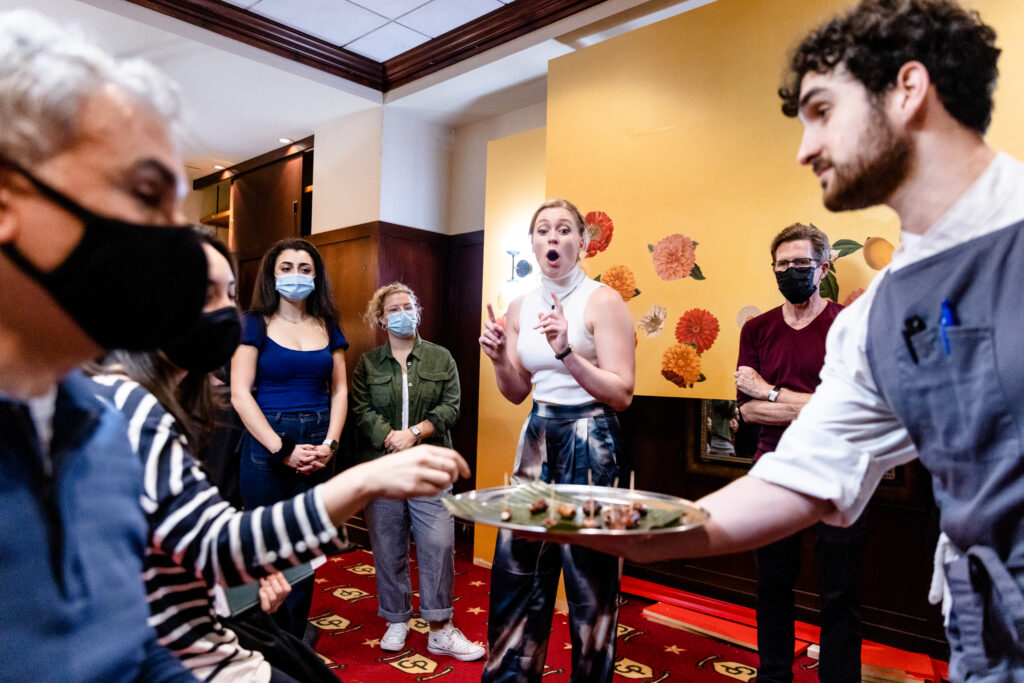 A RECIPE FOR DISASTER has the basic ingredients for a fun-filled romp. Designer William Boles aids the farce with multiple exits/entrances and visible side rooms on his brightly colored set. Director David H. Bell navigates his energetic cast (Emma Jo Boyden, Kierra Bunch, Carley Corelius, Ian Maryfield,  Alex Morales, Ben Page, Ryan Reilly, Daniel Trinidad) through non-stop shenanigans. The terrific cast gives it their all whether dishing up the comedy or actually serving Bayless' menu samplings. The influencers, Bunch and Corelius, are particularly funny. Bunch has a dynamic presence as she works the room with her big purse. The affected Corelius delivers subtle comedy gold with her restaurant mispronunciations and conflicting dietary restrictions. And nod out to the commanding Boyden for leading this misfit crew thru all its misadventures.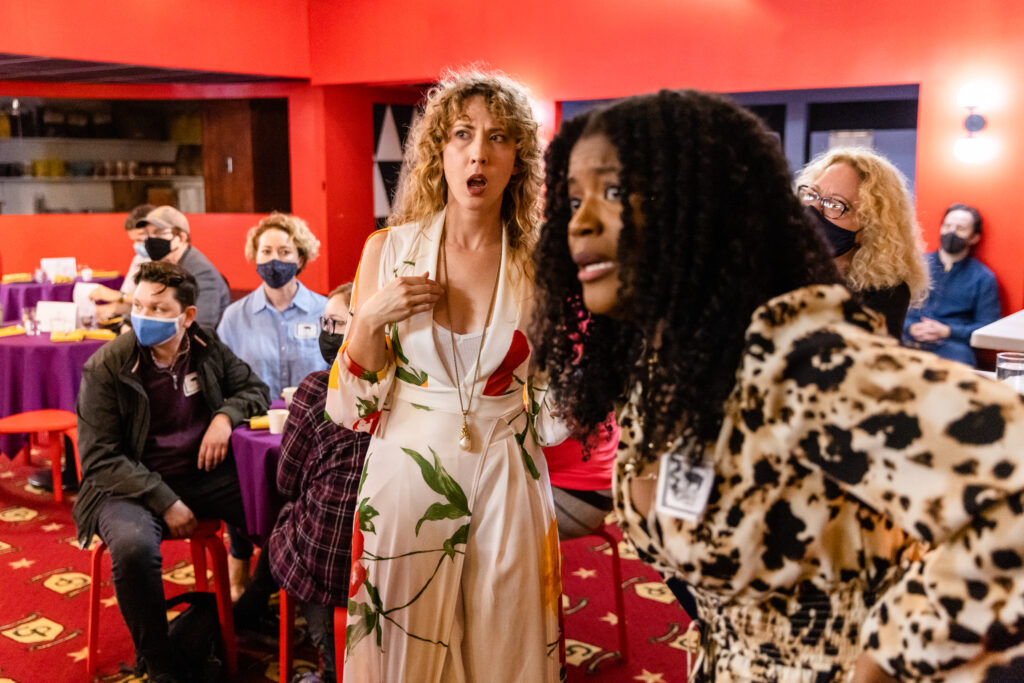 Although A RECIPE FOR DISASTER is amusing, it's missing some substance. Despite the best efforts of the cast, the predictable story isn't engaging. The theatre only seats thirty guests. Intimacy and a connection is lost when action and conversations take place across the wide and narrow space. The play's conclusion is also lost on the attendees. It's lackluster and confusing. Even after the curtain call, guests continue to sit waiting in anticipation of something else happening for the story to more formally conclude.              
Along with the frothy content, A RECIPE FOR DISASTER tickets are between $90-$130 depending on the day of the week. The admission price includes six bite tastings (a date, a cracker, soup, pasta, potato, chocolate) of Chef Bayless' creations accompanied by three cocktail/wine samplings and a 90 minute light-hearted farce. The price point is reflective of Bayless' award-winning cuisine being served. Be warned: This isn't dinner theatre! It's theatre about dinner at a restaurant. Attendees may be disappointed that the portions aren't substantial especially for the price. And A RECIPE FOR DISASTER has fierce competition on the same street.  A block down,  Teatro Zinzanni tickets are between $109 – $190 depending on day of the week and seat selection. The ticket includes a four course meal and a three hour classy cabaret featuring death-defying acts and hilarious comedy.
As theatre comes back, Chicago has options even on Randolph Street. I guess it comes down to farce or feats, taste or feast. Chicago, what are you craving?  
Running Time: Ninety minutes with no intermission
Windy City Playhouse at the Club Level of Petterino's, 150 N. Dearborn
Conceived by Rick Bayless
Written by Rick Bayless, Amy Rubenstein, Carl Menninger
Directed by David H. Bell
Wednesdays, Thursdays at 7:30pm 
Fridays at 8pm
Saturdays at 3:30pm and 8pm 
Sundays at 1:30pm and 6pm
Tickets range from $90-$130 depending on performance day
Production Photos by Kyle Flubacker
For more Chicago theatre information and reviews, please visit Theatre in Chicago
WCP COVID-19 Safety: (1) All guests will be asked for proof of vaccination at the door. Vaccination must have occurred at least 14 days prior to the performance. Our hope is not to have to require masks, but we will follow whatever is mandated by the City or State government at the time of the performance. (2) Alternatively, guests may show a negative COVID-19 PCR test from the past 48 hours. Those guests who are not vaccinated will additionally be asked to wear a mask when not actively eating or drinking. (3) If you are not comfortable holding onto tickets for your performance date, you may be issued a credit upon request, and you may opt to reschedule for another showtime. At this time, we cannot offer any refunds. (4) This COVID-19 Safety policy is subject to change. For questions, please email us at: boxoffice@windycityplayhouse.com or call 773.891.8985. Thank you for your cooperation in keeping our artists, staff, and fellow audience members safe!