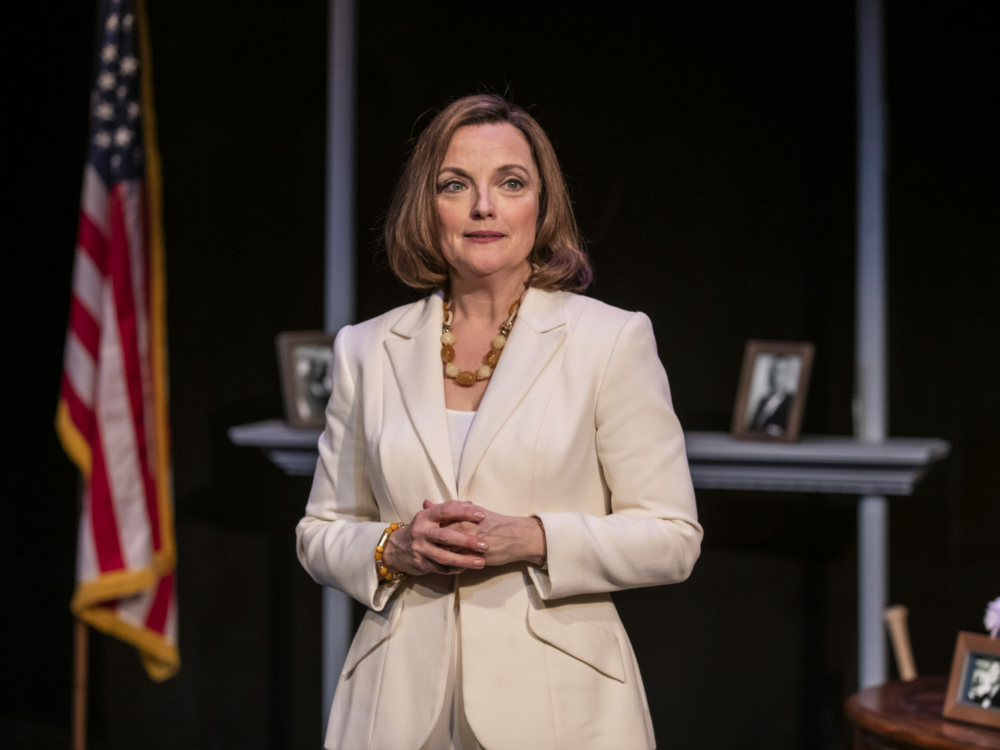 Jim Kierstead, Linda Karn and William Fernandez present the World Premiere of THE ADULT IN THE ROOM, about the life of Speaker of the House Nancy Pelosi.
Playwright Bill McMahon has penned a personal look at the polished and tough Speaker of the House. Set in 2019, Nancy (played by a remarkable Orlagh Cassidy) is on Instagram Live speaking to a group of young women considering careers in politics. On either side of the stage, projections show screen names, emoticons, questions and comments for the Speaker. Nancy walks us through her childhood, her courtship, her faith, and her influences. McMahon's script is like a virtual documentary with Cassidy playing Nancy and her mother, her father, her husband, Trump and other people in her sphere.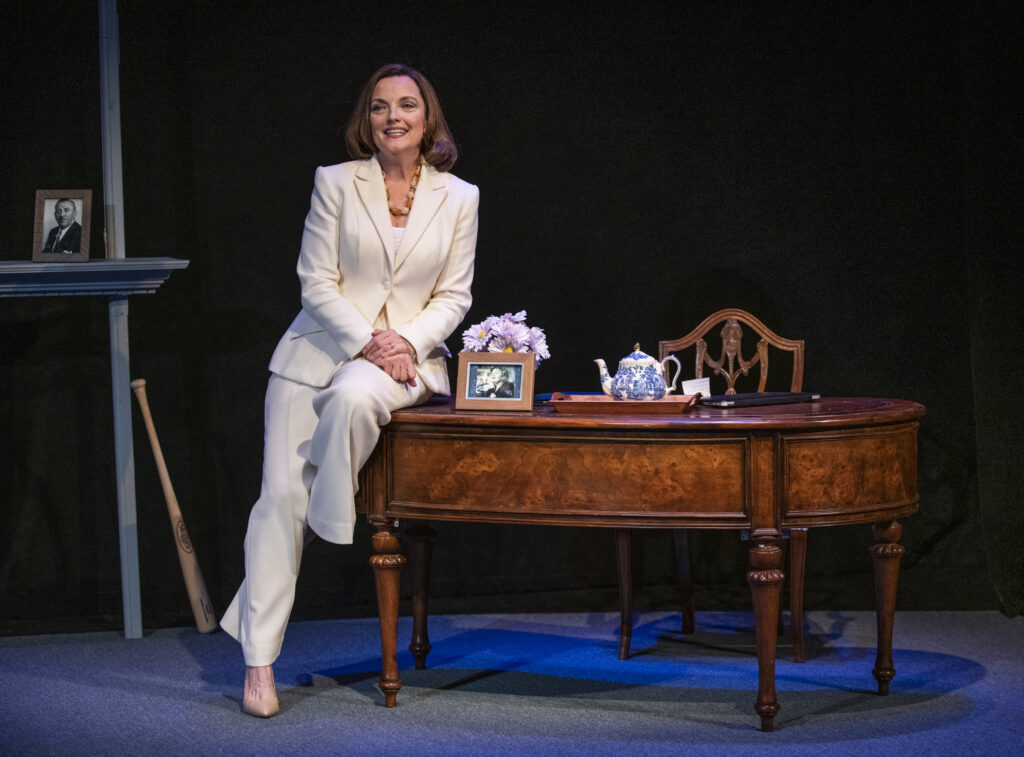 Under the masterful direction of Heather Arnson and Conor Bagley, Cassidy is THE adult in the room. And she's rocking it! As Nancy, she is poised with hands and legs clasped together. Her words and smile controlled and reserved. She then moves effortlessly into Trump. Legs wide open. Arms dangling. Speech guttural and nonsensical. Cassidy impressively morphs into a variety of personas pivotal to her story.     
When she is Nancy, Cassidy is the picture of sophistication. She sips her tea and gives practical advice to the next generation tuning in on Instagram. She shares her biggest political success – the affordable care act and her deepest  regret – gun control. Her emotional online interaction with a Sandy Hook family member made me misty. These glimpses of real humanity from this iron-fist-in-a-velvet-glove leader make for a rich tribute. Her calm demeanor, despite text and phone interruptions from AOC and about Trump, is admirable. Yet, it's her attack on a box of chocolates and downing a can of diet Dr. Pepper that makes her real, relatable and inspirational.       
The show ends with Cassidy wearing the familiar black dress with "Game of Thrones"-style Hand-to-the-King pendant. (The Speaker wore this exact outfit as she announced the articles of impeachment in December.) Cassidy delivers that somber address. It's a gut puncher! Since it's not true history but our current reality, the significance and uncertainty of what happens now is deafening. The audience exits in silence.    
I really loved this portrait of the Speaker of the House. Nancy Pelosi is a shrewd strategist and public servant. I hope her decades of hard work are recognized with the title of the first woman president.  
Organize, not agonize! – Nancy Pelosi
Running Time: Sixty minutes with no intermission
Victory Gardens Theatre's Richard Christiansen Theatre, 2433 N. Lincoln Avenue
Written by Bill McMahon
Directed by Heather Arnson and Conor Bagley
Tuesdays, Wednesdays, Thursdays, Fridays at 8pm
Saturdays at 2pm and 8pm
Sundays at 2pm and 5pm
Thru February 15th
All Photos by Michael Brosilow
For more Chicago theatre information and reviews, please visit Theatre in Chicago