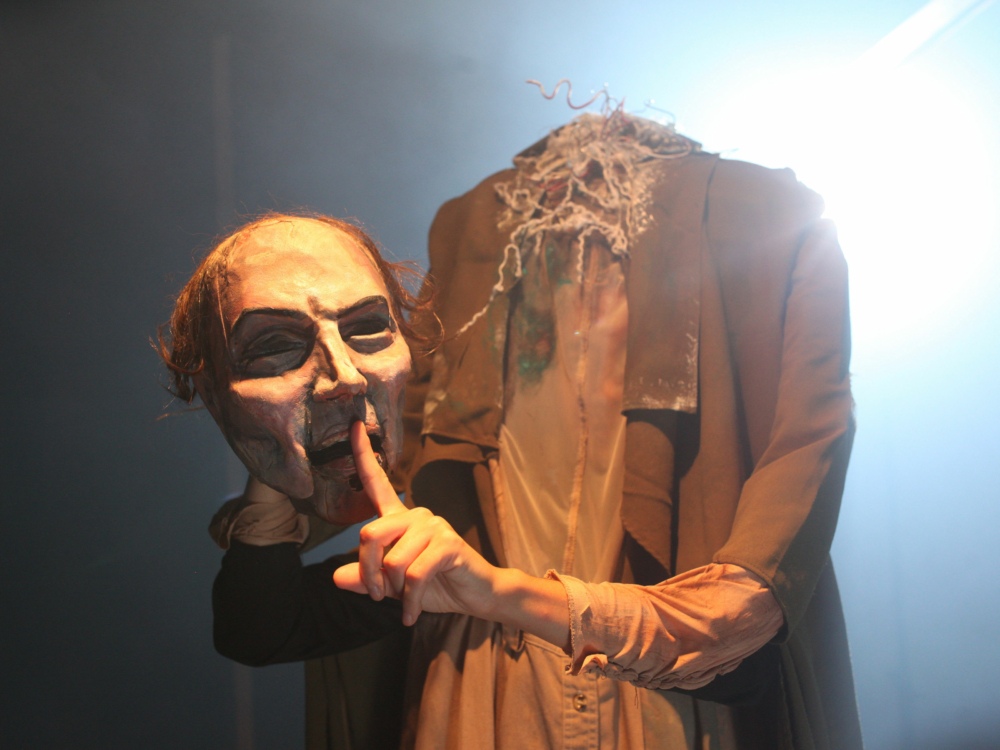 Rough House Theatre presents THE SILENCE IN HARROW HOUSE.
HARROW HOUSE is not a traditional or typical haunted house. It doesn't rely on scaring its guests with familiar Halloween paranormal theatrics. Instead, HARROW HOUSE is more about the long fright. Guests are greeted in the bohemian-style lounge in Chopin Theatre's lower level. Victor Adler, a life-size puppet, beckons visitors to enter the Home and Studio of Milton Harrow. Harrow, a 20th century architect, had a utopian vision that centered on his Golden Trinity: 1. harmony through silence, 2. peace through order and 3) beauty through essentialization.   
The mysterious Adler tells guests to put on black masks, to be worn over nose and mouth, as a safeguard to fumes. Although I believe the masks are a physical reminder not to talk, it also levels up the fright factor. Turning into a dark corridor to see a masked person – performer or guest – added to my hyper-sensitive awareness of the unknown strange happenings.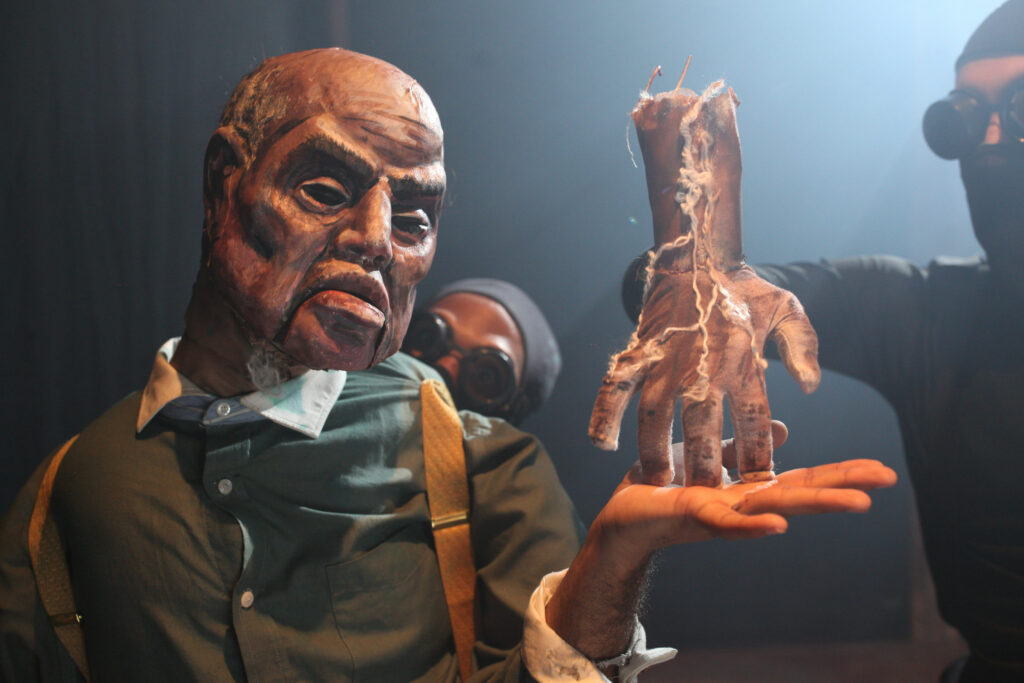 Groups enter the house in phases to wander among the rooms. The style has a choose-your-own-adventure as you decide whether to push a button, listen in on a phone call or stop to read a scrap of paper that appears and disappears in your pathway. Piecing together these clues provides the spine-tingling knowledge of what might be happening in this house. Hands, limbs and bundles of intestines add visual teasers to the truth. A shadow box illustrates horrors inflicted on past guests. Multiple life size puppets wander the shadowy hallways mumbling verbal hints about the happenings. One creepy gal kept following me saying 'I didn't know.' She was pleading for absolution and I was just trying to get the hell away from her.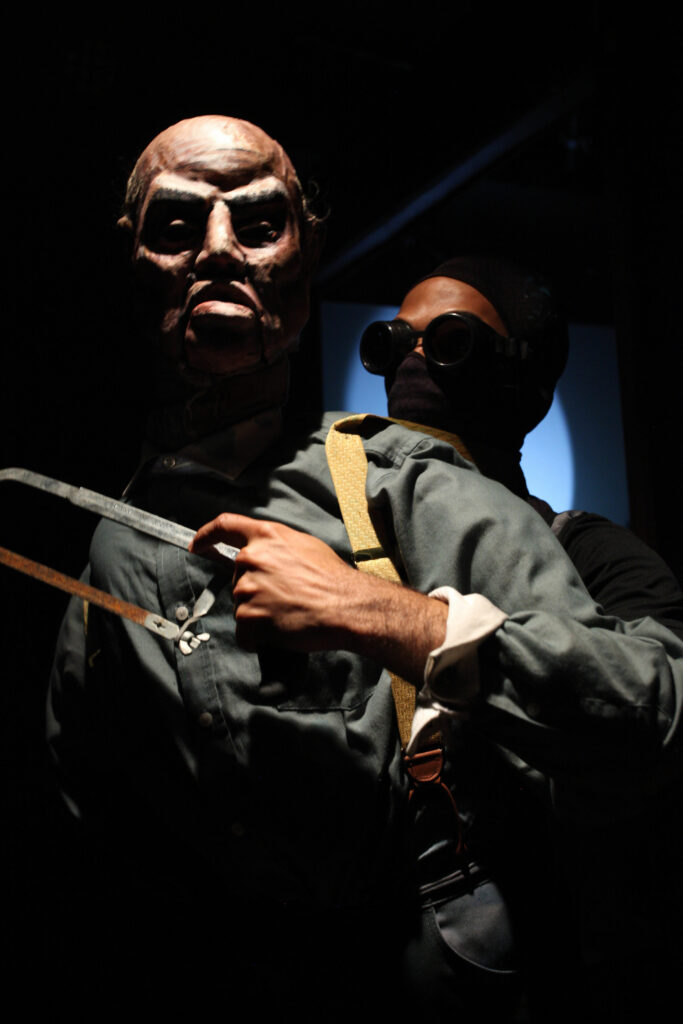 The intimacy of this journey gave me the heebie-jeebies. At various times, the music and performers tapping out a tribal rhythm got louder and more intense. It alerted us to focus on the center of the space. Walls were removed to observe pivotal conversations to the story or witness heinous and cruel acts. These puppets aren't from the sweet muppet family! Lead Designer Grace Needlman has fashioned all the puppets to have a sinister, eery look. It's disturbing!
This interactive journey is sensory-focused puzzle pieces to put together. It's a thinking person's Halloween treat. The timing can be sluggish as I walked around in a circle looking for visual stimulation.  Yet in some ways, Harrow House is more terrifying than an ordinary haunted house. Here, the monsters are people.       
Running Time: Seventy-five minutes
At Chopin Theatre, 1543 W. Division
Written by Mark Maxwell and Claire Saxe
Conceived and Directed by Mike Oleon
Thursdays and Fridays at 7pm and 8:45pm
Saturdays at 6pm, 7:45pm and 9:30pm
Sundays at 6pm and 7:45pm
Thru November 10th
For more Chicago theatre information and reviews, please visit Theatre in Chicago