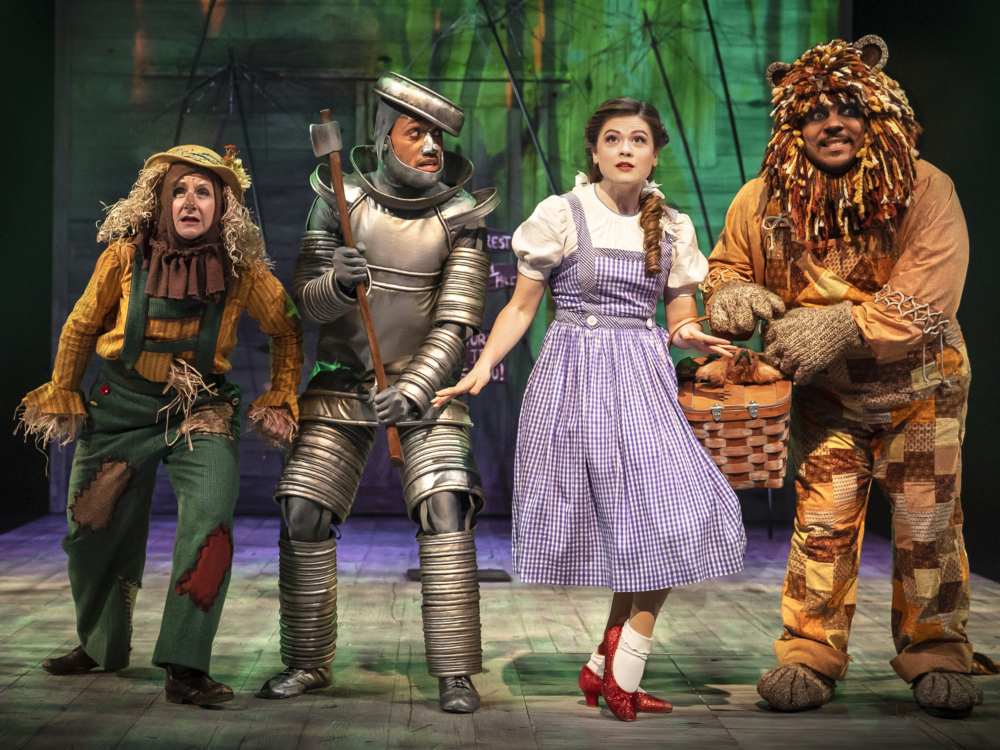 Chicago Shakespeare Theater presents THE WIZARD OF OZ.
Frank Baum's classic is a beloved children's story. The tale of Dorothy and Toto whisked away by a tornado, befriending a misfit crew and getting chased by a witch is well-known. The film version is iconic. And the spin-off musicals, "The Wiz" and "Wicked", have garnered their own huge accolades. Despite being well-versed in all things Oz, I was still totally enchanted and impressed by Chicago Shakes' current production.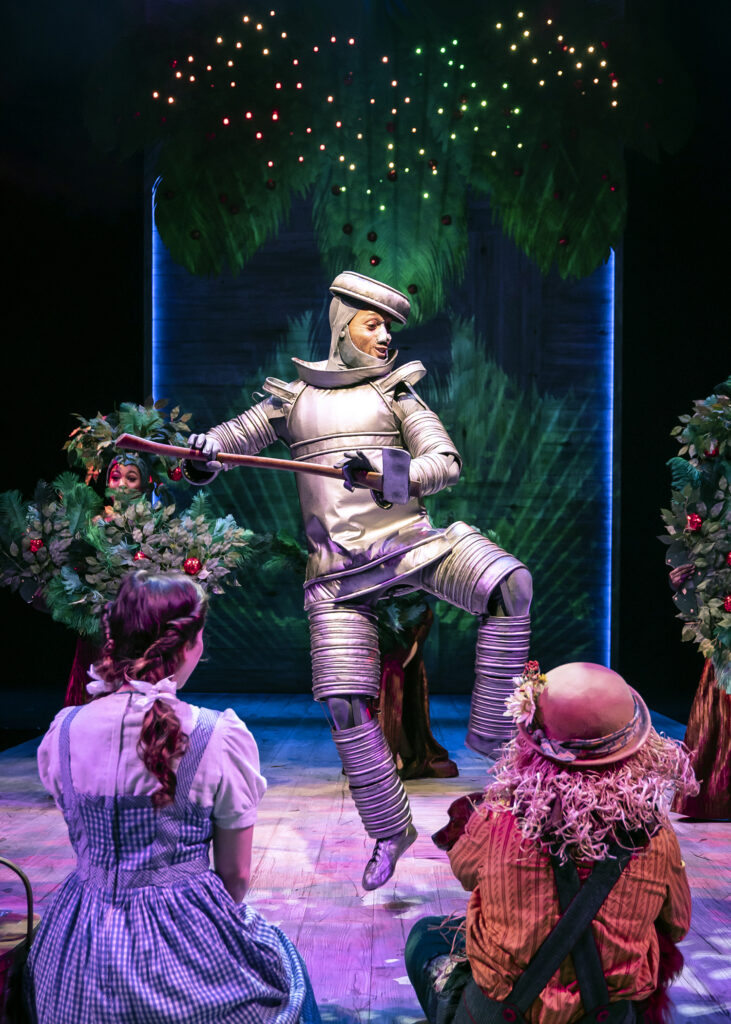 Similar to the movie, the first part is all in black and white. Costume Designer Theresa Ham dresses the ensemble in a variety of black-white-depression-era-Kansas-farm garb. It brilliantly contrasts with the bright colorful Munchkinland outfits in the post tornado scene. Dorothy even does a quick-change from black and white check to her signature blue and white gingham as her house is spinning in the funnel cloud. Ham's creations are spectacular! The ensemble must each have 6-9 costume changes. Crows, trees, Emerald City folk, flying monkeys, O-Ee-Yah-Eoh-Ah soldiers and junebugs. From the long brown evening gown trees to the peppy red and black junebugs, the smart and festive looks are the perfect panache for the familiar text. Ham even continually changes the color an ensemble member's glasses to match her variety of costumes. This is one of many special touches that makes this show so endearing.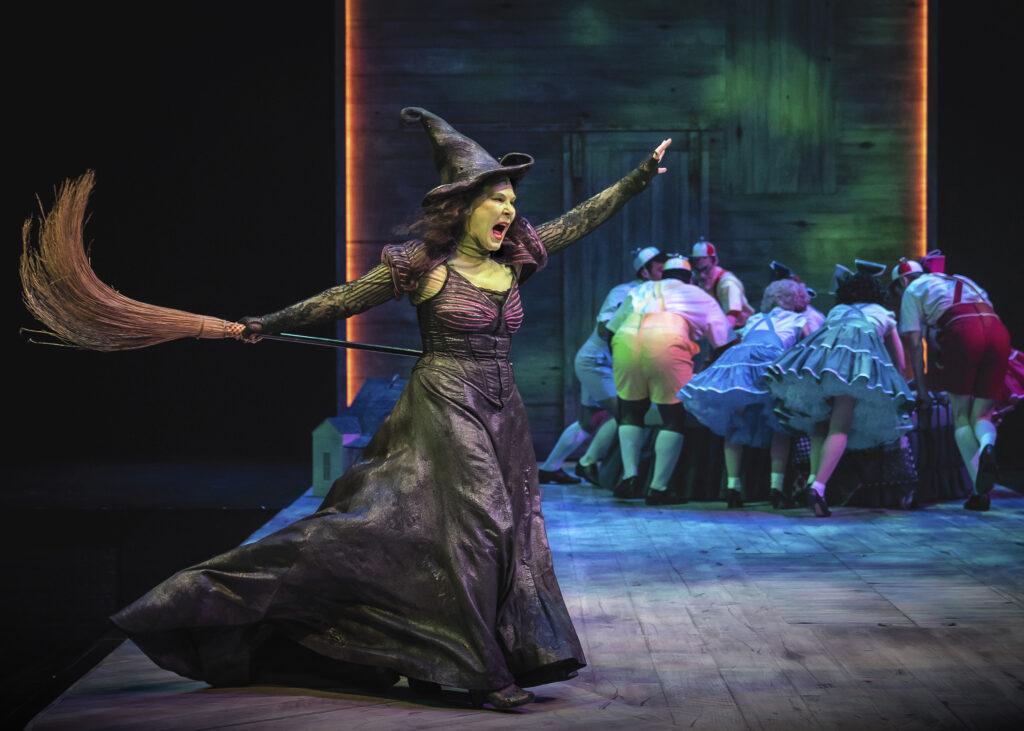 Director Brian Hill paces this tight. Hill, along with his creative team Ham, Scott Davis (scenic), Lee Fiskness (lighting), Mike Tutaj (projections), Christopher M. LaPorte (sound), Richard Jarvie (wig & make-up design), Kenny Ingram (choreography), engage the audience in magical stagecraft. Assimilated tornado, a pasture of posies, monkeys flying, a witch melting are some of the cleverly devised techniques that keep the show dynamic.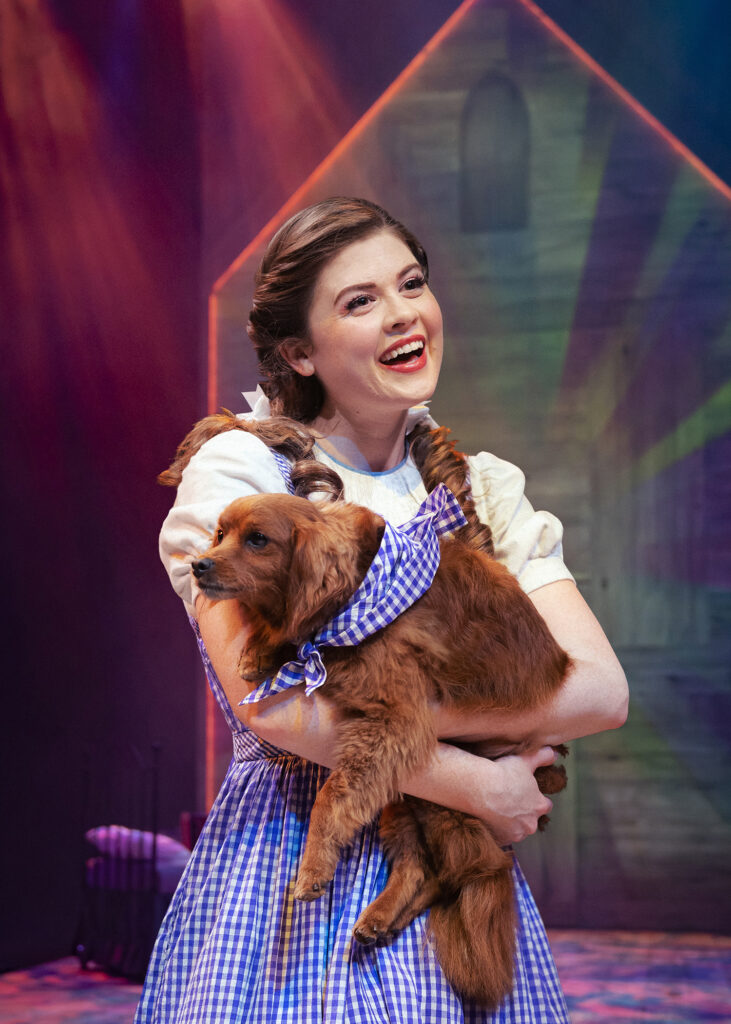 Hill knows how to tell a story. He even uses a live Toto (played by Derby). For a good chunk of the play, the effervescent Leryn Turlington (Dorothy) is carrying the adorable pup. Turlington captivates from Kansas to Oz and back to Kansas. She starts by beautifully singing "Over the Rainbow" and ends with heartfelt gratitude to be home. In between, she sings, dances and befriends all kinds of people and creatures. Her main squad, Marya Grandy (Scarecrow), Joseph Anthony Byrd (Tin Man), Jose Antonio Garcia (Lion), bring the comedy and the friendship. The foursome build a fierce bond that had me misty in their goodbye scene. And nod out to Hollis Resnick for her wickedly witchy ways! The entire ensemble are tirelessly terrific in making this show a treat for kids of all ages.        
Chicago Shakes' THE WIZARD OF OZ  is a first-rate production and a guaranteed good time!      
Running Time: Eighty-five minutes with no intermission
At Chicago Shakespeare Theater at Navy Pier, 600 E. Grand
Written by L. Frank Baum
Music and lyrics by Harold Arlen and E.Y. Harburg
Background music by Herbert Stothart
Directed by Brian Hill
Music direction by Kory Danielson
Choreographed by Kenny Ingram
Wednesdays at 11am
Thursdays, Fridays, Saturdays, Sundays at 11am and 1pm
Thru August 25th 
Pictures by Liz Lauren
For more Chicago theatre information and reviews, please visit Theatre in Chicago