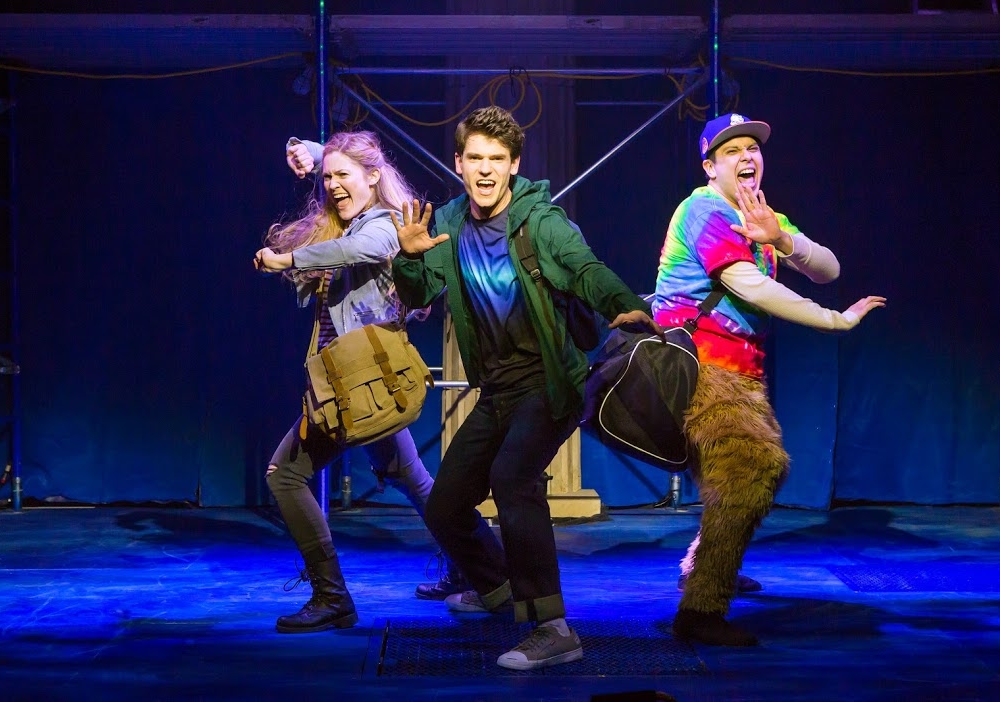 Broadway in Chicago presents, by special arrangement with Rick Riordan and the Gallt & Zacker Literary Agency, THE LIGHTNING THIEF: THE PERCY JACKSON MUSICAL.
A kid mad at a parent for not being around sounds familiar. The absence attributed to being a god isn't that common. Author Rick Riordan cleverly blended Greek mythology with contemporary teenage angst. Riordan's entertaining adventure has Percy, a misfit kid, struggling with his new identity as the son of Poseidon, god of the seas.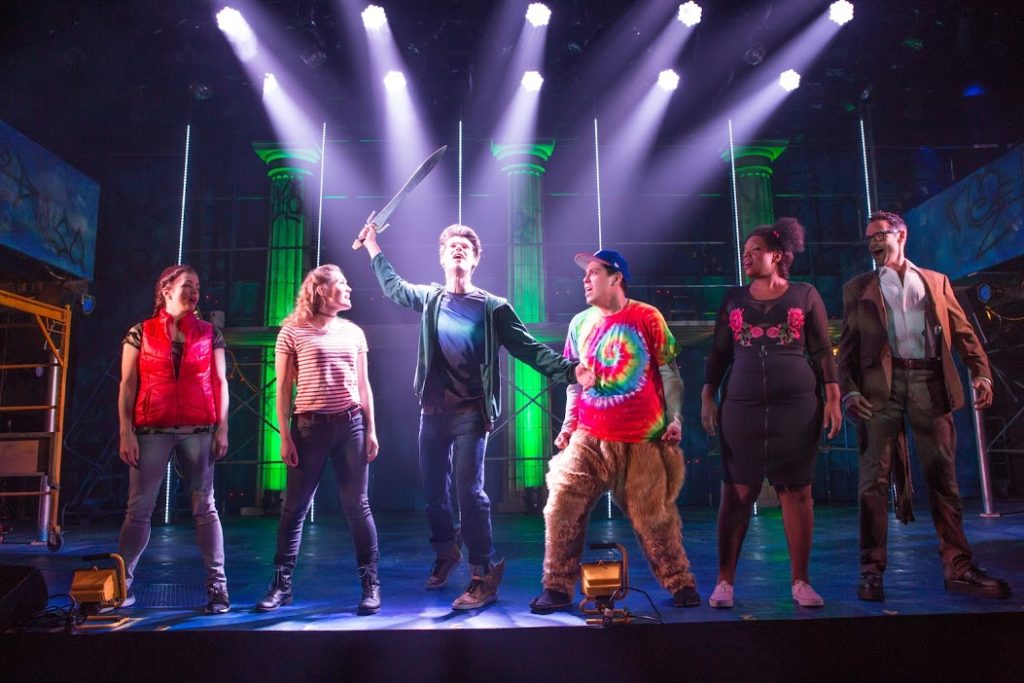 At a summer camp for half-bloods (mortal offsprings of the gods), Percy (played by Chris McCarrell) finds out Zeus believes he stole his lightning bolt. A furious Zeus sends a variety of monsters and gods to retrieve the prized possession. Percy decides to set off on a quest to solve the mystery of the missing lightning with his trusted campmates Grover (played by Jorrel Javier) and Annabeth (played by Kristin Stokes). 
This show is the perfect clash of ancient and modern. Riordan dusted off the legends of gods and spun it into a young adult novel. The creative team of Joe Tracz (book) and Rob Rokicki (music and lyrics) brought the page to stage as a funny and thrilling trip to hell and back. Scenic Designer Lee Savage re-enforces the old verses new theme with classic columns spray painted with graffiti. Savage uses industrial scaffolding for multi-functional purposes… busses, elevators, trains. Director Stephen Brackett effectively uses the scenery to make travel and scene transitions lightning fast. Brackett paces all the action like a race to the finish line.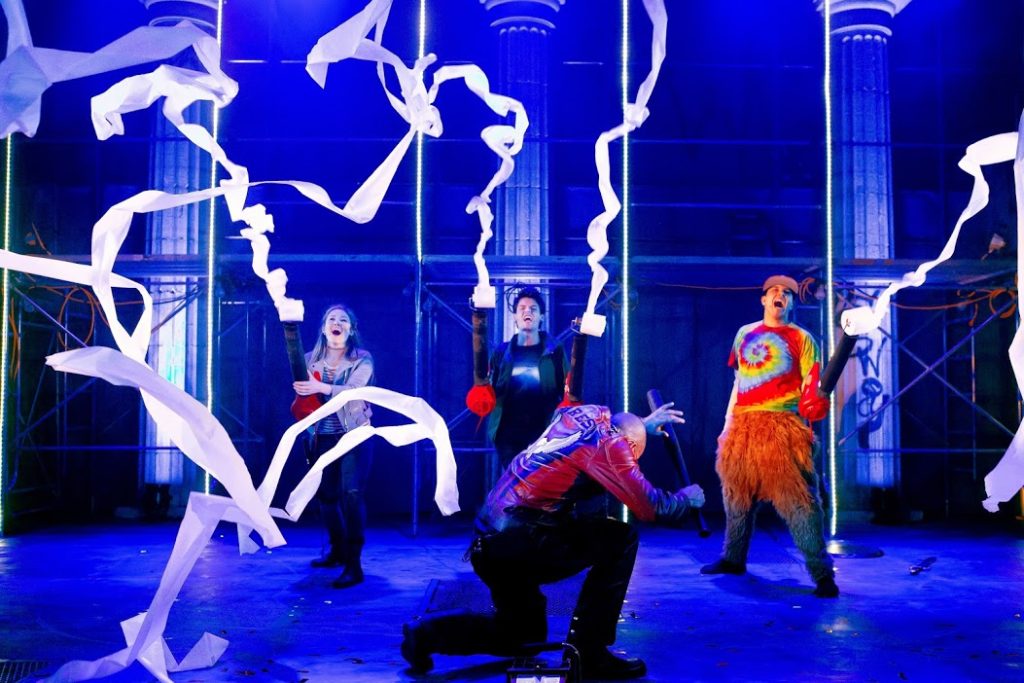 The seven member ensemble is solid! At the heart of the show are the trio warriors of McCarrell, Javier and Stokes. Although their camaraderie has a very Harry Potter-Hermione-Ron vibe, this threesome can also sing, dance and hold their own in a monster fight. Many of the ensemble play multiple roles. Two standouts are Ryan Knowles and Jalynn Steele.  A hilariously funny Knowles goes from a prancing Chiron to a convulsing Medusa to a laid-back beach comber. He engages by continually popping-up as very different and distinct characters. Steele also transforms from supportive mom to irritated daughter of Aphrodite to vivacious hostess of Hades. Her "D.O.A." number is a show stopper.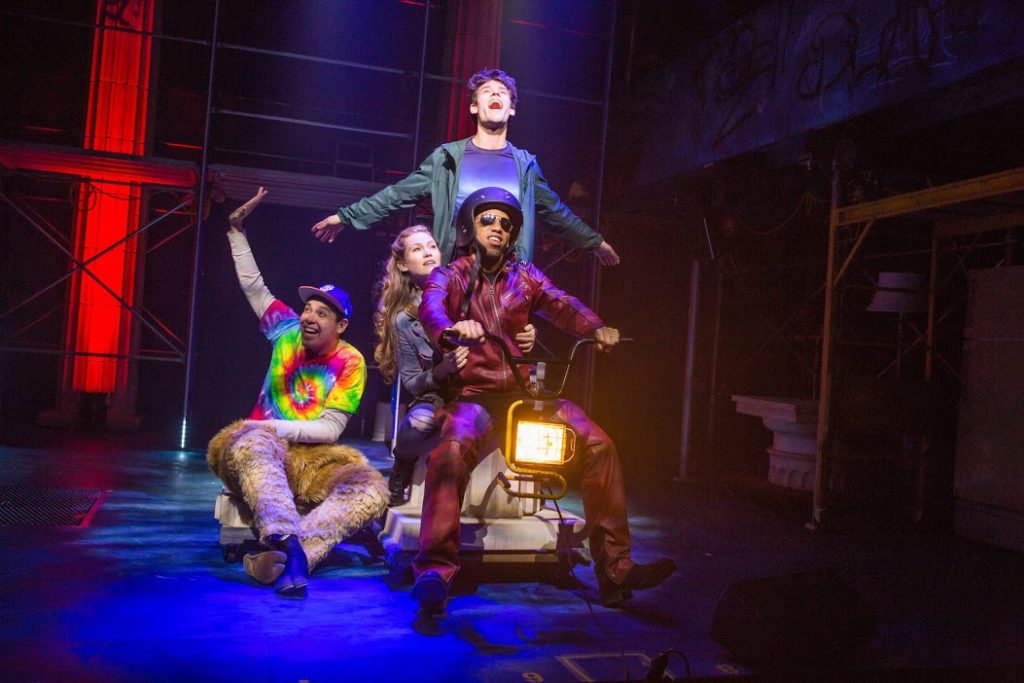 Rokicki's score keeps the adventure upbeat. The songs have a rock and roll rebel tone.  They are a series of self-discovery anthems for the young and old, the mortals and gods. Whether they are dancing (Patrick McCollum, choreography) or fighting (Rod Kinter, fight direction), the music gives this entire road trip pizzazz. The very last number, "Bring on the Monsters", sent me into the streets excited because Percy promised 'to be back next summer.' Sequel?! (fingers crossed!)
THE LIGHTNING THIEF: THE PERCY JACKSON MUSICAL is only in town until Sunday. This family-friendly musical is a quest that you need to move on quickly. Oh my gods, get your tickets already.
Running Time: Two hours and fifteen minutes with one intermission
At Oriental Theatre, 24 W. Randolph
Based on the book written by Rick Riordan
Book by Joe Tracz
Music and lyrics by Rob Rokicki
Directed by Stephen Brackett
Choreography by Patrick McCollum
Thursday, Friday at 7:30PM
Saturday, Sunday at 2:00PM 
Saturdays at 8:00PM
Thru January 13th 
For more Chicago theatre information and reviews, please visit Theatre in Chicago