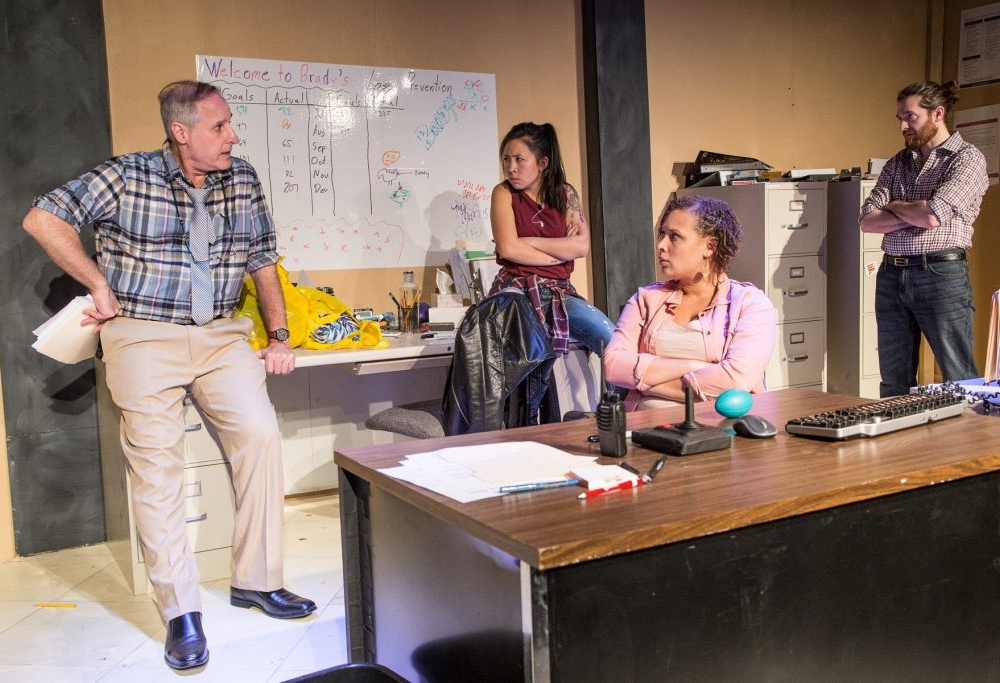 Broken Nose Theatre presents the World premiere of PLAINCLOTHES.
Playwright and co-director Spenser Davis introduces us to the gritty underbelly of a Chicago department store. He takes us behind the camera to meet the surveillance team. Most shoppers are oblivious to the invisible people watching them. Holed up in a drab makeshift office, a security detail continuously scans the floor for possible crime. They are looking for a specific type to act a specific way so can make their numbers. When the new white security officer gets stabbed, corporate decides to make changes in security protocols.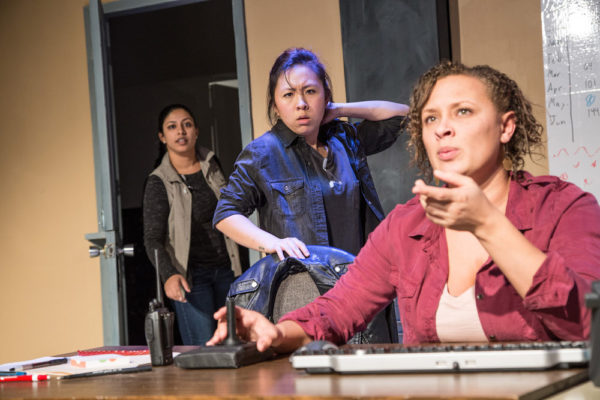 On the surface, this show IS funny! Davis' dialogue is smart. The jokes are rapid-fire. The wisecracking security team has a Superstore-meets-Brooklyn-Nine-Nine vibe. The show starts out with Llermo (Alejandro Tey) abusing Bobby (played by Adam Soule) over eating hummus and carrots as a meal. Llermo insists the choice is a snack. The ambitious newbie Syd (played by Elise Marie Davis) arrives with her new feisty conquest (played by Stephanie Shum). The situation quickly flips. Cue the antics!
The set-ups seem formulaic. Tey and Shum lusting after the same gal (played by Kim Boler). The boss (played by Rob Frankel) is a crusty yet kind-hearted guy.  The person (played by Carmen Molina) holding the place together has bigger dreams. An overly-eager gal (played by Teresa Kuruvilla) keeps popping up and everybody ignores her.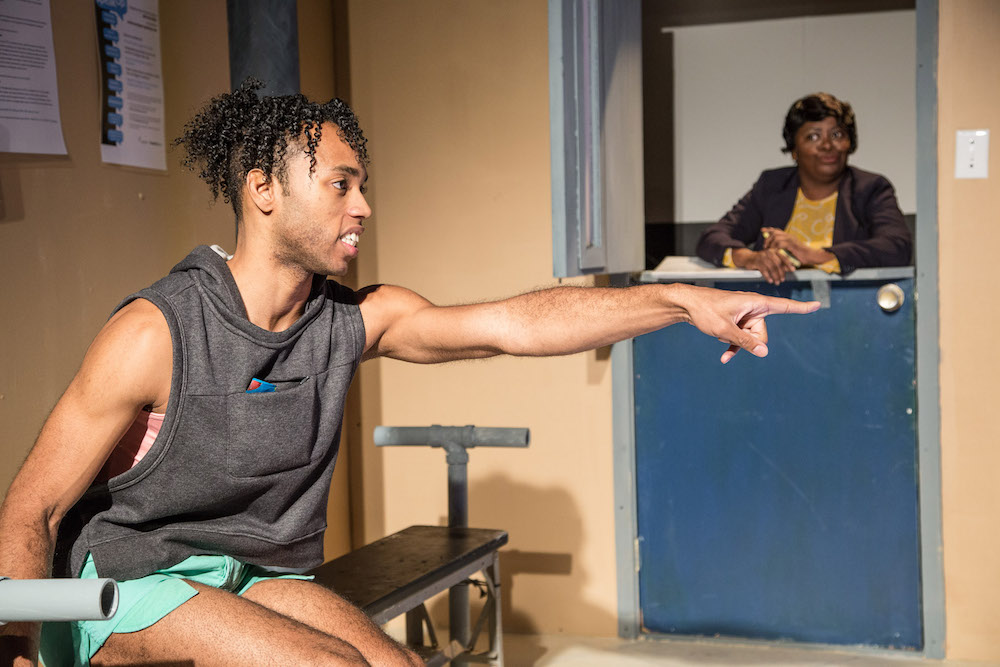 Some of the funniest scenes are exchanges between May, a noisy clerk (played by RjW Mays), and Jomal, a smart ass shyster (played by Ben F. Locke). She collects reward bucks for turning in suspects. He dresses flashy and steals silly things, like flip flops, in huge quantities. Their love-hate banter is hilarious. And they both crave being apart of the security drama.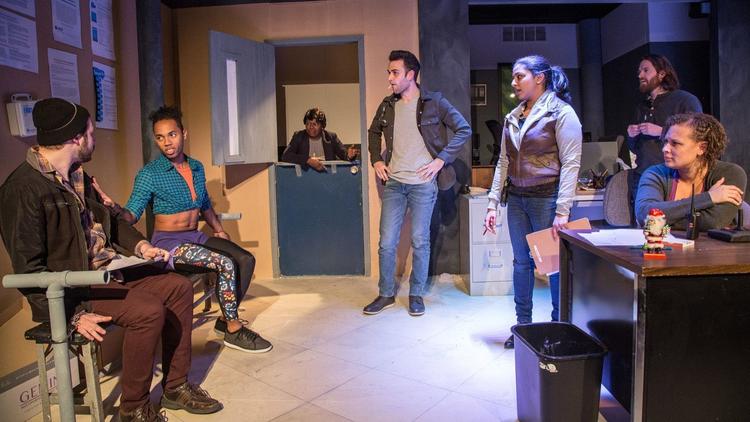 The comedy works in a familiar sitcom rhythm. Beneath the humor, Davis layers hidden secrets and agendas. He focuses on race inside and out of the security room. He forces his diverse characters to confront each other on their own biases in how they do their job and how they live their life. And he and co-director Kanomé Jones skillfully build the tension from the camaraderie. The drama bubbles up naturally as the tight team see each other from different vantage points. The betrayals are subtle yet marring.
The storytelling is arresting!  I want to tune in for another episode, maybe even binge it. The talented ensemble make us care about their individual stories and dreams. PLAINCLOTHES is comedy with depth.    
Running Time: Two hours includes an intermission
The Den Theatre (2A), 1331 N. Milwaukee Ave., Chicago
Written by Spenser Davis
Co-directed by Kanomé Jones and Spenser Davis
Thursdays, Fridays and Saturdays at 7:30 pm; Sundays at 3 pm
Understudy night: Wednesday, December 12 at 7:30 pm
Thru December 15th 
Tickets: Pay-what-you-can. Tickets are currently available at www.brokennosetheatre.com 
For more reviews and information on Chicago theatre, visit Theatre in Chicago.