November Report Card: I love this statue. It's on Lake Shore Drive near Hyde Park. I pass it all the time on my way back and forth to Indiana. I saw it 8 times this past month. It always makes me smile and I often muse out loud, 'what are you looking at?'   
Happy December!
Chicago has been frigid this month, weather-wise and employment-wise. Both have been unseasonably and unreasonably icky! Besides hitting 1466 on Candy Crush and 866 in Word Connect, I also did… 
Serving =  13 shifts! Maybe it's the weather but business seemed sluggish this month to me. And despite getting a 5 star Yelp review saying 'the server was empathetic to their needs', I've experienced some gross tipping.  I got TWO 11% tips Thanksgiving weekend… the guests were verbally appreciative but not financially. Still, I'm grateful for the work.   
Job Search = 19 applications AND a new freelance gig!  I saw my sister Cindy at my dad's 80th dinner. When I lamented about my underemployment, she sprung into action. She reconnected me to her friend Amy, a consultant in Florida. I submitted my resume to Amy on Sunday. She called me on Monday and gave me a grant proposal writing assignment. When I was done with that, I got a second project. I am appreciative for not only the opportunity to earn money but also the intellectual exercise. It feels good to work that muscle again.  
Workout with Josh = 7 times! My walking has been impacted by the weather. Although I'm down on my steps, my strength training is going great. Josh has increased my leg work to help my tight knees and shins. I am so grateful for him! As I build my physical strength, I also untangle all my mental mess. He supports both. Josh also has firmly and gently reminded me the temperature in the gym is fine for walking.    
Yoga = Daily Practice! Even though I haven't made it to any yoga classes, I continue to do daily meditation and reiki. It's been vital in ridding myself of anxiety and staying present in the moment. I also connect the relaxation practice to uptick in wild and crazy dreams. I've always been a vivid dreamer but lately my sleeping mind is churning out some bizarre storytelling.  
LinkedIn = 5 online classes! I'm taking advantage of time and the LinkedIn premium package. This month, I took courses on negotiating in business, thought leadership, communicating with empathy, learning to be approachable and inclusive leadership.  
Theatre Reviews = 6 reviews! I saw and reviewed 6 shows, BLUE MAN, THE STEADFAST TIN SOLDIER (Lookingglass), NUTCRACKER (House Theatre of Chicago), FAMILIAR (Steppenwolf Theatre), MISS SAIGON (Broadway in Chicago), and THE LAST SESSION (Refuge Theatre Project). I also watched Josh crush it in FIRST RESPONDERS (Erasing the Distance)
Journaling = 17 entries! I continue to chronicle my journey in my third book, "Unexpected Changes".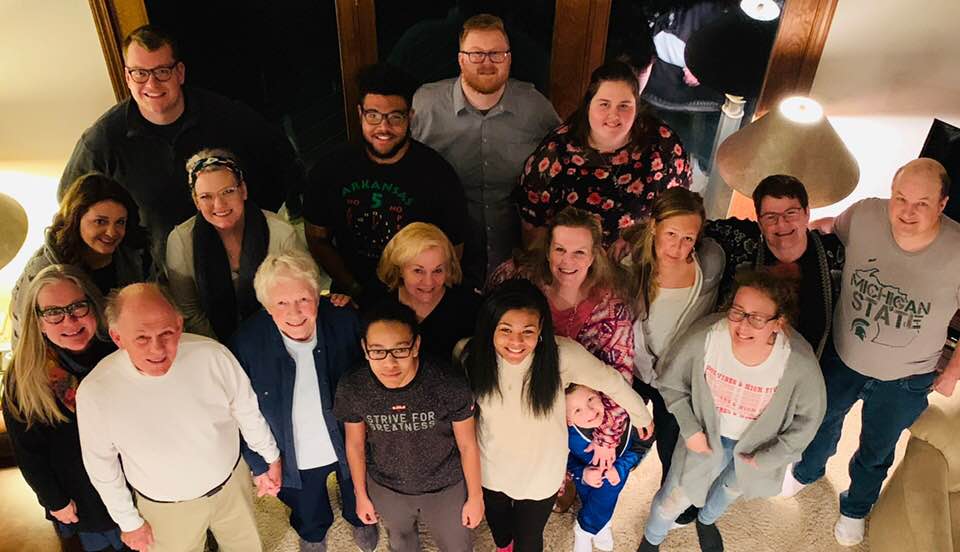 Playing = YES! I saw Bohemian Rhapsody movie with Scubi. I had dinner with KLW and Sara,  Sue C-F and Schooler, Katelynn, and Rick.  I made dinner for Abby and Bill, Bill and Roger, and Tom. I also went with Collin and Dan to Cookies & Cheers at the Fairmont Hotel. I had lunch with Rich and James. I hosted my nephew Matthew for a Chicago outing. I celebrated my dad's 80th on the 17th and Thanksgiving on the 22nd with my family. And as far as my 2018 goals…
Student for life: I've listened to 2 books and started a podcast.
I listened to James Redfield's "Celestine Prophecy". It was recommended in a LinkedIn course as one of ten books to help build personal success. I describe it as "The Alchemist" meets reiki energy meets "DaVinci Code." There is a chase to uncover and learn from ancient scrolls. The ancient scrolls have insights or guidelines to leading a life on a higher level. Although Redfield tells a compelling adventure story, his book is really about learning life lessons. It talks about listening to intuition, following instincts, generating positive energy and seeing the energy surrounding life. It showed how a 'poor me' attitude or cruelty is a way we try to steal other people's energy. I found it profound. I also watched the tv movie based on the book. It was not as impactful and fairly corny.   
I also listened and loved Michelle Obama's autobiography, "Becoming." Michelle is a fantastic writer and narrator. Her storytelling is transfixing! She describes growing up on the South Side in a working class family. She shares personal stories of vulnerability about her parents, her husband, and her children. She chronicles leaving her corporate lawyer job to lead a nonprofit and always following her strong desire to impact change. The book is a wonderful insight into a strong black woman, a committed wife and mother and powerhouse FLOTUS. 
I always knew about her health initiative to end childhood obesity. I didn't know about her mentoring and empowerment programs for girls around the globe. The decisions she and Barack made to make the White House less rigid. The WH ushers, black men in tuxedos, were allowed to have regular casual khaki days. She talked about how they used their own money to furnish the residents' quarters. At the end of their tenure, both FLOTUS and POTUS had their staffs provide binders of helpful information like the Bushes did for them. She is incredibly honest, gracious and inspirational. The book took me out of the current chaotic and deceitful administration and let me return to the dull days of 2008-2016. No scandals or indictments in the Obama administration. 
She ended the book by telling her readers not to be cynical. Michelle encourages me and others to be hopeful for our children. LOVE her and LOVED the book!   
Mom and dad recommended Rachel Maddow's podcast "Bagman". It's about VP Spiro Agnew's criminal life. With the scrutiny on the scandal of Watergate and Nixon, Agnew's bribery and extortionist charges were barely noticed. The man was corrupt and greedy! Maddow describes Agnew's rise in popularity. He slammed minorities, attacked the justice system, berated the press, spun conspiracy theories and generally gaslit the public. Sound familiar?! I'm 2/3 through but I think the most interesting takeaway for me is Trump is not an original. He's a copycat, a Spiro Agnew wannabe.         
Be an advocate for marginalized populations: The mid-term elections were this month. I did send positive energy across the country promoting a a big blue wave. It was smaller than I wanted but I'm hopeful that the change ensures marginalized populations will be taken care of.
Be kind: I've had a couple friends have parents die this fall. It makes me sad for them and grateful for how long I've been blessed to have my parents with me. Because I couldn't attend the funerals, I went to Toledo to take KLW and Sara out for dinner. And I had Tom over for dinner where I served my first baked potato… he enjoyed it. Potato success! 
I continue to be grateful for the kind people that surround me.