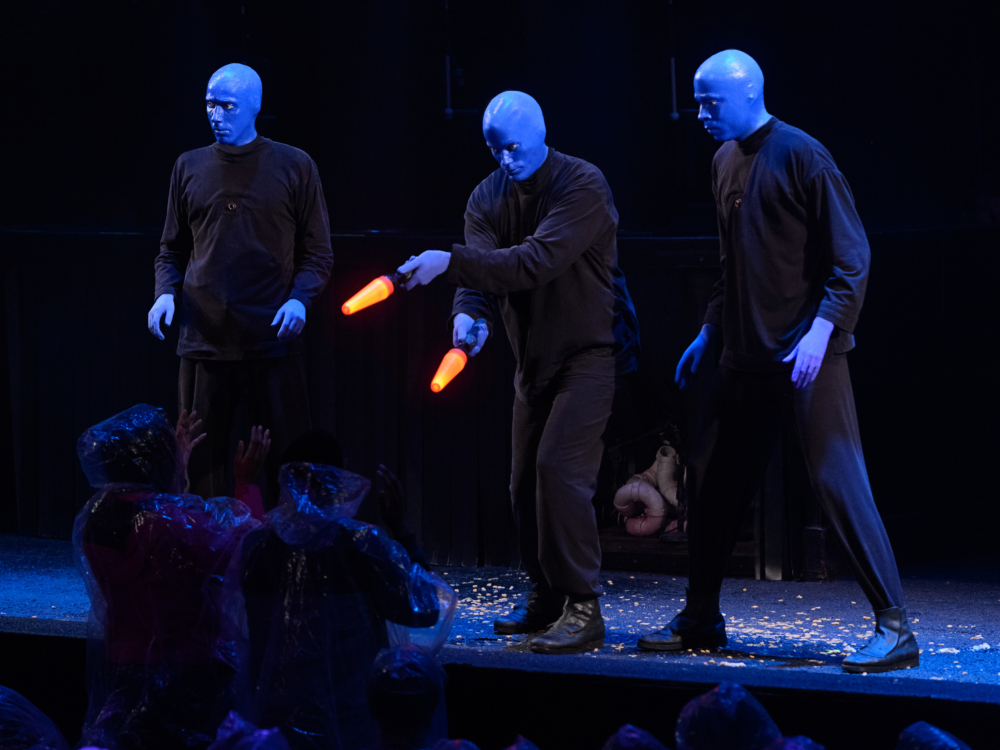 Blue Man Group Chicago has added new content to its theatrical show. 
Since debuting its unique arts performance in 1991, Blue Man has entertained over 35 million people worldwide. Chicago is one of six permanent theatrical productions. So, a trio of blue men have been haunting Briar Street Theatre since the 90s.
I was reminded at Thursday's press night how fun and wacky this show is! At the heart of the show are three identical men dressed in black with blue heads. Although they never talk during the performance, they tell plenty of jokes. I almost forgot they aren't speaking out-loud because they express so much through their eyes and movements. Their eye darting response can make me laugh for its absurdity or endear me in a sweet moment of vulnerability.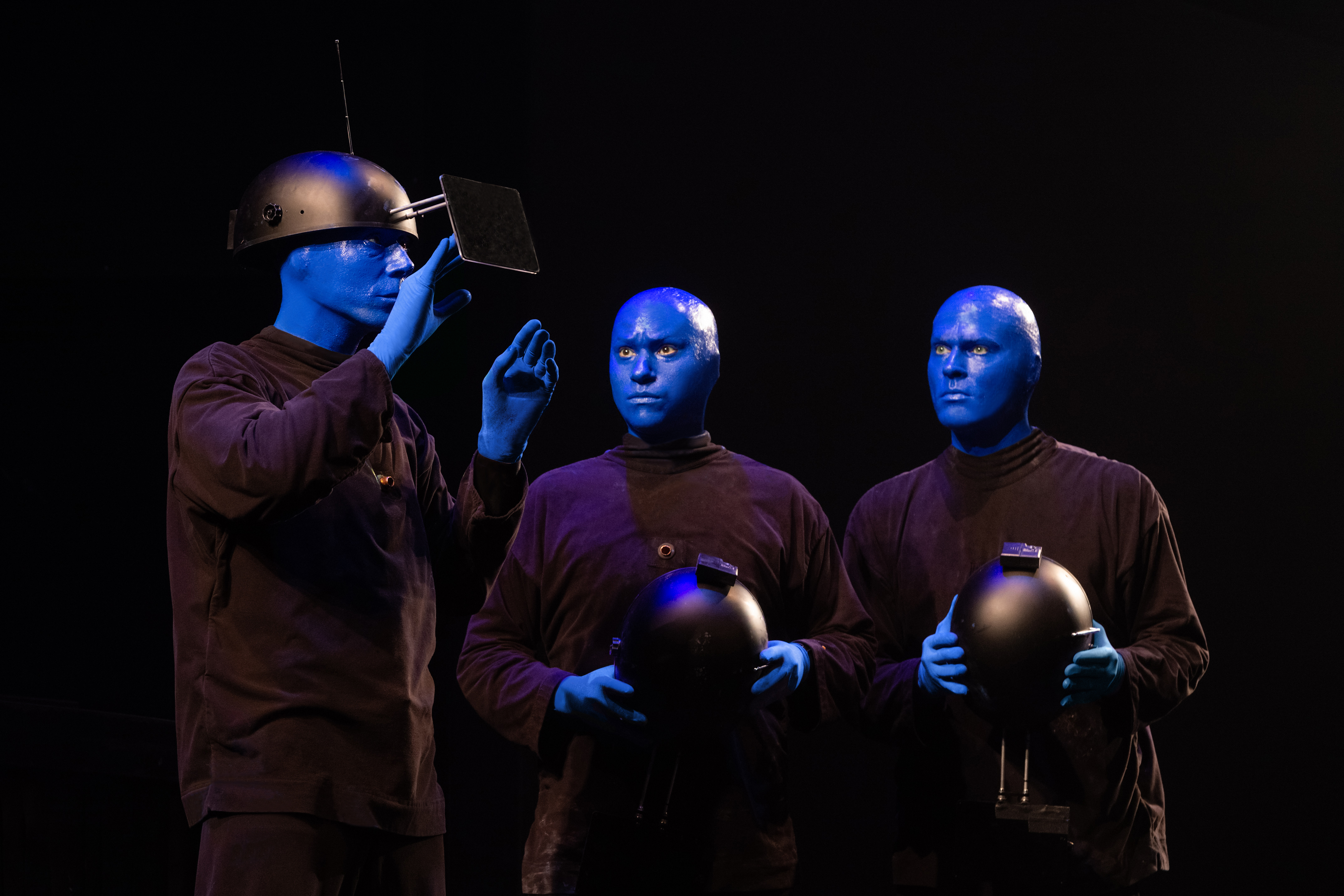 This show is a psychedelic spectacle! Black lights. Bright colors. Bad-ass music. The ambiance is pure party from personal digital greetings at the beginning to a paper- streamer-confetti farewell. The show is a mish-mash of energetic hi-jinx. And the blue men don't contain themselves to the stage. They move over and thru the audience to the amusement of all. Also, at least three guests will be invited onstage to participate in one of their bizarro schticks.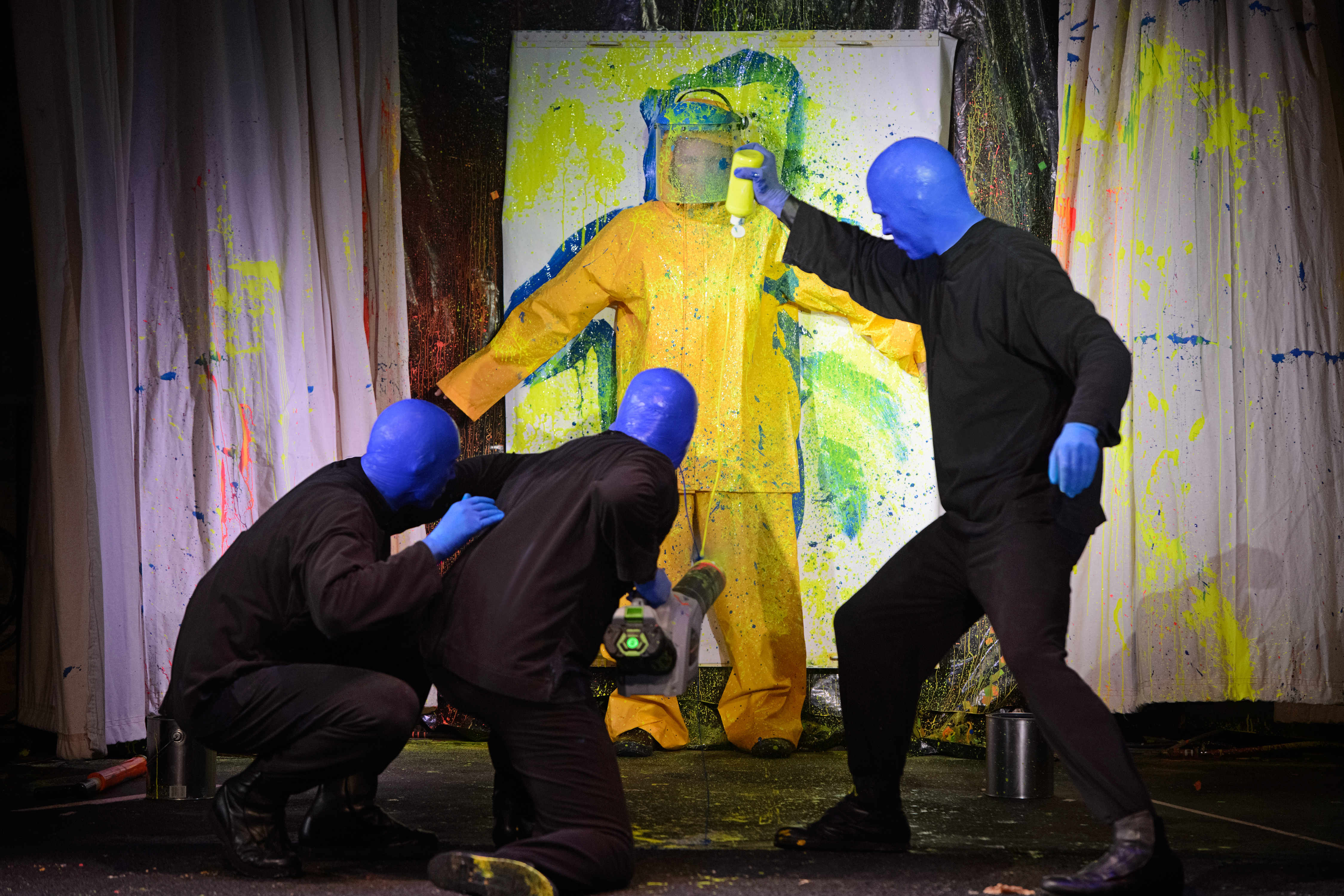 The Blue Man trio are amazingly in-sync. Whether they are stepping over audience chairs or catching tossed food in their mouths, their comedy timing is razor sharp. Even with the new bits, I still enjoyed best their signature beating of paint drums. It's an audio-visual thriller with the rhythmic pounding and splattering of color all over the poncho-clad front rows.
Blue Man blue me away! What a trip!!  Plan a visit for the first time or a return engagement. For me, the best part of the show was taking my nephew again. He loved it as a kindergartner and again as an adult. And I loved hearing his infectious boyish laughter both times.
Running Time: One hundred minutes with no intermission
At Briar Street Theatre, 3133 N. Halsted
Developed by Director Michael Dahlen and Creative Director Jeff Turlik 
Tickets at blueman.com
Production photos by Daniel Boczarski
For more information and reviews on Chicago theatre, visit Theater in Chicago.