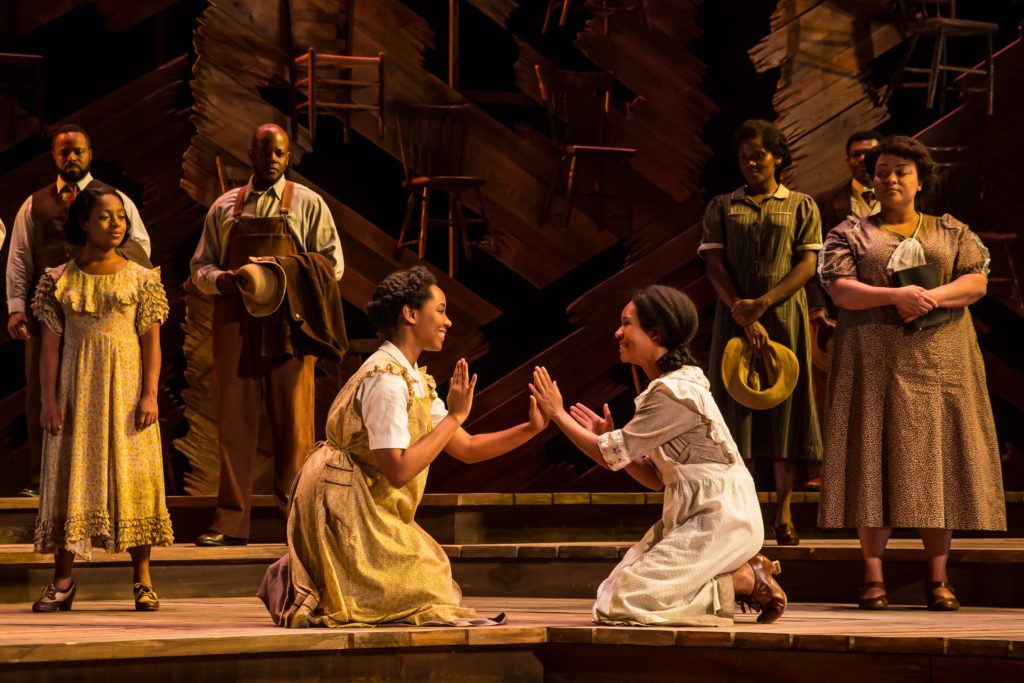 Broadway In Chicago and the producers of the Tony Award-winning revival of THE COLOR PURPLE present a limited engagement of THE COLOR PURPLE.
My review in three words: BUY A TICKET!
THE COLOR PURPLE is absolutely beautiful! Based on the Pulitzer Prize-winning novel by Alice Walker, the creative team of Marsha Norman (book) and Brenda Russell, Allee Willis, Stephen Bray (music and lyrics) tell uplifting stories of love triumphing over adversity. The main focus is on Celie (played by the formidable Adrianna Hicks). Celie has lost the only people she has ever loved, her sister and her children. She is resigned to be with a cruel man (played with nice range by Gavin Gregory) who is in love with Shug Avery (played by the vivacious Carla R. Stewart). Their love triangle gets even more complicated as they each navigate around loathing and lust and love. Tangled up in these primary relationships is the explosive marriage of Sofia (played by the incomparable Carrie Compere) and Harpo (played by the dazzling J. Daughtry).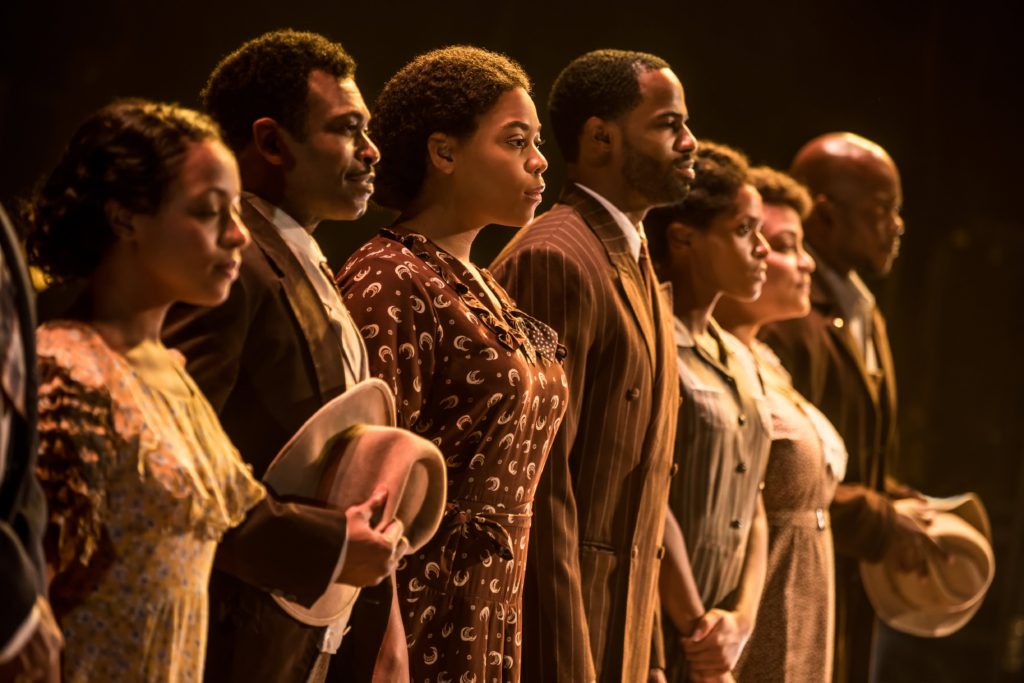 This isn't a typical musical of boy meets girl. These are stories of real people oppressed by poverty and a history derived from slavery. There is pain and persecution and pride but mostly there is empowerment. Not one but many characters have transformations. Russell, Willis and Bray create these musical metamorphosis with a soulful and searing score. Compere establishes her strength in a rebel-rousing and unforgettable 'Hell No!' Stewart goes hilariously bawdy in 'Push da Button.' Later, she and Hicks share a tender duet in 'What about Love?'  Gregory sings his pivotal moment in 'Celie's Curse.' Hicks stunningly belts out the showstopping anthem, 'I'm Here.'  And nod out to Compere and Daughtry for the energetic and fun seduction of 'Any Little Thing.' The score is amazing. Every song tells a different story. Every melody provides additional emotional layers to the moment.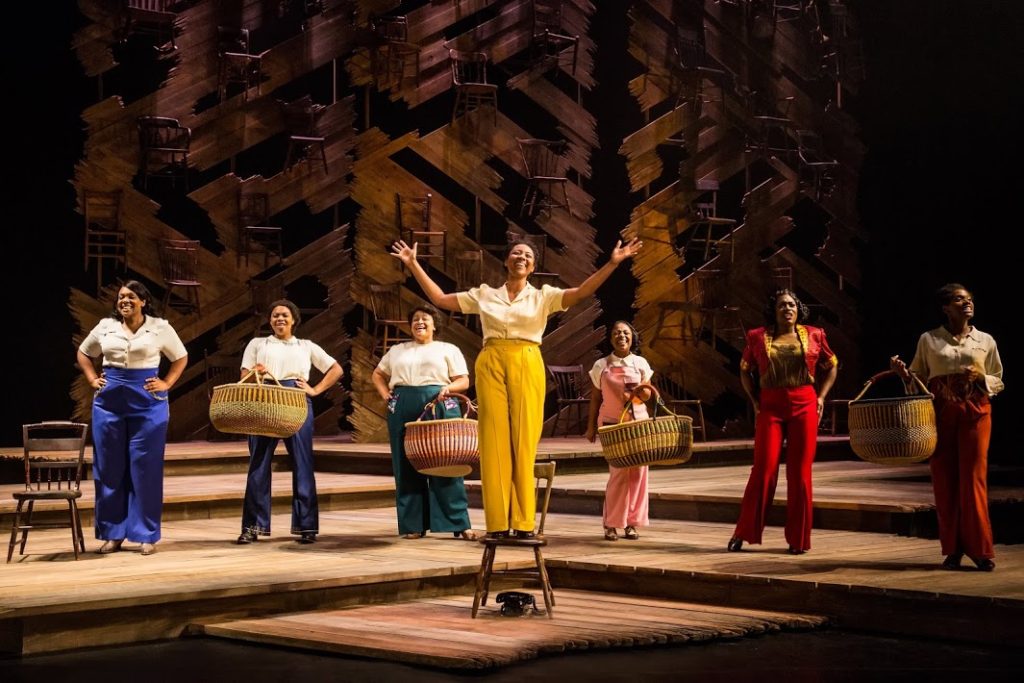 Director and Scenic Designer John Doyle orchestrates depth through simplicity. His stark stage showcases his talented ensemble. He cleverly uses wooden chairs to show hardship and liberation. Without the clutter, Doyle masterfully tethers us to every action, every emotion, every transformation. I loved THE COLOR PURPLE. I laughed. I cried. I cheered! I'll say it again… BUY A TICKET!
Running Time: Two hours and twenty-five minutes includes an intermission.
At Auditorium Theatre of Roosevelt University, 50 E. Congress Pkwy.
Based on the Alice Walker's Pulitzer Prize-winning novel
Adapted for the stage by Marsha Norman
Music and lyrics by Brenda Russell, Allee Willis and Stephen Bray
Director and scenic designer John Doyle
Tuesdays at 7:30PM
Wednesdays at 7:30PM (additional performance on July 25 at 2PM) Thursdays at 7:30PM
Fridays at 7:30PM
Saturdays at 2:00PM & 8:00PM
Sundays at 2:00PM (additional performance on July 22 at 7:30PM)
Thru July 29th
Tickets at Broadway In Chicago
For more information and reviews on Chicago theatre, visit Theater in Chicago.